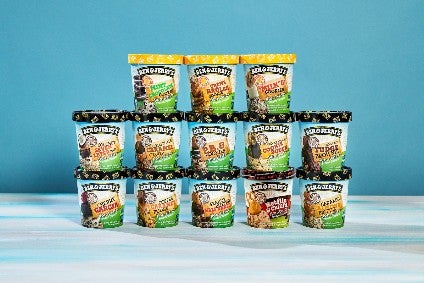 This week's batch of new products includes the latest from companies including Tyson Foods, Unilever and Nestle.
Baby and toddler food group Mia & Ben launches in Sainsbury's
Mia & Ben, the UK baby and toddler food group. has won its first listings with a UK 'big four' supermarket.
The London-based start-up will launch in Sainsbury's with three flavours – Apple & Blueberry; Banana, Mango & Pineapple and Sweet Potato, Pear, Squash & Beetroot. Pouches will retail at GBP1.50 (US$1.97).
Mia & Ben promotes itself as the country's first fresh baby and toddler food company. Its products are made using high-pressure processing (HPP) technology which uses pressure instead of high temperatures to preserve food.
The products, sold in the refrigerated section of the supermarket, are being stocked by Sainsbury's in 297 of its stores as part of its Future Brands programme.
Each blend is made from pure fruit and veg, without any additives, and pouches can be kept out of the fridge for up to 6 hours.
Raymond Downie, senior buyer at Sainsbury's, said: "Kids' snacks are moving towards more natural and convenient choices. With their fresh 100% organic fruit and veg, Mia & Ben was the right choice for us to be our first Future Brand in the category."
Danone launches Silk with two plant ingredients
The French giant is hoping to attract consumers looking to experiment with their plant-based options with the launch of a Silk beverage containing a mix of two main ingredients.
Silk Dairy-Free Half & Half has oat and coconut as its two principal dairy-alternative ingredients. The company claimed the beverage "offers a taste and texture that is reminiscent of traditional dairy milk".
The beverage, available now for a suggested retail price of US$4.29 per 32-oz. carton, has 0g of added sugar and 1.5g of fat.
Kerry takes Naked Glory into 'chicken'
Ireland-based Kerry Group has broadened the range of its UK meat-alternative brand Naked Glory.
Kerry launched Naked Glory last year, rolling out alternatives to meat burgers, mince and sausages.
Meat-free Tenderstrips are being launched next month. The chicken alternative is available in three varieties – roast, tikka and smoky bbq. Tesco, Sainsbury's and The Co-op are each stocking one of the SKUs.
Alison Lees, the marketing manager for Naked Glory, said: "The demand for tasty and exciting meat-free food is greater than ever before. It's a compelling space for retailers to play in and a category that we expect to see continue enticing meat-eaters, vegetarians and vegans alike over the coming months and beyond."
Tyson launches chicken-based meal kits
US meat giant Tyson Foods has launched chicken-based meal kits in its domestic market under its eponymous Tyson brand.
Tyson Instant Pot Kits result from a link up with Instant Brands, the creator of the 'multicooker'.
Designed to cook in 20 minutes, the kits are said to include everything needed for a meal including chicken, long-grain rice and sauces.
Tyson said the kits were designed to help Instant Pot users who want new ways to use their multicooker.
The Tyson Instant Pot Kits come in three varieties – Hatch Green Chile Chicken Casserole, Cajun Style Chicken and Rice and Teriyaki Chicken and Rice.
Steve Silzer, marketing director for the Tyson brand, said: "We know lack of time is one of the biggest reasons people go to a restaurant or order out, which was the inspiration behind creating our fully-prepped meal kits."
Unilever-owned Ben & Jerry's rolls out sunflower butter desserts
Ben & Jerry's, the ice-cream brand owned by Anglo-Dutch FMCG giant Unilever, is introducing sunflower butter-based Non-Dairy Frozen Desserts.
The pint desserts come in three dairy-free flavours, despite the name – Milk and Cookies, Crème Brûlée Cookie, and Mint Chocolate Cookie – and are now available across the US at a suggested retail price of US$4.48 to $5.99.
"Plant-based eating is one of the biggest trends in the world and ice cream lovers everywhere have shouted for non-dairy/vegan options that rise to the levels of Ben & Jerry's euphoric awesomeness," said chief executive Matthew McCarthy.
In addition, Ben & Jerry's is also launching a two-strong line of almond-based, Non-Dairy Mini-Cups for on-the-go consumers. The flavours include P.B. & Cookies and Caramel Chocolate Chunk. The cups will be on the shelves of grocers this spring.
Halo Top extends portfolio with Keto Series launch
US better-for-you ice-cream business Halo Top has launched a Keto series of frozen desserts.
Targeting those following the low-carb Keto dietary plan, the Keto Series is made up of seven flavours – Peanut Butter Chocolate, Jelly Donut, Caramel Butter Pecan, Chocolate Cheesecake, Berry Swirl, Banana Cream Pie, and White Chocolaty Macadamia Nut.
The products have a RRP of US$5.99 for a pint.
Halo Top said the Keto Series contains ultra-filtered skimmed milk, which provides fewer calories than regular milk while remaining a good source of protein.
Net carbs range from five to ten grams and calories from 410 to 630 per pint.
Meg Graeff, senior brand manager at Halo Top, said: "Our brand is focused on making delicious dessert that everyone can feel good about eating, and these new flavours allow us to do that for our fans looking to limit their sugar intake."
Tesco's Wicked Kitchen plant-based condiments hit shelves
Tesco is launching what it claims is the UK's first plant-based range of condiments, which will be rolled out under the supermarket chain's Wicked Kitchen own-label brand.
The new line-up includes six sauces and dressings under the private-label brand first introduced around two years ago and then followed by another plant-based alternative from Tesco, Plant Chef.
The condiments feature: Wicked Dreamy Beetroot Dressing; Wicked Mazin' Mango Sauce; Wicked Hella' Horseradish and Mustard Sauce; Wicked Sriracha Sauce; Wicked Sticky Teriyaki Sauce; and Wicked Asian Style BBQ Sauce.
They will be available in 800 Tesco stores across the country at a recommended retail price of GBP1.75 (US$2.27) each, apart from the beetroot dressing, which will retail at GBP1.50.
Derek Sarno, Tesco's director of plant-based innovation who created the Wicked Kitchen range, said: "Plant-based/vegan food is the biggest culinary movement this century and finding a good choice of complementary sauces as part of a high-street shop has not been that easy. Now we've helped the growing need of plant-based food shoppers and those looking to reduce eating animals by creating an easy to use 'kitchen toolbox' of a recognisable range of unique, vegan amazing sauces."
Tesco said the latest launch is part of a wider plant-based push planned for January which will involve more than 30 more products such as wraps, sandwiches, seasonings and dressings.
Nestle takes KitKat Senses into new segment
The Swiss giant has decided to launch another type of product under its KitKat Senses chocolate brand.
Nestle is to introduce a range of KitKat Senses biscuits in the UK, adding to the chocolate bars and boxed chocolates on the market. The snacks, which come in salted caramel, millionaire's shortbread and choc chip cookie dough flavours, are made at Nestle's factory in York in northern England.
Amy Bennett-Inge, assistant brand manager for KitKat said: "Our KitKat Senses range is all about those special me-time moments when you want a little bit of luxury. We think our new KitKat Senses biscuits provide the perfect indulgent break."
Nestle added the development of the KitKat Senses was part of a GBP800,000 (US$1m) investment the company made at its factory in York, a move Richard Martin, technical manager for the group's confectionery arm in the UK, said "provides us with additional capabilities for the future".
KitKat Senses biscuits are available in packs of five 22.8g bars at a RRP of GBP1.99. Asda and Morrisons are the first major retailers to list the products.
Froneri enters plant-based with Roar ice-cream brand
Froneri, a joint venture between Nestlé and private-equity firm PAI Partners, has launched Roar, a plant-based ice cream.
Three flavours feature in the line-up, which will be rolled out in the UK and Finland: Hazelnut Chocolate Cookie, Coconut Mango Passionfruit Oat Cookie, and Hemp Seed Chocolate Brownie.
Roar uses plant-based ingredients and UTZ-certified cocoa for the two chocolate varieties, and all with no palm oil.
UK-based Froneri said: "The most important thing for us was the taste. It had to taste incredible and be indulgent without compromise. People deserve a super-premium, plant-based ice cream experience that delivers. It's extremely complex to achieve and not many can get it right."
Orkla broadens veggie line to use pea protein
In Sweden, Nordic food major Orkla is rolling out a plant-based product under its Anamma brand that contains pea protein.
Orkla bought Sweden-based Anamma Foods, a business focusing on plant-based foods made from soy, in 2015.
The launch of "nuggets" made with pea protein – marketed under the Anamma Ärta sub-brand – is the first time Orkla has launched a product in Sweden containing pea protein.
Orkla said it had developed the products amid demand for plant-based foods in Sweden, where consumers are looking for "greater variety".
The nuggets will be first launched to foodservice customers before rolling out into the retail channel in the spring.
UK's Border Biscuits moves into bars
UK biscuit manufacturer Border Biscuits has moved into snack bars.
The Lanark, Scotland-based company has unveiled the Dark Chocolate Gingers Bar, based on its biscuits of the same flavour.
The individually-wrapped bars, are available in packs of six, and contain 113 calories each.
John Cunningham, managing director at Border Biscuits, said: "The new Dark Chocolate Ginger Bar is an exciting step in the evolution of the Border Biscuits brand. It's our first individual snack bar which comes in response to the ever-changing habits of our consumers.
"At Border Biscuits we continuously aim to craft our product range to suit the emerging needs of our loyal customers and introducing new shoppers to the brand, so the new bars will be a welcome addition to our award-winning offering."
The bars are initially on sale at Scottish Sainsbury's stores and online before expanding into other retailers and wholesalers throughout 2020.
Grenade debuts oat-based protein bar
UK sports nutrition company Grenade has launched Reload, an oat-based energy bar.
The company behind the Carb Killa brand describes its new product as a "tasty, high protein energy bar [that] is also high in fibre and low in sugar, making it a great option for healthier snackers".
It is available in three flavours – Billionaires Shortbread, Blueberry Muffin and Chocolate Chunk.
It is made with all-natural nut butters and wholegrain oats and is said to provide slow-release energy. It is also high in fibre and low in sugar.
It is available with a RRP of GBP1.99 (US$2.58) for a single bar.
Fazer launches NPD push on oat brand Aito
Finland's Fazer Group has launched a series of oat-based products under its Aito brand.
The NPD includes a new line of on-the-go oat drinks, with Fazer offering two beverages – one in strawberry-vanilla flavour and the other in pear-vanilla.
Fazer has also added a cheese-flavoured variety to its oat-based, dairy-free, cooking sauces, a product the company said can be used in dishes such as pasta and soup.
Other new products include an unflavoured oat beverage, which joins strawberry and blueberry versions. Fazer said the new item could be used as a base for smoothies and porridge.
Nestle unveils "more natural" Nesquik
Nestlé has launched a new healthier version of its Nesquik drinks powder product in a recyclable paper pouch in the UK.
The Nesquik All Natural powder features five natural ingredients "satisfying the consumer desire for clean-label products", Nestlé said.
Nesquik All Natural also has less sugar than the current product, using raw cane sugar instead of white sugar.
Vittoria Simms, senior brand manager, said: "We're proud to be able to launch Nesquik All Natural as a new addition to the range, providing parents with an all-natural option with a simplified ingredients list, with less sugar and in a recyclable paper packaging.
"This is part of our commitment at Nestlé to offer more natural, sustainable and nutritious choices while maintaining the great taste that people know and love."
Nesquik All Natural has a RRP of GBP1.89 (US$2.46) and is available at Tesco initially before planned launches in Sainsbury's in May and Asda in June.