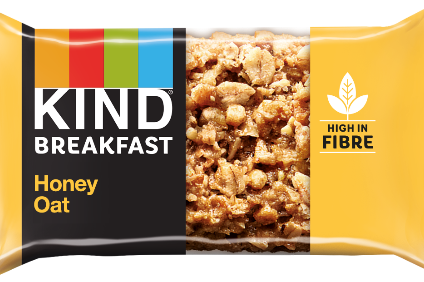 Our coverage of new products this week includes Kind branching out into the breakfast snacks segment and Nestle's dairy-free Drumstick launch.
Biotiful Dairy branches out into cheese category
Biotiful Dairy, a UK-based producer of kefir cultured milk drinks and quark, is branching out into the soft cheese category.
The London-based firm said Biotiful Kefir Cheese is a cultured soft cheese made with British milk and authentic kefir cultures and is a "healthier and tastier alternative for cottage or cream cheese".
It is high in protein, low in fat and contains "billions of gut-friendly cultures".
Biotiful Kefir Cheese is available in Sainsbury's in Original, Red Pepper & Cumin, and Herbs & Garlic at a recommended retail price of GBP1.50 (US$1.74) for 150 gram.
Founder Natasha Bowes said: "We are really excited to be bringing our expertise in gut health to a new category with the launch of our ground-breaking Kefir Cheese. The soft cheese category has been crying out for innovation, and we have the right product range to bring excitement to shoppers, who are looking for better nutrition, coupled with great flavour in a convenient format."
Nestle launches diary-free Drumstick ice cream in Canada
Nestlé is launching a vegan, dairy-free ice cream in Canada under its Drumstick brand.
The world's largest food company said the new product, which is based on coconut and pea protein, is "the first and only non-dairy, vegan, plant-based cone in Canada". It comes in two flavours, Caramel and Vanilla Chocolate Swirl.
The Drumstick cones are made at Nestlé's ice cream factory in Ontario, London, and are available in all major grocery retailers across Canada in a pack of four.

Kind breaks into breakfast snacks segment
Kind Healthy Snacks will be branching out into the breakfast segment in April with the launch of a new bar in the UK.
Kind Breakfast bars will be available in three gluten-free variants: Blueberry Almond, Peanut Butter, and Honey Oat. They will roll out in Tesco, Sainsbury's, Waitrose and Ocado next month.
Each bar features a base of five whole grains: oats, millet, buckwheat, amaranth and quinoa. The Honey Oat bar is the first from Kind that does not contain nuts.
John McManus, the New York-based firm's marketing director for the UK, said: "We know there's a huge opportunity for us here in the UK to bring our expertise to the on-the-go breakfast category. We're really excited to see our latest launch roll out nationwide from next month and it's fantastic to have such strong support from our retail partners."
Each 50-gram pack contains two bars. Single packs will carry a recommended retail price of GBP1.29 (US$1.58) and a multi-pack of three will retail at GBP2.99 (US$3.67).
Lotus Bakeries takes Urban Fruit in new direction
Belgium's Lotus Bakeries is taking its Urban Fruit snacks range out of dried fruit for the first time.
It is launching Urban Fruit Oat Bites in the UK this month.
Lotus said the product meets consumer demand for healthier snacks.
The gluten-free snack range contains oats with puffed rice and toasted coconut and is available in three flavours – Ginger & Pecan, Cocoa & Hazelnut and Mango, Pineapple & Coconut.
Jo Agnew, marketing director at Urban Fresh Foods, said: "We have really focused on ensuring that Urban Fruit Oat Bites reflect flavours and tastes that are well-known and loved by shoppers. The ingredients we have used meet emerging trends that are proving more important to shoppers."
Urban Fruit Oat Bites have a RRP of GBP1.10 (US$1.35) for a 27g pack.