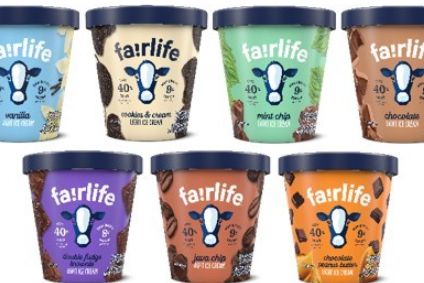 This week's new product offerings include more protein-packed products from Mars and a new range of Calzones from Smithfield Foods of the US under its Carando brand.
Fairlife moves into new category
Coca-Cola Co. has taken its Fairlife dairy brand into a new part of the industry.
Fairlife-branded ice cream is to go on sale at US retailers including Albertsons, Harris Teeter and Walmart.
The company has developed lactose-free ice cream and is selling the product in seven flavours, including Chocolate Peanut Butter and Java Chip.
"Our light ice cream has either a third the calories, or half the fat, of traditional ice cream, or in some cases both. We hope to change the perception that frozen treats with improved nutritional profiles don't taste as good as traditional ice cream," Fairlife CEO Tim Doelman said.
In a statement, Fairlife said its products contain 40% less sugar than the "leading brand(s) of traditional ice cream", without specifying the peers reviewed.
The Fairlife ice creams will be available at a suggested retail price of US$4.98 per 14-ounce container.
Just exports plant-based eggs to Canada
Just, the US business that manufactures plant-based eggs, is launching its folded scrambled egg product in Canada.
The product will be available in the country this autumn through Walmart and Whole Foods.
Its folded scramble – known as Just Egg in the US – will be sold as Just Plant Egg in Canadian stores where it will have a RRP of CAD6.99 (US$5.14).
Just's product, made from mung beans, will be sold in a four-pack in the freezer section.
UK baker Roberts launches healthy loaves range
Roberts, the independent bakery business based in north west England, has launched four new better-for-you loaves.
The range is made up of two new Good for You Bloomers, the Ultimate Fibre Wholemeal and the Vit Hit 50% Wholemeal, 50% White loaf. The first three mentioned are available exclusively at Tesco.
Roberts said it "has gone all out to create a range of loaves to help build up and boost the body's natural defences at a time when we need it most".
The loaves are vegan-friendly, high in fibre and low in fat. They are wrapped in sustainably-sourced paper packaging that is recyclable.
Roberts' Energy Balance Good for You Bloomer has been created using oatmeal and is a mixture of quinoa, watermelon and chia seeds.
The True Vitality Good for You Bloomer contains "super-foodie ingredients", including whole hemp seeds, brown rice flour, malted wheat flakes and zinc for a healthy immune system.
Robert's Vit Hit 50% Wholemeal, 50% White loaf is a combination of half white flour, half wholemeal flour with the addition of seven vitamins and minerals.
The loaves have a RRP ranging from GBP1.15 (US$1.44) to GBP1.55 each.
Alison Ordonez, innovation director at Roberts bakery, said: "We know that shoppers are increasingly interested in the nutritional and functional health benefits in bread and it's never been more important as we think again about the importance of diet in protecting ourselves and our families, and strengthening our natural defences against infection and disease."
Nestle-owned Sweet Earth claims first with faux bacon burger
Sweet Earth, the US-based meat-free food firm owned by Switzerland's Nestlé, is claiming a first with its plant-based bacon burger.
The California company's Awesome Bacon Burger is described as a "deliciously smoky plant-based burger infused with vegan bacon bits".
It is made from textured pea protein, contains 26g of protein per serving and is non-GMO project certified.
The burger will be hitting shelves of supermarket chain HEB starting this week with nationwide distribution increasing over the coming weeks.
Jessica Vasisht, vice president of Sweet Earth Foods, said: "We are so excited to announce the release of the Awesome Bacon Burger as the first-ever vegan bacon burger, proving eating plant-based can be just as delicious as it is nutritious."
The Awesome Bacon Burger follows the announcement of two Sweet Earth Sausages – the Green Chile Chedd'r and Chik'n Apple – that are now on retailer shelves nationwide.
Nestlé launches KitKat Snax in Japan
Nestlé in Japan has unveiled a new KitKat snack mix that combines sweet and salty flavours.
KitKat Snax is intended to be paired with beer, including the company's newly-launched Chocolate Almond Milk Stout which is brewed using the same cacao powder that is used to make KitKat chocolate bars.
The product features an assorted mix of ball-type KitKats, salted roasted almonds, and cheese-flavoured soybeans.
The Switzerland-based food giant said: "The balance between the sweet KitKat and salty almond and soybean flavours make them an ideal accompaniment for a variety of drinks."
Mars' protein push continues
The US snacks and confectionery giant is launching more protein-enhanced products in the UK.
It's more than four years since Mars unveiled protein bars under two of its best-selling chocolate brands in the country.
This week, Mars said it is rolling out new bars under another chocolate brand.
Two bars will go on sale under the M&M's brand – a chocolate variety and a chocolate peanut version.
At the time of writing, Mars had not responded to a request for information on which retailers had agreed to list the bars.
In a statement, Michelle Frost, general manager at Mars' consumer drinks and treats unit in the UK, said: "We continue to see all major multiple grocery stores quickly expanding their protein bar ranges, with taste and brand trust playing vital roles in driving increased demand as health and wellbeing continues to be one the fastest-growing trends.
"This year, we have successfully introduced the Twix brand to our range of protein powders, as well as making Snickers Hi-Protein Peanut Butter a permanent SKU after the initial limited-edition launch proved so popular."
Indian brand Amul moves into edible oil
Amul, one of India's best-known food brands, is branching out into the edible-oil market.
Most recognised for its range of dairy products, Amul is adding edible oil to its line-up through the launch of five varieties, all sold under the Janmay sub-brand.
The oils, which include mustard, sunflower and soybean varieties, will go on sale in the states of Gujarat and Rajasthan.
Gujarat is the home state of the Gujarat Cooperative Milk Marketing Federation (GCMMF), which owns the Amul brand.
According to reports, Amul launched 33 products in the four months to the end of June. Indian business broadcaster CNBC TV18 has reported the co-op is looking to launch frozen-food products under the Amul brand.
Smithfield Foods launches calzones
US meat products heavyweight Smithfield Foods has launched a range of ready-to-heat calzones under its Carando Italian foods brand.
Smithfield, owned by China's WH Group, has launched the products in three flavours – Pepperoni, Meatball, and Chicken Parmesan.
The calzones are ready to heat and eat in less than two minutes. Each calzone is 6oz and retails at US$2.99.
Diane Purnell, brand manager for Carando at Smithfield Foods, said: "As a leader in Italian meats, we are excited to expand our portfolio and bring more of the traditional taste of Carando to consumers.
"Our new fully-cooked calzones offer convenient, on-the-go options for consumers looking to enjoy an easy meal at any time."
Kerry's Strings and Things launches Cheeshapes Quirkies
Ireland-based Kerry Group has launched Cheeshapes Quirkies in the UK under its Strings and Things kids' snacking range.
Cheeshapes Quirkies is the new name for Cheeshapes Randoms but with new shapes such as Llama, "chunky trainer and tennis racquet".
Quirkies are available now in Asda at a recommended retail price of GBP1.50 (US$1.89) and will roll out in other retailers in August.
Melissa Sargeant, brand manager at Strings and Things, said: "As a brand we're committed to making kids playtime fun whilst reassuring parents with a range of healthy snacks. The new range taps straight into this with a mix of quirky shapes that are all a great source of calcium."