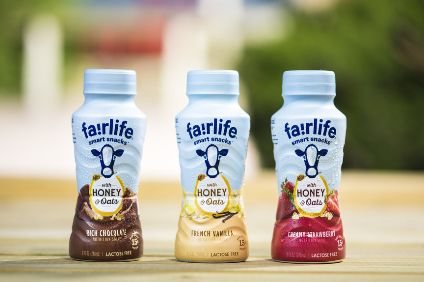 This week's product news includes Nestle's plan to take its A2 infant formula into more markets and Tesco doubling the size of its Wicked Kitchen vegan range in the UK.
Coca-Cola milk JV Fairlife launches snack-sized beverages
Fairlife, the US-based milk brand set up by Coca-Cola and Select Milk Producers, has launched a line of snack-sized ready-to-drink beverages.
Made with ultra-filtered milk, honey and oats, Fairlife said its new Smart Snacks line is intended to be a healthy snack to help curb hunger between meals.
Ultra-filtered milk is dairy milk that has been cold-filtered to remove the lactose while delivering 50% more protein and 50% less sugar than regular milk. The milk is blended with honey for sweetness and oats for a creamy texture, as well as strawberries, cocoa, and vanilla for flavour.
Sue McCloskey, co-founder of Fairlife, said: "I'm so excited to announce the addition of Fairlife Smart Snacks to our portfolio, but I'm especially delighted because its irresistibly rich and creamy flavour profile excites my taste buds and it keeps me from being hungry between meals."
Available in Rich Chocolate, French Vanilla, and Creamy Strawberry varieties, each snack contains 15 grams of protein and five grams of dietary fiber in an eight-ounce bottle.
They are available in select Wal-Mart stores and as multi-packs on Amazon. The suggested retail price is US$2.29 for a single serve eight-ounce bottle and $24.99 for a multi-pack of 12.
Oatly launches oatmeal drinks in Spain
Oatly, the Swedish manufacturer of products made from oats, is launching a line of oatmeal drinks in Spain.
The products will be available at chain stores such as Alcampo, Caprabo and El Corte Inglés.
It is promoting five of its oat drinks – Oat Drink Bio, Oat Drink Original, Barista Edition, Chocolate and Orange Mango – in a campaign centred around Barcelona and Madrid.
It is also promoting its Barista Edition in selected coffee shops.
Unilever rolls out Culture Republick ice cream pints in US
Unilever is rolling out probiotic ice cream pints in the US – Culture Republick.
The Anglo-Dutch consumer goods giant says Culture Republick pints contain three billion live active cultures, 400–500 calories, 16–18 grams of protein, 11–12 grams of fibre and have no artificial sweeteners.
Seven flavours are available: Milk & Honey; Turmeric Chai & Cinnamon; Cold Brew & Chocolate Chip; Pistachio & Caramel; Lemon & Graham; Chocolate & Cherry; and Matcha & Fudge.
Culture Republick will be stocked at select US retailers carrying a recommended retail price ranging from US$3.99 to $4.99.
Nomad Foods-owned Aunt Bessie's Melt in the Middle desserts
Nomad Foods-owned Aunt Bessie's, known for its frozen Yorkshire puddings, is launching 'Melt in the Middle' desserts in the UK.
The frozen desserts are now available in UK grocery channels in two varieties: Belgian Chocolate Chip and Salted Caramel and are suitable for group gatherings.
A 500-gram pack of six will sell for a recommended retail price of GBP2.50-3.00. (US$3.25-3.90).
Marketing director Hannah Haas said: "The Melt in the Middle desserts represent a new and enticing option for consumers in the category – they meet shoppers' desire for eye-catching treats that can serve the whole family or a full dinner party."

Propercorn adds palm oil-free microwaveable popcorn
UK snacks company Propercorn is introducing a microwaveable palm oil-free popcorn.
Propercorn's ready-to-eat microwave popcorn is available in Tesco at a recommended retail price of GBP2.19 for a multipack of three, 70-gram bags.
It is made with a blend of shea and rapeseed oil, and comes in three flavours: Sweet, Salted and Cinnamon. Each bag has less than 100 calories.
Lactalis launches Seriously Melting Pot in UK
France-based dairy group Lactalis is adding to its Seriously range in the UK with the launch of cheese melting pots.
Seriously Melting Pot is made with extra mature Scottish cheddar cheese from the same brand and will launch in two flavours: Aged Scottish Cheddar and Roasted Onion flavour.
The product will roll out this month in Asda and Waitrose followed by Sainsbury's in November at a recommended retail price of GBP2.99 (US$3.92) for a 150-gram pot. Seriously Melting Pot will also be stocked by Booths, Londis and Budgens.
Lactalis says the packaging is fully recyclable and plastic-free.
Dairy co-op Lact'Union launches Promess Ambient Drinking Yogurt
France-based dairy cooperative Lact'Union will launch an ambient drinking yogurt in 30 countries in Asia, Africa and the Middle East in November under its Promess brand.
Promess Ambient Drinking Yogurt is made with 100% French milk and is halal-certified.
Research and development was headed by the co-op's subsidiary Lactinov, while Tetra Pak produced the 200-ml packaging (Tetra Prisma Aseptic) to "guarantee a long shelf-life at ambient temperature, without adding any preservatives".
Alexandre Zeitlin, the export director for Lactinov, said: "Promess Ambient Drinking Yogurt is the result of two years of development within Lactinov. We are very proud to be one of the pioneers of the French dairy industry on the segment of ambient drinking yogurt. Part of Lactinov's strategy is to expand on export markets with products made from our own milk collection such as plain or flavoured milk."
Nestle reduces salt and fat in reformulated Maggi products
Nestlé is re-launching its Maggi-branded Fusian and 3 Minute Noodles products as well as its So Juicy and So Tender dry recipe mixes in the UK and Ireland.
Along with "nutritionally improved recipes and updated packaging designs," the products will have reduced levels of salt and fat.
Maggi Fusian and the Maggi 3 Minute noodle block range now contain 25% less salt compared to the market average, while the noodles also contain 30% less fat, Nestlé said. Neither product contains artificial colours or preservatives.
Maggi So Juicy and So Tender are now free of artificial colours, flavours or preservatives.
The new packs are due on-shelf by the end of this month.
Daniel Wheeler, Maggi marketing manager for Nestlé's businesses in the UK and Ireland, said: "The team has worked tirelessly to deliver products and recipes that help consumers make meals that are both utterly delicious and perfectly balanced."
Hershey takes Kisses chocolate brand into India
US confectionery giant Hershey is taking its Kisses chocolate brand into India.
Hershey's Kisses will be launched in three varieties: Milk Chocolate, Almonds and Cookies 'n' Creme.
"The Hershey's Kisses range in India is the result of intensive R&D and consumer testing to develop the right taste profile for discerning Indian consumers who seek premium chocolate," the company said.
Kisses will carry a recommended retail price of INR50 (US$0.68) for a 36-gram pack and INR140 for a take-home, 108-gram pack. During the first phase of the launch, Hershey's Kisses will only be available in southern India.
Tesco push for Wicked Kitchen
The UK's largest grocer has announced plans to more than double the range of products sold under the vegan brand Wicked Kitchen.
Included in the new range are pies, 'sausage' rolls, sourdough pizzas, chilled desserts and deli foods.
Kate Ewart, Tesco's product development director, said: "We know from our own data that flexitarianism is on the rise and many more customers are dabbling in cutting out meat for a day or so during their weekly diet."
Tesco launched Wicked Kitchen earlier this year. The brand and products were created by Derek Sarno, a well-known blogger on vegan food and now Tesco's executive chef and director of plant-based innovation.
Nestle to take A2 infant formula to more markets
The world's largest food maker is aiming to take its rivalry with New Zealand infant formula upstart A2 Milk Co. into more markets.
Earlier this year, Nestlé launched an A2 baby nutrition product in China under its Illuma brand.
A2 Milk Co. has grown rapidly to become one of New Zealand's largest companies by market capitalisation, with a key factor in its expansion being the success it has had selling its infant formula in China. The company's dairy and infant-formula products do not contain the A1 beta casein protein, said to cause digestive problems for some consumers.
Now, Nestlé is looking to roll out A2 formula products in New Zealand and Australia. Nestlé will launch an A2 formula under the brand name NAN A2 in Australia this month. Next month, S-26 Atwo will follow in New Zealand.