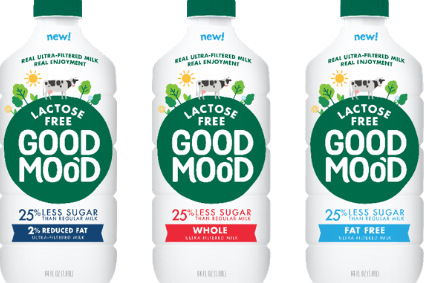 This week's new product launches that caught the eye include Sabra introducing plant-based snacks for kids and Canada's Modern Meat creating a new dairy-free cheese line.
Coca-Cola's Fairlife launches lactose-free line
Fairlife is bringing to market a line of lactose-free milks marketed under a new sub-brand.
The Good Moo'd milks, available in "select" retailers in the north-east, Mid-Atlantic, south-east and West Coast regions of the US, contain 25% less sugar "than the leading lactose-free milk", the company said.
"Good Moo'd doesn't compromise. Its lactose-free, great tasting and a better for you choice in what was – before today – a category with limited options," Jeremy Faa, Fairlife COO, said.
Coca-Cola acquired Fairlife last year. Fairlife was founded by Mike and Sue McCloskey in 2012 as a partnership with Coca-Cola and dairy cooperative Select Milk Producers. The McCloskeys set up Select Milk Producers in 1994.
Sabra rolls out plant-based snacks for kids
Sabra Dipping Co., a US manufacturer of chilled hummus and other dips, has introduced plant-based snacks for kids.
Sabra Kids single-serve snacks come in two varieties: Brownie Batter Dip & Graham Cracker Sticks, and Taco Dip & Rolled Tortilla Chips.
They are suitable for vegans, are non-GMO and Kosher certified. Sabra Kids, which contain three snacks in each pack, are available at US retailers across the country and online from Walmart and Amazon.
Sabra's other plant-based products include guacamole and a 'Dark Chocolate Dessert Dip & Spread'.
Jason Levine, its chief marketing officer, said: "Sabra Kids is a delicious snack and we're thrilled for families to taste for themselves. Like many families, we've embraced a more plant-based way of eating at home, and I know it can be very challenging to find incredibly great tasting, excellent snacks for kids."
Modern Meat to add vegan cheese line
Canada-based Modern Meat is to add a vegan cheese line to its plant-based product portfolio in the shape of KitsCheeze.
The Vancouver-based alt-meat company said it will be launching plant-based "dairy-free artisan cheeses" in the shape of Crumbled Parmesan, Mozzarella Brine and Cheddar Cheeze, as well as a variety of Cheeze Sauces including a Mac n Cheeze recipe and a Spicy Pickled Jalapeno Queso and Nacho Sauce.
Tara Haddad, founder and CEO of Modern Meat, said: "We developed the new vegan cheeses to broaden our plant-based offering even further and demonstrate that there's no need for compromises on taste and flavour when it comes to vegan eating and cooking."
Modern Meat said it plans to roll out KitsCheeze to "select retailers" in May.