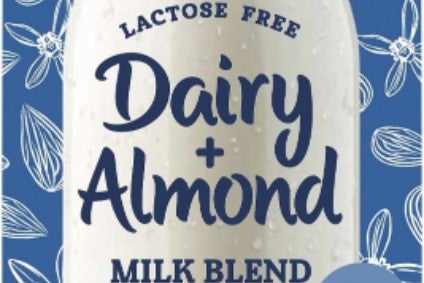 This week's most notable new products include Dairy Farmers of America 'blended' milk drinks and a new food-to-go range from Quorn Foods.
Dairy Farmers of America 'blended' milk drinks
US cooperative Dairy Farmers of America is introducing a new 'blended' drink combining dairy and plant-based ingredients.
Dairy Plus Milk Blends incorporates lactose-free milk with almonds or oats in what it calls the "first-ever blended beverage option". The drinks are being rolled out under its Live Real Farms brand.
Rachel Kyllo, the senior vice president of growth and innovation at Live Real Farms, said: "We absolutely understand that consumer tastes are always changing and that many people are enjoying the benefits of both dairy milk and plant-based alternatives. We recognised an opportunity in the value-added milk category's growth areas – products like lactose-free and flavoured milk."
The new drinks come in five varieties: Dairy Plus Almond-Original; Dairy Plus Almond-Unsweetened Vanilla; Dairy Plus Almond-Sweetened Vanilla; Dairy Plus Almond-Chocolate; and Dairy Plus Oat-Original.
Dairy Plus Milk Blends are available at supermarkets in Minnesota at a retail price of US$3.99 to $4.69 for a half gallon.
PepsiCo's Hint of Salt crisps from Walkers
US food and beverages giant PepsiCo is rolling out Hint of Salt potato chips under the Walkers brand in the UK targeted at "health conscious" consumers.
The twin Hint of Salt range contains 25% less salt than "regular potato crisps", according to Walkers.
They are available now in six-pack formats in Natural Sea Salt and Olive Oil & Herb carrying a recommended retail price of GBP1.65 (US$2.00).
Lizzie O'Connell, the brand manager for Walkers, commented: "It's a common misconception that lower fat/salt/sugar means dull in taste and we want to dispel that myth. We're so confident that shoppers will enjoy the taste of Hint of Salt that we have added the 'Taste Us, Love Us' money back guarantee badge to packets, which offers shoppers their money back if they aren't entirely satisfied with the taste."
Kellogg opens new category for RXBar
The US cereal giant, which acquired US protein-bar brand RXBar in 2017, has taken the brand into a category closer to home.
"RX Bar is known for disrupting the protein bar category, and now we're doing the same for oats," RXBar CMO Victor Lee said.
Kellogg has unveiled RX A.M. Oats, a range of hot cereals including 12g of protein and 6g of fibre. The cereals are available at RXBAR.com and will start to roll out to "select grocery retailers" in September, with plans to expand to "additional grocery, natural and specialty retailers this fall", the company said.
The cereal joins the protein bars and a range of nut butters in the RXBar portfolio.
Kellogg bought Chicago Bar Company, the company behind RXBar, in October 2017 for US$600m.
Quorn teams up with UK food-to-go firm Adelie
UK-based meat-free group Quorn Foods has entered the country's food-to-go sector through a tie-up with local convenience-foods supplier Adelie Foods.
Quorn, owned by Philippines food and beverage business Monde Nissin, and Adelie have launched four types of sandwich and two wraps to target the "big demand" for meat-free food-to-go products.
Andy Smith, the director of business development at Quorn, said: "The meat-free category is currently largely centred around planning meals at home, but our research has shown there's a big demand for more meat substitutes and vegetarian options in the on-the-go channel."
The range will be launched this month "across the out of home channel with a focus on universities", the companies said in a statement. Each product has a recommended retail price of GBP3.29 (US$3.97).
Nestlé launches Nesquik-branded porridge
The world's largest food maker has pointed to a shortfall in the amount of fibre children in Europe consume as it launches a Nesquik-branded porridge.
Nestlé said the cereal has been launched first in Germany, with "further European markets" to follow soon, including Poland and Portugal.
The Swiss giant said the porridge has "less than 5g of total sugars per serving", which equates to 12.3g per 100g. Nestlé added the cereal "meets WHO EU nutrition criteria" and, consumed with milk, a serving would contains an additional 6g of sugars from lactose.
Halo Top takes bars north to Canada
US ice-cream maker Halo Top has added bars to the products it sells north of the border in Canada.
Halo Top made its debut in Canada last year and has announced a range of four bars each containing "80 to 90 calories and seven to nine grams of sugar".
The bars will be sold in packs of four and are to be listed at retailers including Loblaw and Metro Inc.
"We heard our Canadian fans loud and clear since we launched these bars in the U.S. earlier this year," Halo Top president and COO Doug Bouton said. "We're thrilled to bring the bars to our Canadian fans before the summer ends and can't wait to hear what they think."
Sun-Maid's Sour Raisin Snacks
Sun-Maid Growers of California is entering the US fruit snacks category with Sour Raisin Snacks.
Sour Raisin Snacks are available in four flavours: Strawberry, Watermelon, Mixed Berry and Watermelon Sour Raisins. They are made with non-GMO fruit, have no added sugar or artificial ingredients, and are gluten-free.
"Our team has been working on repositioning products and broadening our product portfolio to meet the growing need for less processed, no added sugar snacking options," said chief executive and president Harry Overly. "Sour Raisin Snacks will compete with other fruit snacks and gummies in the category and give parents a healthier option that their kids will love and they will feel good about feeding them whether in school lunches or as a daytime bite."

Stockists include Walmart, Target, Kroger, Albertsons/Safeway, Ahold Delhaize and Meijer. Sour Raisin Snacks carry a suggested retail price of US$3.99.
Podberry pea snacks from Bruce Farms
UK agri-food firm Bruce Farms has won a first major listing for its pea-based Podberry snacks.
The freeze-dried seasoned Podberry snacks will roll out in 28 Morrisons stores in Scotland from 19 August. Two flavours are available, Sea Salt and Balsamic Vinegar and Sweet Chilli, with two other varieties planned for later in the year.
The 20-gram single serve packs will likely carry a recommended retail price of GBP1.00 (US$1.20) to GBP1.29, although final pricing still needs confirming.
Geoff Bruce, a director for Podberry, said: "We are delighted to gain this Morrisons listing. It makes getting our products into the hands of consumers across Scotland so much easier. With a growing demand for healthy snacks which don't compromise on flavour, convenience or quality at a reasonable price point, we believe Podberry delivers. We hope this is the first of many supermarket listings and that soon Podberry will be a recognised and enjoyed product across the UK and beyond."
Whitworths unveils new brand
Whitworths, the UK supplier of products based on dried fruits, nuts and seeds, is introducing a new brand to the market.
The company, owned by Turkish wholesaler Anatolia, has launched Gloriously Grown, a range of snacks offering products from "around the world" offering "exciting, authentic flavours", according to a website for the brand.
The line-up is made up of six varieties, including Californian "red walnut and sorbet raisin" and Vietnamese "jumbo wrapped cashews".
Sainsbury's is stocking the products, which have an RRP of GBP2.99
"We're on a mission to help consumers enjoy snacks that are tasty and healthy. With five varieties sourced worldwide, we hope Gloriously Grown will take customers on a unique and inspiring journey of flavour," Whitworths said.