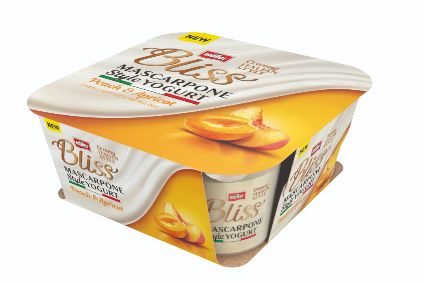 This week's batch of new products includes the launch of non-dairy ice cream in the UK from Sweden's Oatly and mascarpone-style yogurt for the UK market from German dairy giant Müller.
Dairy giant Müller launches Mascarpone Style Yogurt in UK
German dairy company Müller has launched its first ever mascarpone cheese inspired yogurt in the UK in the shape of Müller Bliss Mascarpone Style Yogurt.
It will be available in Asda from 21 October and Morrisons from 28 October in two flavours: Cherry and Peach & Apricot. They are sold in 110g four packs with a RRP of GBP2.89 (US$3.67).
Müller's new product, part of its Bliss range, is an Italian-inspired yogurt, made in Shropshire in the English Midlands with milk from British farms. It combines creamy yogurt with a fruit layer.
Michael Inpong, chief marketing officer at Müller, said: "Taste is by far the most important factor when choosing yogurts and we know that people are looking for some permissible indulgence every now and again. So innovation in this area is vital.
"Italy is the home of luxurious foods, enticing flavours and quality ingredients, so it's a natural starting point to look for inspiration when creating a luxury yogurt."
Müller is also launching a fat free version of Müller Quark Yogurt, which contains 100% naturally sourced ingredients. It will be available from Asda from 21 October, Morrisons from 28 October and Tesco from 4 November. The product will be available in Mango flavour, in 150g singles and the RRP is GBP1.00.
Agrial takes salad brand Florette to Canada
France-based agri-food cooperative Agrial has taken its Florette salad brand to Canada where it will be marketed by Saladexpress, the vegetable products supplier it took a minority stake in last year. It is also re-branding its products as Florette.
Three ready-to-eat side salads are to be launched in the market as well as "fettuccine-inspired" veggie strips.
They will be sold at retailers including IGA, Metro, Super C and Walmart.
Martine Leduc, marketing manager for the Florette brand, said: "Florette ready-to-use salads and vegetables offer valuable assistance with daily mealtime challenges, and in addition to helping you achieve a healthy, balanced diet, they taste great and are easy to use.
"All products from Saladexpress, including the popular fresh, ready-to-cook mixed vegetables and mature spinach, are becoming a part of the Florette brand."
The three new mixed ready-to-eat vegetable salads are Berry Beets, Country Dijon and Salsa Ranch. Each package contains three to four portions and has a RRP of CAD4.99 (US$3.77).
It has also launched a 100%-vegetable alternative to pasta in the shape of beet, carrot and turnip vegetable fettucini. It is cooked in the same way as pasta and provides an additional portion of vegetables to a meal.
Each package contains three to four portions with a RRP of CAD3.49.
Oatly launches non-dairy ice cream in the UK
Swedish dairy-free business Oatly has launched low-calorie ice cream in the UK.
Non-dairy Oatly Ice Cream – which comes in Chocolate Fudge, Hazelnut Swirl and Salted Caramel variants – will be available in Tesco stores from 30 October.
The tubs respectively contain 235, 220 and 246 calories per 100g.
The oat-based ice creams contain plant-based fully-hydrogenated fat. The Chocolate Fudge variety.contains UTZ-certified cocoa and fudge bites made from oat drink.
Oatly currently sell seven varieties of ice cream in the US.
The RRP for its new UK products is GBP4.50 (US$5.64).
Jack Link's adds Beef Bar to UK range
The US-based meat-snacks supplier is adding a bar product to its stable of snacks on sale in the UK.
The Jack Link's Beef Bar is on sale in two varieties – original, plus sweet & hot.
"The new format will offer shoppers an alternative to the existing protein bar offerings, which are heavily focused on sweet rather than savoury options. We saw a significant gap in the market for on the go savoury bar formats," Kenneth Ruigrok, marketing manager for Jack Link's in the UK, said.
Jack Link's said the bars are available at a recommended retail price of GBP1.50 per 22.5g bar or GBP3.50 for a pack of three.
The company told just-food it is "in discussion with a number or retailers and convenience stores" about listing the bars.
Little Moons gains Tesco listing for Cookie Dough Ice Cream Bites
London-based Little Moons has gained its first 'big four' UK grocer listing for its new Cookie Dough Ice Cream Bites product.
It will be available in Tesco, priced at GBP4.50 (US$5.65) for a box of six.
The product is vanilla chocolate chip ice-cream wrapped in a cookie dough shell. Each bites contains 95 calories and is free from artificial flavourings, colours and preservatives.
Company co-founder Howard Wong said: "Tesco really backed us on the idea and we are excited to be launching both our bite-sized adventures, cookie dough and mochi bites, nationwide with them this month."