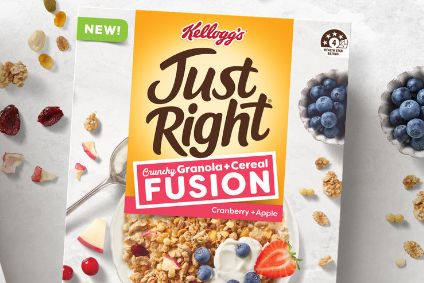 This week's selection of new products include Jammie Dodgers and Maryland Cookies muffins from UK businesses Speedibake and Burton's Biscuits and dairy-free cheese snacks from ParmCrisps of the US.
Danone enters organic baby milk segment with its Aptamil brand
Aptamil, the infant-formula brand owned by Danone in France, is entering the organic category with a new three-strong range of milk powders.
The Aptamil Organic line-up covers from birth up to 12 months with Infant Milk, Follow On Milk and Toddler Milk with each 800-gram format containing the vitamins A, C and D, along with iron and Omega-3.
Danone said the new range is launching now in the UK and Ireland in supermarket chains Tesco, Sainsbury's, Asda and Morrisons, as well as retailer Boots. The stage one and two milk powders carry a recommended retail price of GBP13.50 (US$17.30) and stage three is priced at GBP12.50.
Sandra Eglau, the marketing director for Aptamil UK, said: "Our new Aptamil Organic range is one way we are delivering on parents' modern needs, bringing parents and their little ones the latest innovations our science has to offer."
And takes its Two Good yogurt brand to Australia
Dairy giant Danone has launched its low sugar yogurt brand Two Good in Australia.
The French company suggested the range meets the increasing demand from millennials and Gen Z consumers for low sugar options without artificial flavours, preservatives or colours.
The yogurts have no added sugar, artificial sweeteners or preservatives and contain 2g of total natural sugar and fat, 11g of protein and come in at 75-76 calories per cup, depending on the flavour.
It is available in Mixed Berry, Vanilla, Salted Caramel, Mango, Peach and Cherry variants.
Two Good senior brand manager Ramona Culda said: "Two Good is our straightforward, honest answer to living well, with no nasties and just 2g of total sugar per cup."
Two Good yogurts, already on sale in the US, are available in Australia now at Coles supermarkets.
Kellogg debuts Just Right Fusion cereal in Australia
Kellogg has launched a breakfast product in Australia which is a cross between a crispy cereal and granola.
The US cereal giant's Just Right Fusion is said to combine the "crunch of an oaty granola with the crispiness of cereal".
An extension of its existing Just Right cereal brand, the new version "fuses crunchy granola made with oats and a light crispy bran mixed with multi-grain flakes".
It is available in two flavours – Just Right Fusion Cranberry & Apple and Just Right Fusion Almond & Cashew.
Derek Lau, brand manager at Kellogg's Australian business, said: "We wanted to create a new twist to the Just Right that Aussies know and love. The new Just Right Fusion range stays true to what the brand is famous for – being not too heavy and not too light – while adding an incredibly interesting dynamic from textures that will have you pinballing between cereal and granola."
The Just Right Fusion range is available in Coles stores with a RRP of AUD6.00 (US$4.26). It will be available in Woolworths from 19 October.
Speedibake, Burton's Biscuit Co. team up on NPD
Speedibake, the UK baked products manufacturer owned by Associated British Foods, has linked up with Burton's Biscuit Co. to launch muffins based on the Jammie Dodger and Maryland Cookies brands.
The products, which will be manufactured in Speedibake's factory in Bradford, West Yorkshire, in northern England, will be sold in two packs but there will also be a 12 pack of mini-muffins available in the case of Maryland Cookies.
The muffins are available at Asda in-store bakeries now.
Rob Turpin, commercial director at Speedibake, said: "We're really proud to have developed our first branded range of muffins with Burton's Biscuits.
"We knew we wanted to bring something fun and exciting to the in-store bakery muffin fixture, and Jammie Dodgers and Maryland Cookies are the perfect brands to deliver on that."
ParmCrisps launches dairy-free cheese snacks
US-based snacks business ParmCrisps has launched plant-based, dairy-free cheese crisps in two flavours.
The New Jersey company's Sea Salt and Cracked Black Pepper crisp variants will be available from Whole Foods nationwide from next month with an RRP of US$4.79.
Sam Kestenbaum, CEO of ParmCrisps, said: "When we noticed a trend toward plant-based snacking, we partnered with Whole Foods to create a solution for both our consumers and our retail partners. Plant-Based ParmCrisps is that solution, and it tastes so good that we're confident both mainstream and plant-based consumers will fall in love."
Symington's launches dairy-free rice pots
Symington's Naked noodles brand has launched a duo of dairy-free rice pots in its domestic UK market.
Naked Free From Rice Pots are gluten-free and come in Japanese Style Katsu Curry and Thai Style Green Curry. They have less than 3% fat and 320 calories and will be available in Sainsbury's this week and Tesco from October.
The pots carry a recommended retail price of GBP1.30 (US$1.67).
Christine Everett, head of snacking at Symington's, said: "It's crucially important to us that our products fit with our consumers' lifestyles, which is why we've expanded our range to include free-from in addition to our on the hob and veg pot options."