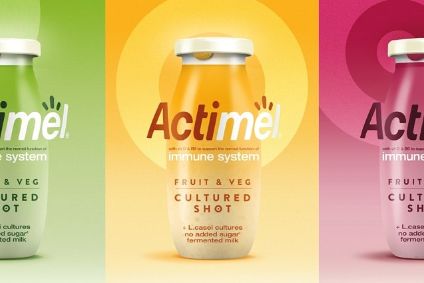 This week's most notable product news includes Actimel "shots", Tyson testing a functional snacks range in the US and Ferrero's chilled push for Kinder in the UK.
Danone launches Actimel "cultured shots"
The French giant has developed a range of "cultured shots" to be sold under its Actimel brand in the UK and Ireland.
Danone is launching three varieties, each containing fermented milk and a mix of fruit and vegetables.
One product contains strawberry, blueberry, blackberry, elderberry and chai spices; another has apple, kiwi, pear, cucumber, spinach, spirulina and mint.
The Actimel Fruit & Veg Cultured Shots were launched in Ireland late last month. The products made their debut in the UK last week through Ocado, with "wider convenience stores, plus major retailers from September onwards".
In the UK, a six-pack of shots has a recommended retail price of GBP3.49 (US$4.24); single bottles have an RRP of GBP1.25.
Tyson Foods to dip its toe in "functional" snacks
The US giant, one of the largest players in the meat sector, has been developing a line of "snack bites" including ingredients such as kombucha, matcha and collagen.
Tyson confirmed the snacks – to be marketed under the Pact brand – will initially be available on a crowdfunding platform.
A spokesperson declined to comment further. "We are not ready to share details just yet. The products are in test phase only right now. We will formally announce them this fall at which time I would be happy to share details."
On a website for the products, www.pactfoods.com, four snacks are listed, each with sub-brand names. Gut Instinct are probiotic snack bites containing cranberry and kombucha, while Gut Ahead are prebiotic snacks with turmeric and ginger.
A third variety, Vibe On, is made with matcha and blueberry. The fourth, Glow With It, contains cocoa, coconut and collagen.
Cofresh launches Bombay Mix-style snack bars
UK-based snacks business Cofresh is rolling out a new range of Indian snacks and bars.
The Leicester-based firm is launching a four-strong line of Indian Street Food Mixes in 200-gram bags – Hot & Spicy, Sweet & Fruity, Aromatic & Smoky and Sweet & Salty – "to help retailers tap into rapidly growing consumer demand for street food".
And the Street Food Bars (35 grams), a spin on Bombay Mix, are available in Original and Sweet & Salty. Both lines are suitable for vegans.
Debbie King, director of commercial sales and marketing, said: "All-day snacking is fast pushing the custom of eating three square meals a day into the history books while at the same time, street food and its culinary diversity continues to revolutionise our eating habits and flavour expectations. Our traditional mixes have long been favourites in the snacks sector so we've taken the very best elements of those and brought them right up to date with a modern twist in terms of flavours and street food appeal."
Both products will appear on the shelves of "most major supermarkets" this month, according to a company spokesperson. The mixes carry a recommended retail price of GBP1.29 (US$1.57) while the bars retail at GBP0.69.
Plant-based foray from sports-nutrition firm SIS
Science in Sport, the UK-based sports-nutrition firm, is rolling out a range of plant-based powders and protein bars.
The London-listed business is marketing the products under the SiS' Plant20 brand.
The range includes the Plant20 Bar, which has 20g of pea, soya and almond protein, and Plant20 Powder, comprising pea, pumpkin and soya protein.
Stephen Moon, Science in Sport's CEO, said: "The importance of protein has often been underestimated by athletes and it is particularly relevant to vegans. Plant20 complements the large number of vegan hydration and energy products that our SiS brand already offers and we expect the combination of great taste, high protein and low sugar to be appreciated by all sportspeople whether vegan, vegetarian, flexitarian or environmentally aware."
The range is available online at www.scienceinsport.com and www.wiggle.com.
A company spokesperson added: "The Plant20 range has been launched initially online at the SiS and Wiggle sites. We expect to roll out the availability of the products more widely in the coming months."
Ferrero to roll out chilled Kinder snacks in UK
The Italy-based confectionery giant has already had its chilled products on sale in the UK on a limited basis but it is to increase distribution from next month.
Ferrero is rolling out two products – a Kinder Milk Slice and a chilled chocolate snack called Kinder Pingui.
The products have been on sale at Asda after Ferrero was able to take advantage of an early range review. The company plans to "build distribution nationally from September. Ferrero already markets the snacks in Ireland.
Kinder Milk-Slice is a snack with a milk filling, two layers of sponge and honey. It is being sold as a single-serve 28g at a recommended retail price of GBP0.40 (US$0.49), as well as in a five-pack at GBP1.56.
The Kinder Pingui snack has a milk filling between two thin layers of cocoa sponge all covered in chocolate. A 30g single-serve has a recommended price of GBP0.48. A four-pack has an RRP of GBP1.59.