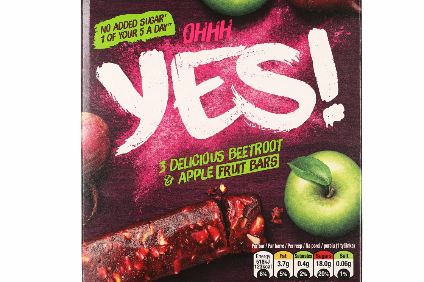 This week, the more eye-catching new products announced to market include Arla Foods' organic fruit yogurts debut roll out in Germany, a collaboration between Germany's Dr Oetker and UK-based Quorn in pizza, and Nestle introducing the Maggi noodles brand to yogurt dips in India, along with a new snack brand in the UK and Ireland.
Danone launches another organic yogurt range in France
The French dairy giant has added to its presence in the growing organic sector in its domestic market with the launch of a range called Faire Bien.
The four varieties of yogurts are initially being sold at specialist organic retailer Naturalia.
Danone said some 5% of the sales made from the Faire Bien range will go towards forming a "partnership" with France's organic farmers to support the "next generations" in the sector.
The company described the move, made through French subsidiary Les Prés Rient Bio, was "a collective project that has been launched in France to support organic dairy farmers".
Danone added: "The objective of the project is to create a sustainable future for organic milk production in France, through intitiatives aiming at training and empowering farmers."
Nestle unveils gluten-free snack bar Yes! for UK, Ireland
Nestlé has unveiled a new gluten-free snack brand Yes!, which will launch in the UK and Ireland in September and incorporates what it calls a "diverse" range of ingredients.
Yes! bars are made with combinations of fruits, vegetables and nuts, with the latter bars containing five grams of sugar. However, the fruit and vegetable varieties have no added sugar. They have no artificial sweeteners, flavours, colours or preservatives.
The bars roll out in five flavours: Delicious Beetroot & Apple; Lively Lemon, Quinoa & Chilli; Tempting Sea Salt Dark Choc & Almond; Sumptuous Cranberry & Dark Choc Delightful Coffee; and Dark Choc & Cherry.
Yes! bars are available in major retailers nationwide as singles – recommended retail price of GBP1.20 (US$1.57) – and in multi-packs of three (RRP GBP2.99). All are suitable for vegetarians, while the fruit and vegetable versions are vegan-friendly.
Florette launches fruit pots in Spain
Salads giant Florette, owned by France-based agri-food co-op Agrial, has rolled out a range of ready-to-eat fruit products in Spain, one of its major international markets.
The company has launched four lines – pineapple chunks, mango pieces, apples pieces and grapes. It said the range of fruit will vary during the year according to seasonality.
"The future of our innovation is to reach all the moments of consumption of the day with fresh, tasty and healthy products," Fermín Aldaz, the commercial and marketing director of Florette's business in Iberia, said.
Florette said ready-to-eat fruit has "a long tradition" in markets such as the UK and France but is in its early stages in Spain.
The Iberia subsidiary is estimating 10% of its turnover could come from "healthy snacking" products "in the coming years".
Imperial Frozen Foods introduces Happy Healthy breakfast range
US group Imperial Frozen Foods has launched a new range of convenient breakfast smoothies and oats under the name Happy Healthy.
The Happy Healthy frozen series includes five 8-once Smoothies, three 8-oz Overnight Oats and a 10-oz Acai Bowl, which will launch in over 2,500 US retailers in October including Walmart, Albertsons, Hy-Vee, Lowes Foods, Harris Teeter, Heinens, Foodtown and Fairway, with more to follow.
Imperial said the products combine farm-frozen, non-GMO ingredients in a usable package that can be recycled. For the Smoothies, the ingredients need putting in a blender, while the Overnight Oats are combined with a liquid of choice and then refrigerated overnight. The organic Acai Bowls just need thawing.
The recommended retail price for the smoothies and oats is US$4.49 each, while the Acai bowls are priced at $6.99.
Mars to introduce M&M's chocolate bars, hazelnut spread candy version
Mars' continues to diversify its candy brand M&M's with the launch of a five-strong range of chocolate bars in the US, and also plans to roll out a hazelnut spread version of the sweets.
M&M's Chocolate Bars contain the Minis version of the candies and will be introduced nationwide in the US in December. The varieties are Peanut, Milk Chocolate, Crispy, Almond and Crispy Mint.
Meanwhile, M&M's Hazelnut Spread Chocolate Candies will make their countrywide debut in April, and will roll out in singles bags of 1.35 ounces, sharing bags (2.53 oz), and a sharing stand-up pouch (8.3 oz).
The two new M&M's products from Mars join the recent brand additions: M&M's Crunchy Mint, M&M's White Chocolate, M&M's White Chocolate Peanut and M&M's Caramel.
Premier Foods adds fruit layer to Angel Delight whips
UK-based Premier Foods plc is adding a real fruit layer to its Angel Delight whips as part of efforts to revitalise the brand, which has undergone a recipe update, a package redesign and seen the introduction of new pot formats.
Angel Delight Layers Pots contain less than 100 calories and are made with fresh milk, and have no artificial colours, flavours or preservatives.
Two varieties will be available in grocery stores from 15 October at a recommended retail price of GBP0.75 (US$0.98) for a 120-gram pot: Strawberry with a strawberry fruit layer and Butterscotch with an apple fruit layer.
Daniel Jalalpour, the brand director for desserts at Premier, said: "Following the success of our ready-to-eat pots, which launched last year and helped us modernise the brand, this is a great next step and a product to delight our shoppers. The introduction of Angel Delight Layers Pots brings the tasty dessert together with a real fruit layer for the first time."
Australia's Capilano launches pre-biotic honey Beeotic in US
Capilano, the Australian honey company, has launched Beeotic, which it claims is the world's first clinically tested pre-biotic honey, in the US.
A speciality honey sourced exclusively from healthy Australian bees, Beeotic Honey contains a combination of eight naturally occurring oligosaccharides, which have been linked to nourishing good bacteria in the gut.
Beeotic Honey launched in Australia in 2016 following a clinical study at the University of New South Wales in Australia confirmed the pre-biotic health potential of select Australian honeys.
Dr. Ben McKee, managing director of Capilano Honey, said: "As we expand into the US market, we are thrilled to deliver the delicious taste of pure, Australian honey along with its health benefits to a broader international audience.
"We test every batch of Beeotic Honey to ensure it contains pre-biotic components so people around the world can help support their digestive health by consuming real, pure honey."
Beeotic Honey is available at Walmart locations across the US in 13.2oz jars or 12oz queeze bottles with a RRP starting at US$9.98.
Barilla debuts One-Ingredient Legume Pastas in the US
Italy-based food group Barilla has launched One-Ingredient Legume Pastas in the US.
Made with just chickpeas or red lentils, the new line reflects the trends towards plant-based diets and enhanced protein, Barilla said:
Jean-Pierre Comte, president of Barilla Americas. said: "We're very proud of this innovation because it was not only inspired by the needs and wants of our consumers, but also our greater GYGP [Good for You, Good for the Planet] mission."
The line is available in four varieties featuring just one ingredient – Red Lentil Rotini, Red Lentil Penne, Chickpea Rotini and Chickpea Casarecce – all of which are certified gluten free and non-GMO project verified.
The pastas retail for US$2.99 each.
Nestle takes Maggi into new category in India
Nestlé is taking its Maggi noodles brand into India's yogurt dips category as part of its "journey" into the value-added dairy segment.
Maggi Dip & Spread contains less than 3% fat and is made with 80% yogurt, and is specially designed for the Indian palate. It will launch with two varieties in the National Capital Region of Delhi in all leading supermarkets: Cheese Garlic and Jalapeno Salsa.
Arvind Bhandari, the general manager for dairy at Nestlé's business in India, said: "Yogurt-based low-fat Maggi Dip & Spread is an entirely new category for us which will offer consumers a whole new experience. The increasing eating-out culture and aspiring India's growing appetite for global cuisines are leading to the trend of cooking unconventional and international dishes at home. We would like to tap this opportunity and emerge as a significant player in the segment with [the] promise of convenience, health and exotic taste of dip and spread with different food types."
Maggi Dip & Spread is available at a recommended retail price of INR150 (US$2.06) for a 150-gram pot.
Arla debuts Bio Nur organic, fruit yogurts in Germany
Arla Foods is launching a range of organic 25% fruit yogurts in Germany – Bio Nur.
Bio Nur are free from artificial flavours and additives, and have no added sugar. They will roll out in Rewe stores in Germany this month and other European markets in 2019.
In the first phase, three flavours are available: strawberry, tropical fruit and red fruit in 150-gram pots and embrace Arla's 'Less Sugar' initiative.
Arla claims the new Bio yogurts contain 6.8-7.7 grams of sugar per 100 grams, compared to 14 grams for the ten best-selling branded fruit yogurts in Germany, which also consist of an average of seven ingredients, including yogurt, fruit, flavours and added sugar. Arla says its organic yogurts are based on 75% yogurt and 25% fruit.
Dr Oetker teams up with Quorn Foods on pizza
German food company Dr. Oetker is teaming up with UK-based meat-free meal maker Quorn Foods in the launch of vegetarian frozen pizza under the former's Ristorante brand.
Two options will be available in Asda stores across the UK in October: Dr. Oetker Ristorante Pizza Pesto and Dr. Oetker Ristorante Pizza Royale at a recommended retail price of GBP3.19 (US$4.19).
Ristorante Pizza Pesto is a thin and crispy, Italian-style pizza topped with Quorn Vegetarian Chicken, red onion, peppers and pesto sauce.

Ristorante Pizza Royale is topped with Quorn Vegetarian Bacon and mushrooms, with a garlic sauce on a thin and crispy base.