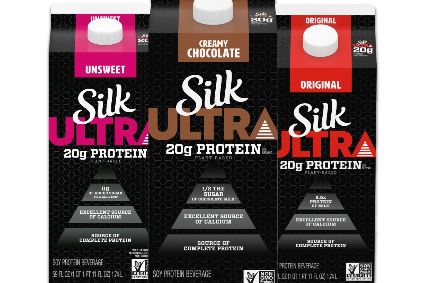 This week's selection of new products includes the UK launch of an organic variant of Cheerios breakfast cereal from Nestlé and General Mills, and Kinder breakfast biscuits from Ferrero in France.
Danone tries to catch athletes with new Silk product
The French group is launching what it calls a range of "protein-packed" drinks in the US under Silk, one of its major brands in the country.
Sold in 59 fluid ounce (1,744ml) cartons, the three Silk Ultra products each contain 20g of protein.
Available in "multi-serve" cartons, the three options of creamy chocolate, unsweet and original. The unsweet flavour has 0g of added sugar but 1g of total sugars, The original variant has 5g of total sugars (4g of added sugar) and the creamy chocolate option has 11g of sugar (10g of added sugar).
"Silk saw a real consumer need for a great-tasting plant-based beverage in the protein space," Andrew Hartshorn, senior vice president for plant-based food and beverages for Silk, said. "Silk Ultra delivers complete plant-based protein and truly delicious taste, so athletes don't have to compromise."
Mars offers low-cal chocs …
In the UK, Mars is rolling out low-calorie options for three of its best-known chocolate brands in the country.
The company is offering versions of Mars, Snickers and Twix that are 100 calories or less. Mars said the bars are made with "the exact same recipes that consumers know and love" and sold "at a reduced size".
Almost half of UK shoppers consider the portion size of snacks when buying, Mars said. The US giant added that, while there is a drive among UK manufacturers to reduce calories via reformulation, more than two-thirds of consumers in the country "have said they would rather have less of a favourite chocolate than a larger amount of a low-sugar chocolate".
Kerry Cavanaugh, marketing director for the group's Mars Wrigley unit in the UK, said: "Our new 100-calorie format gives consumers their favourite brands' original recipes but in a size that is a meaningful snacking choice. This new range is for consumers who want a sweet treat but in a smaller portion size."
The new bars have a suggested retail price of GBP0.40 (US$0.54) for single bars and GBP2.79 for multipacks.
… and adds to vegan chocolate range
Mars, which already markets Galaxy vegan options in the UK, has also added to its presence in that part of the confectionery fixture in the country.
Morrisons, the UK's fourth-largest grocer, is stocking vegan varieties of Topic and Bounty bars in tablet form from the end of this month. Asda is listing the Bounty product. Mars has suggested a retail price of GBP3 (US$4.07) for the 100g bars.
"Galaxy Vegan has proved incredibly popular and we believe that Topic Vegan and Bounty Vegan will add something excitingly different to the free-from category," Michelle Frost, general manager of Mars' Chocolate Drinks & Treats unit in the UK, said.
Citing IRI data, Mars said its Galaxy vegan bars had a 54% market share of the branded, free-from, block chocolate sales in the UK in the "last 46 weeks sales since launch in November 2019".
In the year to 12 July 2020, the UK's free-from chocolate confectionery category was worth GBP15.9m, up 93%, Mars added, again pointing to figures from IRI.
PepsiCo's new combination Cheetos Crunch Pop Mix
Food and beverages giant PepsiCo has combined its Cheetos cheese snacks with the brand's popcorn edition to create Cheetos Crunch Pop Mix, launched in the US this month.
The Cheetos brand comes under the company's Frito-Lay North America division, which PepsiCo says is a US$17bn convenient foods business.
"2020 was a year unlike any other in that we saw the incredibly popular introduction of Cheetos Popcorn in January, quickly followed by world-changing events that affected every industry differently," said Rachel Ferdinando, the senior vice president and chief marketing officer for Frito-Lay North America. "Hopefully Cheetos Crunch Pop Mix can provide a small moment of joy and bring a few smiles this year."
Cheetos Crunch Pop Mix is available in US retailers across the country in 2.25 and 7 ounce bags carrying a suggested retail price of $1.89 and $3.99, respectively.
Nestlé, General Mills cereal JV in UK organic launch
Cereal Partners Worldwide, the joint-venture partnership between food giants Nestlé and General Mills, has launched Organic Honey and Chocolate Cheerios in the UK.
The product marks the brand's entrance into the UK's organic market, with the certified organic cereal made using organic honey hoops from five organically-farmed whole grains and chocolate cereal pieces.
The cereal will initially be sold exclusively via supermarket chain Waitrose and then, from May, in Sainsbury's.
Toby Baker, regional marketing director UK at Nestlé Cereals, said: "Given that GBP200m (US$269.9m) a month is now spent on organic food and drink in the UK, it's clear that sustainably-conscious consumers are looking for products that are good for our planet. This growing interest has intensified during the pandemic, with many families placing greater emphasis on leading better lifestyles, focused on well-being and sustainability."
He added: "The launch of Cheerios UK's first organic cereal is yet another milestone in our own journey, which will also help meet growing consumer demand for organic products."
The product will be available in a six times 330g format. No recommended retail price has been supplied.
Ferrero launches Kinder biscuits in France
Ferrero, the Italian confectionery business and the owner of Nutella spreads, will launch its first breakfast biscuits in French retailers this month under its Kinder brand.
Kinder CereAlé offers consumers chocolate or hazelnut pieces in a biscuit that uses seven varieties of cereal-based flours, including wheat, spelt, corn, rice, rye, oats and buckwheat.
Both the chocolate and hazelnut versions come in 204-gram packets containing six twin biscuits at a recommended retail price of EUR2.79. (US$3.39). They will be stocked in French retailers Auchan, Géant Casino, Monoprix and Franprix, to be followed by other accounts in February.
Kinder is a chocolate brand normally associated with kids.
Marie Zadjman, the marketing director for Kinder in France, said: "The French are always looking for
gourmet products, especially for breakfast. That's why with Kinder we want to offer them our very first cookie dedicated to this consumption time, Kinder CereAlé, a unique and innovative product, which is part of the enlargement strategy from Kinder to target adults."