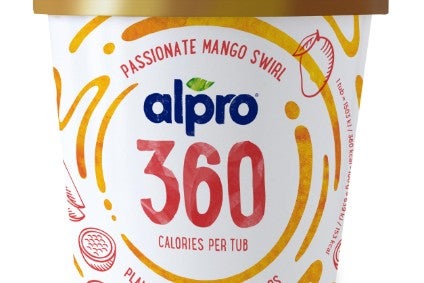 This week's batch of new product launches includes offerings from Danone, General Mills, Mondelez International and Sargento Foods.
Danone's Alpro launches plant-based ice cream
Alpro, the brand owned by French dairy giant Danone, is launching a plant-based ice cream.
Alpro 360 low-calorie ice cream is made with soy and is 100% plant-based, with no sweeteners and 30% less sugar than "the standard market reference in ice cream". Each 450-ml tub contains 360 calories.
Three flavours are available in Caramel Macchiato, Velvety Chocolate and Passionate Mango.
Morrisons and online retailer Ocado will carry Alpro 360 at a recommended retail price of GBP5.00 (US$6.30) a tub.
Calidad Pascual launches Vivesoy Fusión dairy-free drinks
Spain-based dairy company Calidad Pascual has added to its range of dairy-alternative drinks.
The business has launched Vivesoy Fusión, a line of beverages each containing a mix of nuts.
Calidad Pascual cited data from Nielsen that it said showed sales for plant-based drinks rose 10.1% to more than EUR140m (US$156.3m) in 2018.
The company has launched two products: Fusión Frutos Secos, which contains cashews, almonds, hazelnuts and walnuts and has "a truly unique flavor"; plus Fusion Almond & Cashew.
The recommended retail price for the drinks are EUR1.89.
General Mills' Old El Paso Mexican brand debuts Tortilla Bowls
The Old El Paso Mexican food brand owned by General Mills is introducing Tortilla Bowls in the UK.
The bowl-shaped, sea salt-flavoured chips are ideal for scooping dips and salsa and will roll out across retailers and convenience stores from June.
"We've had great feedback so far," said Lindsay Hill, the marketing manager for meals and baking at General Mills. "In our consumer testing, 73% of consumers said they'd serve Tortilla Bowls as a starter, while 53% said they'd make a great canapé, which shows just how versatile they are."
General Mills said the Old El Paso brand is worth GBP100m (US$126.1m), making it the "UK leader in Mexican food".
Mondelez adds Seeds and Berries to BelVita range
Mondelez International is adding a Seeds and Berries variant to its BelVita snacks range, along with the launch of its first ever reduced sugar version.
Seeds and Berries will roll out in June with two flavours, Raspberry & Chia Seeds and Blueberry and Flax Seeds. They are available in 270-gram, six-pack boxes with three biscuits per pack carrying a recommended retail price of GBP2.79 (US$3.52).
Also, BelVita Chocolate Chip breakfast biscuits are being launched with 30% less sugar than the standard variant. Each 225-gram box contains five packs, with four biscuits per pack at a RRP of GBP2.00.
Both launches will be supported by a GBP3.5m marketing campaign along with a "fresh new look".
Melissa Stuart, the brand manager for BelVita, said: "We are proud to lead the wellbeing and breakfast segments and believe that these two launches that meet consumer needs will really help to drive sales for retailers. Our delicious range of breakfast biscuits are made with five wholegrains and provide slow release carbohydrates hour after hour, making them a convenient and nutritious choice."
US cheese firm Sargento Foods targets morning snackers
Sargento Foods, the US cheese supplier, has its eye on consumers wanting on-the-go snacks in the mornings.
The family-owned company has launched Sargento Sunrise Balanced Breaks, snacks the business claims "deliver convenience, satiation and balance".
The products – additions to the umbrella Balanced Breaks brand – contain cheese, plus other ingredients such as walnut oat granola, quinoa clusters or maple pumpkin seeds.
Four varieties have been developed, including a pot containing double cheddar cheese, vanilla blueberry quinoa clusters and "blueberry juice-infused dried cranberries".
Stephanie Meyer, senior marketing manager at Sargento Foods, said: "Mornings can be hectic, and consumers are looking for ways to start their day on track with a morning snack that delivers convenience in a delicious way."
The company said the products can be found at "retailers nationwide".
Bol Foods rolls out Super Soup
Bol Foods, the UK business focused on the plant-based category after ditching dairy, fish and meat products, is rolling out an "immune boosting" Super Soup.
Creamy Coconut, Corn and Sweet Potato Super Soup launches in nationwide Sainsbury's stores today (29 May) at a recommended retail price of GBP2.75 (US$3.47) for a 500-gram jar.
Based on a Peruvian style plant-based chowder, the Super Soup is made with creamy coconut, sweet potato, corn, red peppers and red quinoa, and is a source of vitamin A.