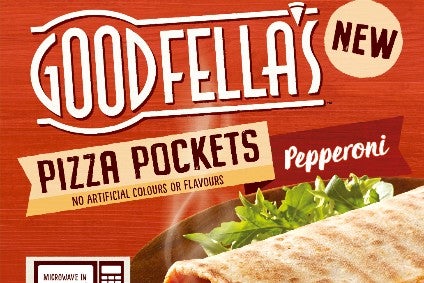 This week's round-up of new product launches includes cheese and vegetable snacks from Del Monte Foods and a snacking pizza range from Nomad Foods' Goodfella's brand.
Del Monte Foods rolls out Veggieful Bites
Del Monte Foods in the US is rolling out Veggieful Bites, a blend of vegetables and cheese baked in a whole wheat and cauliflower crust.
Frozen Veggieful Bites come in three flavours: Broccoli and Cheddar, Spinach and Feta, Veggie and Mozzarella. They are available nationwide in stores such as Target, Publix, Shop Rite and Albertsons at a suggested retail price of US$3.79.
The snacks provide nine grams of protein and are made with real cheese without artificial preservatives or flavours.
Liam Farrell, vice president of brand marketing, said: "We are excited to grow the frozen snack category with Veggieful Bites to revitalise the notion that nutrition and great taste can coexist in the frozen aisle. In a fast and mobile world, we envision Veggieful Bites as a delicious and nutritious option that can be everyone's first choice for a party snack, holiday appetiser, and more."
Nomad Foods' brand Goodfella's launches Pizza Pockets
Goodfella's Pizza, the brand owned by Nomad Foods, is expanding into the frozen snacking category with Pizza Pockets.
Pizza Pockets can be microwaved in just two minutes and are available in two varieties, Pepperoni and Triple Cheese. They are free from artificial colours and flavours.
They will launch next week in Tesco and Asda at a recommended retail price of GBP1.99 (US$2.56). Nomad Foods said Pizza Pockets were formerly under the Findus brand.