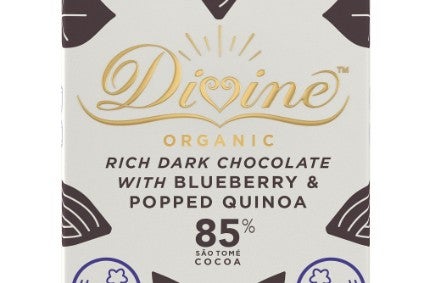 This week's round-up of the most notable product development from the international food sector includes PepsiCo taking Quaker into the chilled aisle in the US and Aldi's latest NPD offensive in the country.
Divine Chocolate to launch new organic bars using São Tomé cocoa

Ethical manufacturer Divine Chocolate will launch a new organic range in the UK in September using Fairtrade-approved cocoa sourced from the West African island of São Tomé for the first time.
The UK-based international farmer-owned Fairtrade company is rolling out the 80-gram low-sugar bars in four flavours with 85% cocoa – ginger and turmeric, refreshing lemon, blueberry and popped quinoa, and cocoa nibs – along with a 95% plain dark bar. They are non-GMO certified and also suitable for vegans.
They will initially launch in Ocado on 1 September, followed by Wholefoods and other retailers.
Divine is using cocoa from the CECAQ-11 in São Tomé, a farmers' co-operative which was originally made up of 11 farmer village associations and now has 20. The farmers will receive the Fairtrade premium on top of the price of the organic cocoa, and Divine is also considering how it can support the farmers to develop their co-op and increase their yield.
Chris Noel, sales director for Divine Chocolate, said: "With consumers becoming more mindful of health trends, this new line taps into the growing desire for more healthful treats."

Aimia Foods links up with Levi Roots to launch Caribbean Snack Pots
The UK's Aimia Foods, owned by Canada's Cott Corporation, has linked up with local ethnic sauce-led brand Levi Roots to launch Levi Roots Caribbean Snack Pots.
With a RRP of GBP1.29 (US$1.64), the on-the-go instant snack pots are available in four variants: Reggae Reggae Noodles, Levi's Curry Noodles, Caribbean Coconut Rice and Rasta Pasta.
Michelle Younger, new markets manager at Aimia Foods, said: "Consumers are increasingly looking for ethnic foods and in particular Caribbean-inspired products. Separately to this, the market for 'on-the-go' is in considerable growth.
"We believe the category is saturated with low cost, Asian noodle pots, a large proportion of which are high in salt and/or sugar. Levi Roots Caribbean Snack Pots create a point of difference in the market by introducing a range of high quality, authentic rice, pasta and noodle pots made using natural ingredients.
All the products have low levels of salt and sugar, and do not contain MSG.
German grocer Tegut launches own-label range
Tegut, the German supermarket chain owned by Swiss giant Migros, has shaken up its entry-level own-label portfolio with a new line, dubbed Jeden Tag, or Everyday.
Up to 700 products will be stocked in Tegut's 300-plus stores in Germany, with the new range available in the dairy, confectionery, frozen-food and meat categories.
"Enjoying good quality at a low price – this is what the products from Everyday stand for," Tegut said.
General Mills extends Fibre One and Nature Valley ranges in the UK
Global food giant General Mills has revealed it is to extend its Fibre One and Nature Valley snack ranges in the UK.
It is launching Fibre One Cake Bars and Nature Valley Nut Butter Cups.
Cake Bars will be added to Fibre One's "guilt-free snacking range" in two flavours: Triple Choc and Carrot Cake. Each is available in boxes of 4x25g with a RRP of GBP2.89 (US$3.67). Having first hit retail shelves this week (13 August) the new bars will then be rolled out across the multiples.
General Mills said both products honour the Fibre One USP with 90 calories per bar, and, it suggests, contain at least 30% more fibre, 30% less fat and 30% less sugar than the average cake bar in the UK.
Its Nature Valley range will be extended with the launch of two Nut Butter Cups in September.
These will comprise wholegrain oat cups filled with either real peanut or almond butter, topped with nuts and dipped in chocolate (RRP GBP2.89).
From October, Peanut Nut Butter Biscuit and Peanut Nut Butter Cup will be available in singles (RRP GBP0.85).
Stonyfield Organic dips into Snack Packs
Lactalis-owned US dairy company Stonyfield Organic has created 'grab-and-go' options in the shape of its new Organic Snack Packs.
Featuring a duo of organic low fat yogurt paired with either organic Graham crackers or organic pretzels for dipping, the Organic Snack Packs are the latest addition to the New Hampshire-based company's line-up of organic yogurt, pouches, smoothies, tubes, and string cheese.
They are available in three variants: Strawberry Low Fat Yogurt and Graham Crackers, Chocolate Flavoured Low Fat Yogurt and Graham Crackers and Chocolate Flavoured Low Fat Yogurt and Pretzels.
Natalie Levine, Stonyfield's brand director, said: "With back to school just around the corner, our Snack Packs give families another nourishing, easy snacking option they can trust."
Stonyfield Snack Packs are available in Kroger, Hannaford, Market Basket & Wakefern supermarkets with a RRP of US$2.29.
PepsiCo's Quaker moves into chilled section with Morning Go-Kits
Quaker, the oats brand owned by PepsiCo, is moving into the refrigerated section of retail outlets in the US with the launch of Morning Go-Kits – an on-the-go breakfast option.
Available in three varieties, each Morning Go-Kit contains 18g of whole grains and includes a mix of breakfast flats, non-fat Greek yogurt and a dried fruit, nut and seed mix.
It will be available throughout the US this autumn with an RRP of US$3.99.
Earlier this decade, PepsiCo partnered with the Theo Muller Group to create a line of yogurts with Quaker granola toppings, which was released under the Muller name. In 2013, the two companies opened a plant in New York state to make the yogurts. Two years later, the partners ended the venture.
Kellogg's Kashi unveils Kashi by Kids range
Kashi, the plant-based food business owned by Kellogg, has launched Kashi by Kids, an organic food line designed by children for children.
The California-based firm said the debut foods in the range are three organic cereals, each featuring combinations of shapes, flavours and superfood ingredients.
Kashi collaborated with a "group of kids who are passionate about food and the planet, the Kashi Crew", to create the range.
The cereal flavours are Kashi by Kids Berry Crumble, Kashi by Kids Honey Cinnamon and Kashi by Kids Cocoa Crisp.
Each cereal is non-GMO project verified, features a simple ingredient list and delivers plant-based nutrition – including at least 18g of whole grains, 3g of fibre and 8g of sugar or less per serving.
Jeanne Wilson, associate director of brand marketing at Kashi, said: "The end result is an awesome line of organic cereals with superfood ingredients that parents and kids can feel good about."
Aldi's innovation push in US
Discount retail giant Aldi has announced a raft of new products set to go on sale at its stores in the US, including moves in plant-based categories.
Among the new products developed for the US market by Aldi, which has more than 1,800 stores in country, are new vegan and vegetarian options for its Earth Grown store brand.
Overall, Aldi said the push will see it increase its fresh-food selection by 40%.
Jason Hart, the CEO of the German retailer's US arm, said customers Stateside were showing "increasing preferences for fresh items, including organic meats, salad bowls, sliced fruits and gourmet cheeses".
Aldi wants to have 2,500 stores in the US by 2022.
Hain Celestial adds to Yves Cuisine range
Staying in the US, Hain Celestial is adding to a range of foods marketed under one of its own vegetarian brands, Yves Cuisine.
The manufacturer has added a line of appetiser bites and a line of "gourmet sausages" to a range of foods that already includes burgers, deli slices and breakfast foods.
The bites come in four varieties, including falafel and broccoli. They are sold chilled and are available at retailers including Walmart and Whole Foods at a suggested retail price of $5.49-6.99.
It will be early next year before the new sausages hit the market. Hain Celestial has developed two products – Mediterranean Harissa and Kale & Caramelised Onion. They have an SRP of $5.99.
Mizkan widens Sarson's range in UK
Japan-based Mizkan is targeting what it calls "the quick pickling trend" in the UK with a new product under its local brand Sarson's.
Sarson's Pickle in 15 Minutes is a vinegar blend Mizkan says consumers can use to "add new taste dimensions" to their meals.
"Quick pickling is a hot trend right now, with top restaurants and celebrity chefs leading the way. We know foodies love to try at home what they have experienced out and about and we've developed Sarson's Pickle in 15 Minutes to make it convenient for them," Ed Culf, Mizkan's marketing director, said.
The new product is on sale at Tesco stores in the UK at a recommended retail price of GBP1.69 (US$2.15).