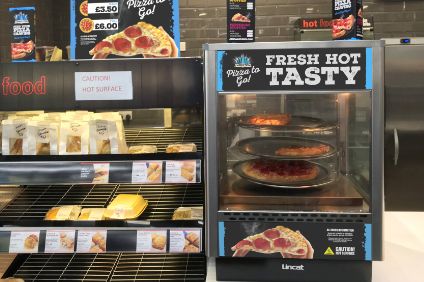 This week's batch of new products includes US-based Flowers Foods launching Dave's Killer Bread brand English muffins and a new range of fruit desserts aimed at children from France's Andros.
Dr Oetker targets grab-and-go market with Chicago Town Pizza to Go
Frozen pizza brand Chicago Town, manufactured by Germany's Dr Oetker, has been made available in a grab-and-go format in the UK.
Special pizza cabinets are to be installed in retail outlets so customers can buy a hot pizza to take away.
The 12 inch stuffed crust Chicago Town Pizza to Go has rising dough that is not pre-cooked.
It is available in the two most popular Chicago Town Pizza flavours – Loaded Cheese and Loaded Pepperoni. They can be sold in quarter slice, half pizza or as a whole pizza.
Richard Cooper, senior brand manager at Dr.Oetker, said: "Hot, fresh and ready to go, Chicago Town Pizza to Go is the ideal addition to your existing hot food offering, providing all the authentic High Street takeaway characteristics that always hit the spot and keep customers hungry for more."
The RRP is GBP7.00 (US$9.15) per pizza.
The Collective rolls out kefir Super Yoghurts
The Collective is rolling out kefir Super Yoghurts for kids in the UK.
Two flavours of the Super Yoghurts are available in Sainsbury's and online retailer Ocado this month in 85-gram pots at a recommended retail price of GBP2.00 (US$2.62) – Strawberry and Peach & Mango. They will launch in other retailers later this year.
Super Yoghurts contain no bits or pips, and only sugar sourced naturally from milk and fruit. They are made like a traditional yogurt, but adding a higher diversity of live gut friendly cultures to whole milk and "supercharging" it with Vitamin D, according to The Collective, which was founded in New Zealand around ten years ago by Angus Allan and chef Ofer Shenhav .
Amelia Harvey and the late Mike Hodgson established the UK arm in 2011.
Harvey said: "I wanted to create a range which combined the gut health benefits of kefir and a wholesome natural yogurt. I'm proud to say that with The Collective Super Yoghurts we have perfected this balance, which we hope will be a huge winning factor for both parents and kids."

Muesli brand Alpen eyes "personalisation"
US-based manufacturer Post Holdings is targeting the "trend for consumers to personalise their breakfast" with a new product for the Alpen muesli brand in the UK.
Alpen Create contains rolled oats and wholegrain wheat flakes but not raisins, unlike other products in the range.
The Alpen team said research suggested a quarter of shoppers "dislike" raisins.
Helena Blincow, marketing manager for Alpen, said: "Alpen Create is the perfect base for consumers to make a breakfast 'their way', by simply adding their favourite toppings. We spotted a gap in the muesli sector for a flexible product like this, which also didn't contain raisins and believe we can bring new shoppers to the category with this launch."
Alpen Create is available next month at a recommended price of GBP2.99 (US$3.90) for a 1kg pack.
UK snack brand Real Handful launches Bundlz yogurt-coated range
UK start-up a Real Handful is rolling out a new range of better-for-you snacks for kids coated with yogurt.
The Bundlz snacks, which contain real fruit, oats, cereals and raisins in a yogurt coating, will launch in Sainsbury's and online retailer Ocado this month.
Bundlz comes in two formats, one featuring clusters encased with strawberry and raspberry yogurt, and one with an apple and blackberry yogurt. They are high in fibre, contain less than 90 calories per serving, and, according to Real Handful, have "up to 40% less sugar compared with similar products on the market".
Multi-packs are available in Sainsbury's mid-January and will hit Ocado later in the month, along with single packs. The multi-packs of five carry a recommended retail price of GBP2.50 (US$3.26), while the singles packs retail for GBP0.60.
Real Handful started out in 2016 and was founded by husband and wife team Joe and Carly Taylor in the town of Stockport, Manchester.
Ms Taylor said: "We've spent two years developing and trialling Bundlz and can't wait to launch, grow and continue to develop this range. We noticed a real gap in the market for fruit and yogurt based snacks that are not only fun and delicious but that offer real fruit rather than processed fruit pulp, along with balanced levels of sugar."
Livia's to debut Dunx "dipping" cookies
UK brand Livia's is to launch a range of Dunx "dipping" cookies, which will appear in Tesco Express stores in February.
Dunx contain three oat cookies accompanied by a pot of dipping sauce and are available in three flavours: Caramel Almond Swirl, Peanut Butter & Jelly, and Choco Hazel Crunch. They are dairy-, gluten- and egg-free, and suitable for vegans.
The product will appear on the shelves of 600 Tesco Express stores from the 18 February at a recommended retail price of GBP1.79 (US$2.33).
Founded in 2014 by Olivia Wollenberg and initially trading as Livia's Kitchen, the company focuses on nutritional snacks. Dunx will also appear in UK retailer Boots in March.
Sainsbury's to stock La Boulangère's vegan pastries
La Boulangère, the bakery business owned by France-based Norac Foods, has secured UK listings with Sainsbury's for its vegan pastries.
Plant-based La Boulangère Vegan Croissants and Vegan Pains au Chocolat – chocolate-filled breads – are available now in 300 Sainsbury's stores nationwide at a recommended retail price of GBP2.50 (US$3.25) for a pack of six.
Simon Millea, Viennoiserie buyer at Sainsbury's, said: "We know that more of our customers than ever before are exploring plant-based lifestyles, and so it's very exciting to be the first UK supermarket to launch vegan versions of these bakery favourites."

Sainsbury's said it has seen an 82% increase in its customers searching for vegan products online, and a 45% increase in sales of plant-based products year-on-year, "as customers increasingly consider a vegetarian, vegan or flexitarian lifestyle".
Maple Leaf-owned Lightlife Foods joins meatless burger ranks
Lightlife Foods, the plant-based protein business owned by Maple Leaf Foods, is joining the meatless burger ranks with the launch of a new product range in the US.
The Lightlife Burger joins the new line consisting of Lightlife Ground, Lightlife Bratwurst Sausage, and Lightlife Italian Sausage.
Lightlife's meatless burgers are made with a pea protein and are free from soy, gluten, GMOs and artificial flavours. They contain 20 grams of pea protein, zero cholesterol and 2.5 grams of saturated fat in a quarter-pound patty, compared to 80 grams of cholesterol and 9.3 grams of saturated fat in a quarter-pound patty made from traditional beef, the Massachusetts-based company claims.
"The new line offers the taste, texture, aroma and appearance of traditional meat, but is made of plants, giving you a familiar taste that fills you up without weighing you, or the planet, down," Lightlife said.
The burgers will roll out in US foodservice channels this month, and will hit grocery stores in March. And Canada will be able to welcome the product in April.
Dan Curtin, president of Lightlife Foods, said: "Our new burger is delicious thanks to decades of culinary know-how, and we know we'll be serving up an entirely better experience for consumers who want a break from traditional meat or whose palates are craving a new adventure."
Burton's unveils sugar-free version of Maryland Cookies
UK-based Burton's Biscuit Co. has launched Maryland Sugar Free Cookies.
The new offering has a RRP of GBP1.39 for a 230g pack.
Kate Needham, marketing & insight director at Burton's, said: "Currently, far too many sugar free options across many categories are regarded by consumers as boring and bland. With Maryland Sugar Free Cookies, we're giving consumers the best of both worlds – a great-tasting biscuit from one of Britain's best loved biscuit brands, and a product that's ideal for the growing number of shoppers looking for lower/no sugar alternatives,"
Burton's said it is committed to achieving a 20% sugar and calorie reduction across its portfolio.
UK's Grenade takes Carb Killa range into biscuits
Grenade, the UK active nutrition and protein company, has expanded its Carb Killa range into biscuits.
Carb Killa Biscuit builds on a high protein, low sugar range which is already in shakes, bars, spreads and brownies.
The new product is a chocolate coated biscuit, "laden with delicious crispy piece".
Available as a two pack, in either Double Chocolate or Salted Caramel flavours, each biscuit contains 109 calories and 6g of protein with only 0.8g of sugar.
Juliet Barratt, co-founder of Grenade, said: "We're hoping that this new addition will excite current Grenade fans and reach out to an ever-growing demographic of customers looking for something healthy and nutritious but different."
Danone takes Australia to US with Wallaby Aussie Crème Yogurts
France-based dairy giant Danone is launching its Aussie-style organic yogurts in the US.
Wallaby Aussie Crème Yogurts, which are also gluten-free and Kosher, will roll out this month in nationwide Whole Foods stores at a recommended retail price of US$1.79 each.
The yogurts will initially be available in three, "chef-inspired" flavours: Strawberry Red Wine; Caramelised Pineapple; and Spiced Peach.

Aussie Crème Yogurts are made with organic milk and premium organic ingredients, with 8.5% milk-fat yogurt infused with a dulce de leche (a sweetened milk similar in appearance and flavour to caramel).
New Zealand's Keytone Dairy rolls out dairy formulas for kids, diabetics
New Zealand-based Keytone Dairy has launched two new dairy powders under its KeyDairy brand targeted at infants and people suffering from diabetes.
KeyDairy Junior Formula is a premium dairy product designed for children aged three to seven years and provides vitamins A, B, C and D, and is also a source of calcium, iron, protein and minerals.
The Canterbury-based firm, listed on the Australian Securities Exchange, is also rolling out KeyDairy Diabetic Powder, another premium powder formulated for consumers who have been medically diagnosed with the condition.
Keytone said both powders are certified by the Chinese authorities as having the Certification and Accreditation Administration (CNCA) of the People's Republic of China manufacturer registration, meaning the products can be exported to that country.
They are also halal-certified, "enabling exports to, among other geographies, the Middle East and the south-east Asian market," the company added.
Otsuka-owned Daiya Foods launches dairy-free yogurt cups in Canada
Daiya Foods, a Canadian plant-based dairy-free manufacturer owned by Japan's Otsuka Pharmaceuticals, is launching a six-strong range of yogurt cups.
The yogurt alternative cups are made with coconut cream and real fruit pieces. They contain six grams of protein per serving and are available in Strawberry, Peach, Blueberry, Black Cherry, Vanilla Bean and Plain.
Retailers Sprouts, Natural Grocers and Fresh Thyme will stock the new yogurts nationwide at a suggested retail price of US$1.99.
Daiya said the "fruit flavours tout 50% less sugar per serving than the average dairy-free brand".
Interim chief executive Michael Lynch added: "We found that the majority of fruit-based dairy-free yogurts had an average of 17 grams of sugar per serving. Not only are Daiya's new yogurt cups both delicious and allergy friendly, the fruit flavours offer just 9 grams of sugar per serving – sweetened from real fruit pieces and all-natural sugar cane."
Daiya Foods' CEO Terry Tierney to step down
Australian retailer Woolworths plans own-label halal chicken
Leading Australian supermarket chain Woolworths plans to bring its own-label halal-certified chicken to market later this year.
The Al Sadiq halal chicken brand has been developed in consultation with the Islamic Council of Queensland, which will provide the approved certification. The range will be produced by a single manufacturer based in the same Australian state.
Al-Sadiq will be sold in Woolworths' outlets in areas with large Muslim communities, such as Bankstown in Sydney, where "one in three shoppers identify as halal eaters", according to Danone North America.
A spokesperson for Woolworths told just-food: "Around the middle of this year we'll introduce a new range of halal-certified chicken in around 20 Sydney stores, where there is high local demand for the product. Our existing range of poultry products will continue to be available for our customers in all stores across Australia."
Flowers Foods launches Dave's Killer Bread Outta This World English Muffins
US-based Flowers Foods has expanded its Dave's Killer Bread range with Outta This World English Muffins.
Designed as a breakfast item, the muffins are available in two varieties: Killer Classic and Rockin' Grains.
The muffins have 6g of protein and 8g of whole grains per muffin along with five super grains – quinoa, spelt, rye, millet and barley. The Rockin' Grains variety contains grains and seeds including flax, sunflower, sesame, millet and quinoa.
They are enclosed in a zipper-seal stay-fresh bag to maintain freshness.
The RRP for the product is US$4.99.
France's Andros adds to range
Andros, the France-based manufacturer, has launched a range of fruit desserts aimed at children.
Kidifruit is a line of fruit-based products developed with demand from parents for more clean-label foods in mind.
The range contains no additives, preservatives, flavors or dyes, as well as no added sugar. Andros says the products also contain minimal pesticide residues, according to a website for the new range.
The desserts are sold in pots, tubes and pouches. Retailers including Carrefour are stocking products from the range.