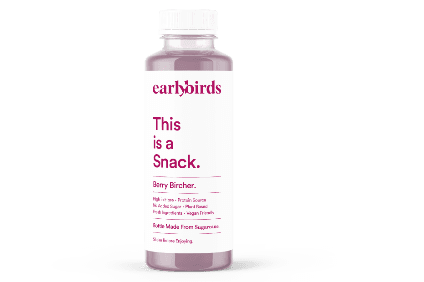 This week's batch of new product launches includes a vegan snacking drink aimed at the UK breakfast market from start-up Earlybirds and sheep's milk infant formula from Nutricia.
Earlybirds launches vegan snacking drinks in UK
Earlybirds, a London-based breakfast on-the-go business, has launched in the UK with what it describes as a snacking drink.
Aimed squarely at the food-to-go, breakfast market, the plant-based, vegan-friendly product is available in Berry & Bircher and Mango & Oats variants and is priced at GBP2.25 a bottle (US$2.72).
The drink has no added sugar, is high in fibre and comes in a compostable bottle. It is available from s Sainsbury's stores.
Company founder Amrit Hathiramanim said: "At Earlybirds we are committed to being as innovative as possible for the time poor, health conscious consumers we aspire to please, both with the products we create and the packaging we use."
Danone-owned Nutricia launches sheep's milk infant formula
Nutricia, the specialised nutrition business owned by France-based dairy giant Danone, is rolling out infant formula made from sheep's milk in Australia and New Zealand.
Karicare Toddler Sheep Milk formulation for children aged 12 months and over is available in select Chemist Warehouse stores, with more launches under the brand planned for next year.
John Hoare, the sales director at Nutricia ANZ, said: "As consumer preferences continue to evolve, it's important – as market leader in Australia and New Zealand – that we're able to cater accordingly. Also, this launch is an opportunity to serve other consumers with similar tastes in the region, and who value New Zealand's renowned agricultural and sheep-farming heritage as well as the country's natural environment."
Karicare Toddler Sheep Milk is sourced from sheep grazing year round, supplied by two farms running 6000 ewes on the western shores of Lake Taupo. "With plans to launch a full sheep milk product range next year, Nutricia further aims to engage farmers in the greater Waikato region to help meet demand," the company said.