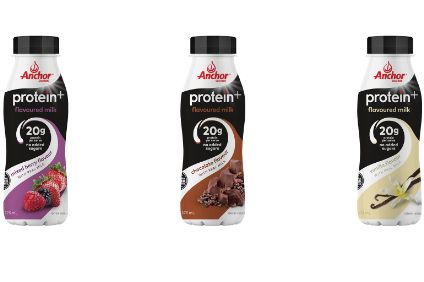 This week's round-up of the most notable product development from the international food sector includes news of the first vegan Magnum ice creams and Lightlife Foods' launch into Canada.
Fonterra unveils Anchor Protein+ milk drink in NZ
New Zealand dairy giant Fonterra has launched Anchor Protein+ in its home market, describing it as a new twist on flavoured milk.
The product, which contains natural flavours and extra protein – 20g per serving – but no added sugar, is available in vanilla, chocolate and mixed berry flavours.
Darren Moffat, Fonterra's general manager of ready-to-drink beverages, said: "Fonterra's technologists spent two years developing a product that's highly nutritious, as well as great tasting.
"People are increasingly seeking out nutritious on-the-go snack options, and there's a growing awareness of the importance of protein. As a result, demand for snacking options with good levels of protein has skyrocketed over recent years."
It is the third in a string of beverages released by Fonterra recently with a focus on sugar reduction.
Kraft Heinz and Hershey link up on Whipped Toppings
US food giant Kraft Heinz and confectionery heavyweight The Hershey Company have joined forces to launch Hershey's Milk Chocolate and Reese's Peanut Butter Cup Dairy Whipped Toppings.
The two products are already appearing in select retailers with national distribution in October.
Both whipped topping flavours are made with 100% cream from cows not treated with rBST growth hormone, and without high-fructose corn syrup, oil ingredients, and artificial sweeteners or flavours.
The products will be available in 7 oz. cans in the refrigerated dairy aisle, retailing for US$2.99-$3.99 a can.
Yeo Valley debuts spoonable kefir
UK yogurt company Yeo Valley has launched a kefir product that is spoonable.
Available in four flavours its organic, fermented yogurt is said to be "creamy, tangy and packed with billions of live bacteria from our 14 different culture strains".
Sebastian Rusu, head of brand development, said: "Given the importance of the gut health trend and appearance on the mainstream shelves of a few Kefir drinks, we believe that there is a place on the market for a spoonable organic version coming from a well-known trusted brand like Yeo Valley.
"Currently, our product has also the highest number of distinctive strains of live cultures included compared with the competition, which is great in terms of promoting the gut microbiome diversity."
The product is already available in Sainsbury's and will be stocked by Waitrose and Tesco in the coming months.
It has a RRP of GBP1.50 (US$1.95).
Unilever launches vegan Magnums
Unilever has developed vegan versions of international ice-cream brand Magnum.
Finland and Sweden are to be the first two markets to see the dairy-free Magnums, which are to be sold in two varieties – original and almond.
Both variants are available as 90ml singles and in four packs.
"We have often been asked for Magnum without lactose," local marketing manager Juho Mikkonen said.
The products will go on sale next month.
US clean label specialist Halsa launches Oatgurt Drinks
Halsa, the Scandinavian-influenced US clean label food business, has launched Oatgurt Drinks.
The new range will be sold in Wegmans Food Markets.
Company founders Mika Manninen and Helena Lumme, said: "With our 100% clean label Hälsa Oatgurt we are raising the bar and showing it's possible to make plant-based beverages without using a single artificial ingredient.
"It took four years of research to come up with 100% clean line of dairy-free products and consumers are responding to this message."
The new Halsa drinkable yogurt is made from organic Scandinavian whole grain oats, topped with organic berries and fruits.
It is available in three flavours – Organic Strawberry, Organic Blueberry and Organic Mango Pear.
It retails at US$2.99 for an 8 ounce bottle.
Symington's launches Disney Kitchen Ilumi For Kids
UK branded meal and snacks producer Symington's has added a number of new Disney Kitchen products to its core range and dedicated free-from range Ilumi, including the launch of Disney Kitchen Ilumi For Kids.
Symington's new offers products range across breakfast, on-the-go, meal time and snacking categories.
Kevin Butterworth, marketing director, Symington's, said: "All of the Disney Kitchen affiliated products are trusted by parents and children alike, adhere to strict nutritional guidelines and have convenience at the forefront, so there are some really strong brand synergies with Symington's."
The Disney Kitchen ilumi For Kids range is available in Asda nationwide and includes Free From Porridge Pots (30g) – available in flavours including Original and Apple with a RRP of GBP0.70 (US$0.90) and Free From Meal Pots (200g), in flavours including Vegetable Risotto, Mild Beef Chilli with brown rice and Meatballs with rice and tomato sauce. with a RRP of GBP1.99.
Maple Leaf-owned Lightlife Foods expands into Canada
Lightlife Foods, the manufacturer of plant-based protein products snapped up by Maple Leaf Foods of the US in 2017, is expanding into the Canadian market.
Lightlife Foods is launching nine of its brands including Smart Dogs, Gimme, Lean Sausage and Veggie Bacon in Canadian retailers nationwide this month.
The products carry a recommended retail price ranging from CAD3.99 (US$3.08) to CAD6.49 and can be found in the refrigerated aisle.
Lightlife Foods' president Dan Curtin said: "Lightlife has a proud history of making great-tasting plant-based proteins and we're excited to offer Canadians some of our bestsellers from here in the US plant-based foods appeal to consumers following all types of diets – from vegan to flexitarian – as the benefits are becoming recognised around the globe."
Mondelez to take higher-cocoa Cadbury Darkmilk to UK
The UK will next month see Mondelez International's Cadbury Darkmilk chocolate go on sale.
The snacks giant, which already sells versions of the product in markets including Australia and Singapore, is launching two varieties of the cocoa-heavy chocolate in the UK – an original line and a bar containing almonds.
Mondelez said the product had been developed to meet demand for different types of chocolate as consumers get older.
An 85g bar of Cadbury Darkmilk, which will contain 40% cocoa, will have a recommended retail price of GBP1.49 (US$1.92).
Nestle launches KitKat Ruby in Brazil
Brazil will be the next country to see KitKats made with Barry Callebaut's ruby chocolate hit the shelves.
Nestle is rolling out the product in the classic four-finger variant on a limited-edition basis at stores in the south and south east of Brazil.
The Ruby KitKats are already on sale in markets including the UK and Japan. The snacks use the ruby chocolate devised by ingredients giant Barry Callebaut.
Barry Callebaut, the world's largest business-to-business supplier of chocolate and cocoa, launched its ruby chocolate last year.
The company says the ingredient – the "fourth type of chocolate, next to dark, milk and white" has a "fresh, berry-fruity taste" but contains no berries, nor added flavours nor added colours. The chocolate took more than a decade to develop.
Food for Progress unveils Oumph plant-based pizza
Swedish vegan supplier Food for Progress is rolling out a new range of plant-based frozen pizza under its Oumph brand.
Italian Style Pizza is made with semi-dried tomatoes and uses a tomato sauce base with a plant-based organic "cheese-like topping of Violife", seasoned with thyme and garlic.
Oumph! Italian Style Pizza is being launched in supermarket chain Føtex and about 20 grocery stores. The 400-gram pizza comes with a recommended sale price of SEK39.95 (US$4.38).
Fazer adds cereal products to Alku brand
Finland-based manufacturer Fazer Group has launched more cereal products under its Alku brand in its domestic market.
Three crunchy cereal SKUs have been developed – strawberry, oat and a third raspberry and blueberry variety.
Fazer already sells oatmeal under the Alku brand and two organic SKUs have been added to that range.