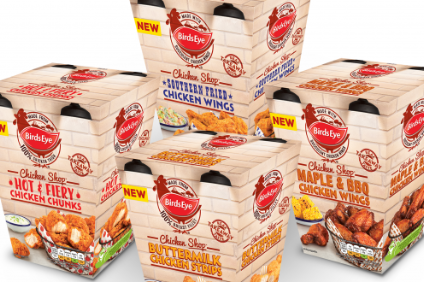 This week's product news includes PepsiCo preparing plans to launch into dairy-alternatives in the US and Atlantic Natural Foods set to take its plant-based Loma Linda range into the UK.
For Aisha launches first vegan range
UK halal baby food business For Aisha is rolling out its first vegan products.
The company has secured a listing with Asda for the pouched baby food.
Owner Mark Salter said: "Customers have been asking us for a range of products that is suitable from 4 months of age since we started our journey and there is a growing demand from parents for heart-healthy vegan food – so this range is very different from our more grown-up savoury dishes."
This summer, For Aisha received an undisclosed amount of funding from the UK government's investment programme for small enterprises. Salter told just-food he was targeting a turnover of GBP1.5m (US$1.9m) for 2018, having achieved annual sales growth of 60% last year.
UK's Pukka Pies debuts on-the-go range
Independently-owned UK pie maker Pukka Pies has launched a new range of pies, pasties and sausage rolls which are ready to be eaten hot or cold.
The range includes large Sausage Roll, Meat & Potato Pasty and Minced Beef & Onion, Chicken & Mushroom, Veggie Leek & Potato and Steak pies. All the products have a RRP of GBP1.49.
Pukka Pies CEO, Deborah Ewan, said: "2018 has been a very successful year for Pukka Pies so far, with one million new shoppers added to our brand. The on-the-go sector is the natural place for us to grow, giving our customers an even wider choice of products in and out of the home."
The new range will be available from convenience retailers from January 2019.
Nomad Foods extends Birds Eye range in the UK
Nomad Foods-owned frozen brand Birds Eye is launching Birds Eye Chicken Shop, a range of takeaway-style chicken, in the UK.
The range comes in four different flavours: Buttermilk Strips, Hot & Fiery Chunks, Maple & BBQ Wings and Southern Fried Wings. They have a RRP of GBP4.00 (US$5.16).
Markos Papavlasopoulos, senior brand manager for Birds Eye Chicken, said: "We see a great opportunity with the launch of our new Birds Eye Chicken Shop range, which will be hitting shelves from early November. The succulent chicken pieces are combined with seriously delicious coatings and marinades, delivering the same great taste and experience of a takeaway."
Asda and Sainsbury's will stock the range.
Foster Farms launches Bold Bites chicken pieces
US poultry producer Foster Farms is launching ready-to-eat chicken breast pieces.
Bold Bites comes in grab-and-go, single-serve pouches and are free of hormones, artificial colours and flavours. Five varieties include: Cajun, Chile Verde, Korean BBQ, Caribbean Jerk, and Parmesan Garlic.
Bold Bites will be carried by retailers Target, Safeway, Albertson's, Walmart and Savemart in the refrigerated snacks section across outlets in California, Washington and Oregon.

PepsiCo set for dairy-alternatives push
The US-based food and drinks giant is set to launch a line of oat-based beverages in its domestic market in January.
The Quaker Oat Beverage products "will be available in retailers nationwide", PepsiCo's Brian Hannigan told just-food, although he declined to name the chains set to stock the drinks.
Hannigan, senior marketing director for PepsiCo's nutrition innovation strategy in North America, said a growing number of US consumers were looking to eat more plant-based foods. He also argued "heart health" was a "key factor" for consumers as they sought out products.
"In a survey last year, Nielsen reported 39% of Americans are actively trying to eat more plant-based foods, so with more consumers gravitating towards that lifestyle, we're able to help meet their needs by offering a plant-based beverage that also offers functional benefits," Hannigan said. "We also learned that the heart health claim is a key factor for consumers seeking products in the dairy alternative category, so Quaker saw this as an opportunity to use our deep knowledge and expertise (in oats) to bring a convenient and heart-healthy option to the chilled beverage section."
Yili picks Indonesia to start Joyday ice cream launch
Yili Group of China is launching its Joyday brand of ice cream in South-east Asia, starting with Indonesia.
The China-based dairy group will initially roll out the product in four Indonesian cities – the capital Jakarta, Medan, Surabaya and Bandung – followed by 20 more before year-end. Further launches in countries within South-east Asia will follow.
Joyday will be available in 11 flavours.
Bella Italia partners with Tesco to launch retail range
Bella Italia, the Italian-style restaurant, has launched a range of frozen ready meals in partnership with UK big four supermarket Tesco.
The range includes a selection of starters, mains and desserts, is made up of Funghi Arrosto, Polpette, Carbonara Pancetta, Conchiglioni Calabrese, Beef and Red Wine Ravioli, Pollo Funghi, Sicilian Pasta Trulli, Meatball Al Forno, Tiramisu and Lemon Cheesecake.
James Spragg from Bella Italia said: "We're restaurant operators at heart, with a rich heritage, but we also have a wealth of experience that can be utilised to tap into other markets, such as retail. As well as focusing on menu innovation and creating exceptional dining experiences, we're also determined to evolve and find new ways to capitalise on our expertise and experience."
The range will be available in Tesco stores across the UK.
Bella Italia is owned by The Casual Dining Group.
B&G Foods-owned Green Giant rolls out vegetable meal bowls
B&G Foods-owned Green Giant is rolling out a range of convenient meal bowls in the US.
Green Giant Fresh Vegetable Meal Bowls have been made in partnership with dietitian Amanda Lemein and come in six varieties, complete with sauces and seasoning packs: Buddha Bowl; Burrito Bowl; Fried Rice Bowl; Pad Thai Bowl; Ramen Bowl; and Rancheros Bowl.
The vegetable bowls are gluten-free and are packaged in a microwave-safe container. They will be available in the refrigerated aisle of US grocers nationwide at a recommended retail price of US$3.99.
Hormel adds to Vital Cuisine range
US food group Hormel Foods has added the 500 Shake, 206 cookies and Fiber Basics Instant Soluble powder to its Vital Cuisine range which is designed to provide nutrition for those going through cancer treatment.
The range, which already includes ready-to-eat meals, protein nutrition shakes and whey protein powders, is specially designed to support the unique nutritional needs of cancer patients, including combating fatigue, unintentional weight loss, taste sensitivities, and decreased appetite.
The new 500 Shake addition comes in chocolate and vanilla flavours and contains 22 grams of protein and 520 calories.
The Hormel Vital Cuisine products are developed with support from the Cancer Nutrition Consortium (CNC), a US not-for-profit organisation comprised of nutritionists, dietitians, oncologists, and physicians from cancer research institutions, along with culinary experts. A portion of the proceeds from sales of the products benefit the CNC.
Tim Garry, director of marketing at Hormel Health Labs, said: "We are very excited about the 500 Shake. We developed it based on feedback from patients who need more protein during or after cancer treatment.
"We wanted to offer our customers a shelf-stable shake that delivers on taste and is packed with protein that patients need for recovery."
Cargill launches healthy cooking oil in India
US-based agri-food business Cargill is rolling at a premium healthy cooking oil in India.
The product is being launched from what the company calls its "home-grown brand" in India, NatureFresh.
NatureFresh Acti Heart adheres to the health guidelines from the Indian Council of Medical Research on dietary fats and contains Omega 3, along with an "ideal Omega 6/ Omega 3 ratio", which according to the National Institute of Nutrition should be between 5 to 10. It is also fortified with vitamins A, D, and E.
NatureFresh Acti Heart will be available in a one-litre bottle and also in pouch format of the same size across e-commerce platforms and modern and general trade stores in select Indian markets.
Atlantic Natural Foods brings Loma Linda range to UK
US food group Atlantic Natural Foods is launching its Loma Linda brand of plant-based seafood alternative products in the UK.
The company, owned by All About Healthy Foods, has entered into an agreement with Worldwide Food Associates (WFA) of Liverpool to introduce, market and distribute the shelf stable products in the UK.
ANF said the range includes the recently-developed seafood alternative Tuno.
The companies "anticipate product launch for availability on-shelf in January".
Approached by just-food on which retailers will stock which products, All About Healthy Foods said more information would be "forthcoming in the next few weeks".
All About Healthy Foods was set up earlier this year by US investment firm AFT Holdings as the entity through which it would focus its moves in the sector.
Stryve claims biltong market first in US
US protein snacks firm Stryve Foods has added to its product portfolio with the launch of what it said is the first trail mix with beef biltong in the market.
The new product is a blend of air-dried beef biltong mixed with nuts and seeds. It is available in three varieties – original, jalapeño and dark chocolate.
Stryve said its trail mix contains 20g of protein, only 2g of sugar (excluding the chocolate flavour). It is allergy and paleo diet-friendly as it does not contain peanuts.
The company was set up by sports nutrition veterans Ted Casey (founder of Dymatize), Joe Oblas and TJ Humphreys (founders of Prosupps) and Gabe Carimi, a former NFL first-round draft pick.
Carimi said: We couldn't be more excited about the launch of Stryve Trail Mix with Beef Biltong. People continue to tell us they struggle to find healthy, all natural and convenient snacks that curb their cravings and leave them satisfied. Stryve Trail Mix with Beef Biltong is an answer to that struggle as it is high in protein, low in sugar, all natural and tastes amazing."
Conagra Brands launches microwaveable Angie's Boomchickapop
US food group Conagra Brands is launching a microwaveable popcorn under its Angie's Boomchickapop label.
Angie's Boomchickapop Microwave Popcorn is available in three flavours: Real Butter, Sea Salt, and Lightly Sweet Kettle Corn. It comes with four so-called Fresh Pop Bowls for easy cooking.
The product is made using sustainably-sourced palm oil and is gluten-free and non-GMO. It is available in US stores nationwide at a recommended retail price of US$3.99.
Nestle's Maggi brand introduces healthy soups for kids in Middle East…
Nestlé is launching a range of soups in the Middle East targeted at kids under its Maggi brand.
The new products will roll out from the brand's Kitchen Cupboard range in Creamy Potato and Chicken Pasta providing what Nestlé says are more healthy eating options free of artificial ingredients, additives, colours or flavours.
Made in accordance with strict international dietary guidelines for children, the soups are made of up to one-third natural vegetables combined with animal pasta shapes.
Maggi is also adding vegetables, grains, pulses, and other nutritious ingredients to its products as part of the brand's goal to transform its global range by 2020 to only include ingredients that consumers can find in their kitchen cupboards.
… and adds to Gerber baby-food range in the US
Nestlé, meanwhile, is launching another line of Gerber baby-food products in the US market.
The Freshful Start range of organic baby and toddler food are being sold exclusively at 50 Walmart stores.
Nestlé touted how the new foods contain no preservatives, nor GMOs, nor artificial flavours and colours.
The line comprises purees, Veggie Entrée Bowls and Veggie Sides (for babies of at least a year), as well as baby food "kits" for either babies of at least six months or at least a year depending on the product.
Nestlé said it was trying to target "a growing trend" for home-made baby food. "According to BabyCenter, approximately two-thirds of mums are preparing homemade baby food, a 20% increase since 2015. Additionally, almost half of moms say finding the time to prepare healthy meals is a challenge. Freshful Start Ready-to-Blend Baby Food Kits help mums make homemade baby food with ingredients perfectly prepped for the blender," it told just-food.