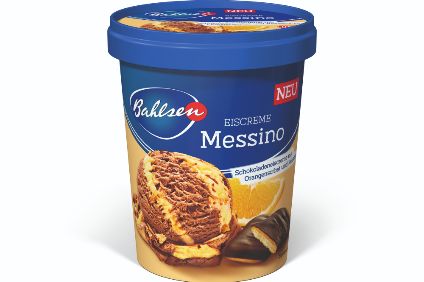 This week's batch of new products includes a meatless burger from Nestlé's Garden Gourmet brand and an organic cheese from France's Bel under The Laughing Cow brand.
France's Bel launches The Laughing Cow organic cheese
France-based food manufacturer Bel is rolling out an organic cheese under The Laughing Cow brand.
Produced by its subsidiary Fromageries Bel, the company is launching its triangle-shaped cheese pieces, The Laughing Cow Bio – La Vache qui rit Bio in French – made with 100% organic milk supplied by its partner Biolait.
La Vache qui rit Bio in a box of eight will launch at a recommended retail price of EUR1.99 (US$2.23). The organic cheese contains only ingredients sourced in France, with no preservatives or added colourings.
Kettle Chips introduces new range paired with fruit and veg
Kettle Chips, the UK crisp brand owned by Campbell Soup Co., is introducing a new range paired with fruit and vegetables.
Introduced in three flavours, the Kettle & More range is available this month in Sainsbury's and Tesco.
Making up the line-up are: Kettle & Apple Slices with Norfolk Pork Sausage seasoning; Kettle & Sweet Potato Slices with Smoked Chipotle & Crème Fraiche seasoning; and Kettle & Beetroot Slices with Goats' Cheese & Caramelised Onion seasoning.
The crisps come in a 100-gram sharing bag at a recommended retail price of GBP2.25 (US$2.93). Kettle & More are also available to order for convenience channels and independent retailers.

DMK links up with Bahlsen on ice cream launch
German dairy group DMK has joined forces with local chocolate biscuit manufacturer Bahlsen to launch a new range of ice cream.
The DMK Group's unit DMK Ice Cream has agreed a deal with Choco Leibniz maker Bahlsen to create three flavours of ice cream which will be available from 1 May.
Marcus-Dominic Hauck, chief operating officer of of DMK Ice Cream, said: "We are pleased that we were able to convince Bahlsen, one of the most popular German brands, about the strength of our portfolio."
Served in a 500 ml tub, Bahlsen ice cream will initially be available at food retailers and then at petrol stations and via home delivery.
It comes in three flavours. Bahlsen Ohne Gleichen Ice Cream "combines crunchy, chocolate-covered waffle pieces with tender-melting vanilla ice cream and delicious nougat sauce", Bahlsen Ohne Gleichen Strawberry-Yoghurt Ice Cream "offers a refreshing summer timeout thanks to its fruity strawberry topping, crispy chocolate-coated waffle pieces and white chocolate flakes," while Bahlsen Messino Ice Cream, "tantalises with its soft spongy biscuit bits, slivers of whole milk chocolate and orange sorbet", DMK suggests.
Danone's baby food brand Cow and Gate launches First Spoons
French dairy and infant-nutrition company Danone is rolling out a new baby food range under its UK-based Cow & Gate brand.
First Spoons is a two-strong range of weaning vegetable jars suitable for babies of four to 12 months available in pea or carrot. The vegetables are steam-cooked with no artificial preservatives or colourings.
Cow & Gate says the 125-gram jars contain 32% more peas and 9% more carrots than "single-vegetable products currently sold by the market leader in the baby food category" – namely Hain Celestial-owned Ella's Kitchen, according to the product launch statement.
The First Spoons Peas jars are made with 66% all-natural peas, while the carrot variety is made with 90% carrots. They are also gluten-free and vegan-friendly.
First Spoons are available at Asda at a recommended retail price of GBP0.65 (US$0.85), with listings in Boots also confirmed. Other stockists are expected to follow over the next month.
Nestle's meatless burger from Garden Gourmet finally hits shelves
Nestlé has announced the much-anticipated launch of its meatless burger in Europe under the Garden Gourmet brand and gives more details on a similar product planned for the US.
The Incredible Burger from Garden Gourmet will initially be rolled out in Austria, Belgium, Denmark, Finland, Germany, the Netherlands, Norway and Sweden this month.
Meanwhile, Sweet Earth, the US-based vegetarian business Nestlé acquired in 2017, will introduce its meat-free Awesome Burger in the autumn.
Wayne England, the head of Nestlé's food business, said: "These new burgers don't compromise on flavour, texture and cooking experience. They underline Nestlé's increased focus on tasty, authentic plant-based food. We believe this trend is here to stay, as consumers look at different ways to enjoy and balance their protein intake and lower the environmental footprint of their diets."
The Incredible Burger uses 100% plant-based ingredients, with natural protein from soy and wheat, while taking plant extracts from beetroot, carrot, and bell pepper to give it an authentic 'meat' appearance.
A spokesperson for Sweet Earth told just-food last month that it was still developing the Awesome Burger recipe before the official autumn launch.
And also from Nestlé……
A premium chocolate version of its Aero snack bars in the UK
Aero Bliss is rolling out across the UK this week in 144-gram boxes containing 16 individually wrapped milk chocolates filled with a cocoa, salted caramel or praline-aerated centre with the addition of crispy pieces.
Three variants are available: Milk Chocolate, Salted Caramel and a Mixed Selection which includes milk chocolate, salted caramel and praline flavours.

Ellie Tyler, Aero's brand manager at Nestlé UK, said: "We know our consumers want something special and we are very excited about this new addition to the much-loved Aero brand. Aero Bliss is perfect for sharing between friends and family and offers a lighter form of indulgence in comparison to other premium chocolate products."

Aero Bliss boxes carry a recommended retail price of GBP3.99 (US$5.26).
Kraft Heinz introduces Lunchables Brunchables
Kraft Heinz is launching a breakfast version of its Lunchables range in the US.
Lunchables Brunchables allow consumers to build their own breakfast sandwiches with ingredients such as bacon strips, cheese, flatbread and blueberry muffins.
Three varieties, Bacon & Cheese, Breakfast Ham & Cheese and Breakfast Sausage & Cheese, will be available in select retailers nationwide, including Kroger, Target, Albertson Safeway, Giant and Meijer.
The suggested retail price is US$1.99 a pack.
Bega Cheese introduces Simply Nuts peanut butter
Australian dairy company Bega Cheese is launching a peanut butter brand made from locally-produced nuts.
Bega Simply Nuts is a natural peanut butter produced with nuts harvested in Queensland, with just the addition of a "pinch of sea salt". It contains no artificial colours or flavours, is a source of vitamin B3 and 'good fats', and is also gluten-free.
The product comes in both Smooth and Crunchy, and a new style, Rustic Grind, described by Bega as "just like homemade".
Bega Simply Nuts will be sold in a 325-gram glass jar suitable for recycling and will be available in all major supermarkets at a recommended retail price of AUD5.00 (US$3.56).
Adam McNamara, the executive general manger at Bega, said: "We are thrilled to officially launch Bega Simply Nuts, a delicious and natural peanut butter we have been developing for some time now. It will play a distinctive role in our portfolio and will offer Australian consumers a simple solution when they're shopping at their local supermarket."
Pladis extends Mcvitie's biscuits range with Digestives Twists
The UK arm of snacking giant Pladis has adapted its well-known biscuits brand by launching McVitie's Digestives Twists.
They will be available in two flavours: Chocolate Chip & Caramel and Chocolate Chip & Coconut
Pladis suggests the new line combines "the classic crunch and crumbly texture of digestives with new exciting flavours and textures" and will appeal to younger consumers.
Emma Stowers, brand director for McVitie's at Pladis UK&, said: "We know that on-trend flavour and texture combinations, such as caramel and coconut, are helping to drive overall category growth for sweet biscuits – and we're set to tap into this insight with our new McVitie's Digestives Twists."
The biscuits will be available in 276g packs for a RRP of GBP1.25 (US$1.64). They will launch in Asda in mid-April, followed by further roll-out across multiple retail and convenience stores.
Emmi rolls out high-cream content "indulgent" yogurts
Swiss dairy company Emmi is introducing a new high-cream content "indulgent" yogurt range.
Emmi Moments are now available in nationwide Swiss retailers in chocolate, caramel, strawberry or lemon cheesecake flavours. All contain 11% Swiss cream, except the caramel version, which has a 13% cream content.
According to Emmi, "the main difference between Emmi Moments and most other yogurts is the high-cream content.
"Instead of 2.5% to 3%, the fat content in the milk used in Emmi Moments is 7.5%, which makes the yogurts deliciously creamy and flavoursome."