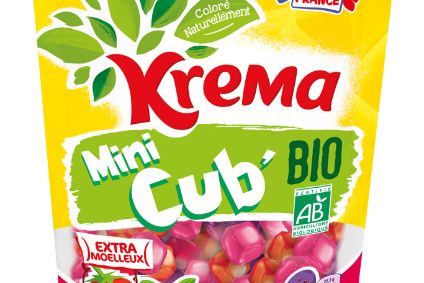 This week's batch of products include more products sold under the Philadelphia brand in the US and an organic range sold under a major confectionery brand in France.
FrieslandCampina launches PlanetProof milk
Dutch dairy cooperative FrieslandCampina has launched a sustainable milk product in the shape of PlanetProof.
It is able to use the PlanetProof label after meeting the approval criteria of the Dutch non-government organisation Stichting Milieukeur.
FrieslandCampina is the first dairy company that meets the body's requirements which include letting cows graze in meadows and committing to carbon dioxide reduction.
The company said: "For a few cents more, consumers can now choose for a more sustainable dairy product. This directly benefits the dairy farmers involved."
A spokesman said Dutch consumers are willing to pay a premium for such as product if they are assured it will directly benefit farmers.
Hein Schumacher, CEO of FrieslandCampina, said: "By buying dairy products with the 'On the way to Planet Proof' label, consumers can directly reward dairy farmers who are committed to animal welfare and improving nature and the environment. It is also an encouragement for other dairy farmers to make their farm more sustainable. That is not only good for the sector, but good for all of us."
The product is available from retailers across The Netherlands.
Bonduelle introduces Fresh Picked salads in Canada
France-based vegetable supplier Bonduelle is launching Fresh Picked salads in Canada.
The launch is via its Bonduelle Fresh Americas arm, formerly Ready Pac Foods.
Bonduelle said it is aiming to significantly grow the Canadian market for single-serve salads.
Mary Thompson, Bonduelle Fresh Americas CEO, said: "Canadian consumers want more high-protein food options and Bonduelle Fresh Picked salads will make healthier meal solutions with complete proteins attainable for all."
The salads are high in protein, clean label and have no artificial flavours. The ready-to-eat bowls, with fork included, come with all the fixings separated to retain crispiness.
They are available in five varieties: Caesar Salad with Chicken and Bacon, Greek Inspired with Chicken, Cobb Salad with Turkey and Bacon, Chef Inspired with Turkey and Ham, and Santa Fe Style.
The product will be sold via retailers including Loblaws, Zehrs and Provigo.
Kraft Heinz launches Philadelphia-branded dips
The US food giant has taken the Philadelphia cream cheese brand into an adjacent product segment in its domestic market.
Philadelphia Dips are available in flavours including: jalapeño cheddar; Southwest Style with black bean and corn; and buffalo style with celery made with real vegetables. The company said the dips are free of artificial preservatives, flavours and dyes.
The dips are available at "retailers nationwide" and on Amazon with a suggested retail price of US$3.99.
Carambar & Co. develops organic Krema confectionery
France-based confectionery group Carambar & Co. is launching a range of organic sweets under one of its flagship brands.
Carambar & Co. described the line to be the first range of organic confectionery to be launched under a "national brand" in France.
The company also pointed to other attributes – the sweets do not contain gelatin and are made with natural colours and flavours.