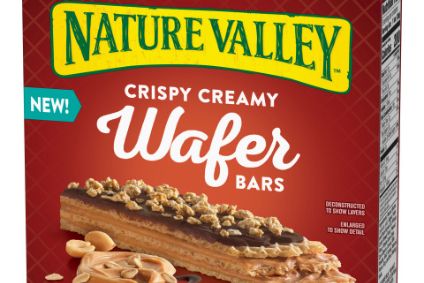 This week's batch of new products includes a gourmet ketchup range from Kraft Heinz and a lower sugar version of Maynards Bassetts Wine Gums from Mondelez International.
General Mills adds to Nature Valley, Yoplait and Larabar ranges
US food group General Mills has launched multiple new products across brands including Nature Valley, Yoplait and Goodbelly.
To its Nature Valley snack bars range it is adding Nature Valley Wafer Bars. Described as "crispy and creamy wafer bars made with light and crispy whole grain, layers of creamy peanut butter and topped with crunchy granola," they are available in Peanut Butter and Peanut Butter Chocolate varieties.
Another snack bar addition is through its better-for-you Larabar range. Its new Larabar Protein bars contain 11 grams of plant-based protein from peas and nuts. They are gluten-free, vegan, dairy-free, non-GMO and are available in Lemon Blueberry Muffin, Chocolate Peanut Butter Cup, Apple Cobbler, and Almond Butter Chocolate Brownie varieties.
Added to its Yoplait yogurt range is Yoplait Smoothie.
Each 7-ounce bottle delivers up to 5g of protein per serving. Yoplait Smoothie is available in a four-count multipack in Strawberry, Cookies & Creme, and Peach Mango varieties.
And under the Goodbelly probiotics brand – which it invested in last June via its maker NextFoods – it is distributing the new GoodBelly Probiotics Lactose-Free Low Fat Yogurt.
The product is said to provide one billion live and active probiotics of "champion strain" BB-12 as well as 11g of protein in each pot. It is also lactose-free.
It is available in six flavours: Wild Blueberry, Vanilla Bean, Peach, Coconut, Strawberry, and Black Cherry.
Kraft Heinz debuts Heinz Gourmet Ketchup range
Kraft Heinz is giving a new twist to its ketchup range in the UK with the launch of gourmet flavours.
The three-strong Heinz Gourmet Ketchup range, which is suitable for both vegans and vegetarians, features: Roasted Garlic & Sundried Tomato, Balsamic Vinegar & Sun Ripened Tomato, and Aromatic Herbs & Sun Ripened Tomato.
The ketchup rolls out this month and contains no artificial colours, flavours, preservatives or thickeners, with each 270-gram bottle carrying a recommended retail price of GBP2.19 (US$2.73).
Stockists include Tesco, Morrisons and online retailer Ocado, although the aromatic herb variety is exclusive to Tesco.
Mondelez launches lower sugar version of Maynards Bassetts Wine Gums
Confectionery giant Mondelez International has brought out a 30% less sugar variant of its UK sweet brand Maynards Bassetts Wine Gums.
Anna Ulrich, brand manager for joyful candy at Mondelez International, said: "Wine gums are such a popular sweet with consumers already, so our new less-sugar launch is set to shake up sales for retailers even further. We know shoppers are going to love the new variant – in fact our consumer testing showed an impressive 84% purchase intent."
The product will hit the shelves of all major UK retailers this month with a RRP of GBP1.32 (US$1.65) for a 130g bag.