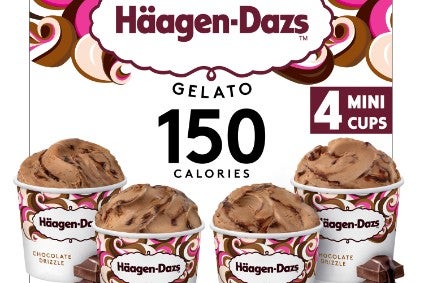 This week's batch of new products includes a new Japanese noodle kit range from the Tazaki Foods -owned Yutaka brand and Pladis taking its Godiva chocolate brand into the biscuit category.
General Mills ' Häagen-Dazs ice-cream brand goes the Gelato route
US consumer goods giant General Mills is seeking to cater to demand for low-calorie ice cream with the launch of a gelato range under the Häagen-Dazs brand in the UK.
Häagen-Dazs Gelato mini-cups are free from stabilisers, emulsifiers, artificial flavours and colourings. They contain 150 calories and are claimed to have 30% less sugar and 50% less fat than regular ice-cream brands.
Two varieties – Caramel Swirl and Chocolate Drizzle – are available in UK-wide major retailers at a recommended retail price of GBP4.99 (US$6.46) for a pack of four, 72-gram cups.
Lactalis takes Siggi's skyr yogurts to UK
Siggi's, the US yogurt maker owned by French dairy giant Lactalis, is bringing its Icelandic skyr yogurts to the UK.
Five flavours are available in Sainsbury's stores nationwide at a recommended retail price of GBP1.20 (US$1.54) for a 150-gram pot: plain, raspberry, strawberry, blueberry and vanilla.
Siggi's zero-fat Skyr yogurts contain no artificial flavours, colours, preservatives, thickeners or added sugars. Instead, they are sweetened with fruit and cane sugar or agave syrup.
Tazaki Foods rolls out Yutaka-branded Japanese noodle kits
Japanese food manufacturer Tazaki Foods is launching a new range of frozen noodle meal kits and freeze-dried soups in the UK under its Yutaka brand.
Shoyu Ramen with a Japanese soy sauce soup is suitable for vegetarians and is available at Morrisons at a recommended retail price of GBP4.75 (US$6.17) for a 319-gram frozen noodle kit. The dish is free-from monosodium glutamate (MSG).
Miso Ramen with a Japanese soybean soup is also MSG-free and suitable for vegetarians. The dish can be found in Morrisons at a RRP of GBP4.75 for a 333-gram noodle kit.
Udon Noodles from Kano (750g) are available from Morrisons and online retailer Ocado at a RRP of GBP2.90
Yutaka's freeze-dried soups are gluten-free and come with real tofu topping. They are available in two flavours: Bonito Fish Instant Miso Soup and Vegan Instant Miso Soup. Both are available at Morrisons and online at Amazon for a RRP of GBP0.75.
Unilever debuts Magnum brand vegan dessert bars in the US
Magnum, the ice cream brand owned by consumer good giant Unilever, has launched non-dairy, vegan-certified dessert bars in the US.
The brand's "first-ever plant-based indulgence bars" are made with non-dairy Belgian chocolate and a vanilla base. They are available in two flavours: Classic and Almond.
Leslie Miller, marketing director of ice cream at Unilever, said: "This week we're thrilled to bring our next-level chocolate to the vegan and dairy-free market. This is our first launch in plant-based indulgence and we can't wait to share with Magnum ice cream fans."
Magnum Non-Dairy bars are available in grocery stores and mass retailers nationwide with a RRP of US$4.99-5.49.
FrieslandCampina turns Milner into PlanetProof cheese
Dutch dairy cooperative FrielslandCampina has announced that its cheese brand Milner is to be sold under the PlanetProof quality mark.
It follows the dairy's launch of PlanetProof milk.
Using the PlanetProof mark means the cheese meets the requirements that the overseeing body Stichting Milieukeur makes in the areas of animal welfare, nature and climate.
Bas Roelofs, managing director Consumer Dairy Netherlands at FrieslandCampina, said: "FrieslandCampina wants to be leading with sustainability. We want to accelerate. And that is what we are doing now. Following the introduction of more sustainable PlanetProof milk of Campina, we will quickly start producing PlanetProof cheese."
The production of Milner PlanetProof cheese will start this week with the first Milner PlanetProof cheese sold from April.
Halo Top unveils mini ice cream bar range Halo Top Pops
US better-for-you ice cream brand Halo Top has brought out mini ice cream bars in the shape of Halo Top Pops.
Containing just 50-60 calories, the bars come in four flavour options in a box of six: Strawberry Cheesecake, Mint Chip, Peanut Butter Swirl and Chocolate Chip Cookie Dough.
Doug Bouton, president & COO of Los Angeles-based Halo Top Creamery , said: "We tried to choose an ideal size for portion-control, but also made sure to pack six to a box so there are plenty to go around."
Halo Top Pops will be available this month in the mid-west, Texas and California, followed by the north east, and will roll out to select national retailers in May.
Pladis takes Godiva into biscuits category
Pladis is taking its Godiva chocolate brand into the multiple retail biscuits category for the first time with a launch in the UK.
Godiva Masterpieces Biscuits will be available in three variants: Milk Chocolate Caramel Lion, Dark Chocolate Ganache Heart and Milk Chocolate Hazelnut Oyster.
Sarah Horowitz, director of the New Ventures Business Unit at Pladis' business in the UK and Ireland, said: "We're excited to be entering new territory by taking our signature chocolate range into luxury biscuits, tapping into consumer demand everyday indulgence.
"The premium biscuits category is fast-growing, increasing +5.8% year-on-year, and we see an opportunity for Godiva to grow a branded presence in the category – and fuel overall growth."
The biscuits will be available in packs of ten individually wrapped biscuits for a RRP of GBP4.00 (US$5.20) They will launch in Sainsbury's stores nationwide tomorrow (6 February) and then roll out elsewhere in September.
2 Sisters' Fox 's Biscuits unveils new cookie range
Fox's Biscuits , the UK-biscuit biscuit brand owned by 2 Sisters Food Group , has launched a new cookie range in the shape of Double Dough.
The range features two "distinct doughs brought together for the first time in a single biscuit", the company suggests.
The cookies are available in two paired combinations – Strawberries & Cream and Salted Caramel & Fudge Brownie.
Fox's Biscuits' senior brand manager Michelle Roberts said: "We are excited to launch our brand-new Double Dough cookies, which we believe will completely shake up the category. Showcasing precision baking never seen before, the new range will offer consumers something genuinely new, and represent an exciting opportunity for retailers looking to drive incremental sales amongst shoppers eager to expand their biscuit repertoire."
Fox's Double Dough range will be available in Sainsbury's from this month with an RRP of GBP2.00 (US$2.58) per pack of eight.
Camel milk ice cream lands in UK from UAE
Alternative milk brand Camelicious is bringing its unique ice cream to the UK.
The United Arab Emirates-based company, which debuted its UHT camel milk in the UK in 2017, will launch its Camel Milk Ice Cream in Asda stores in five flavours: Vanilla, Chocolate, Strawberry, Hazelnut and Pistachio.
Camelicious officially trades under the name, The Emirates Industry for Camel Milk and Products.
General manager Saeed Juma Bin Subaih said: "Camelicious' healthy concept is expected to become a fully-fledged trend, especially when a mainstream supermarket such as Asda sells our healthy camel milk products to its health-conscious consumers throughout the UK. Therefore, we diligently work on developing our products, innovating new ones incentivised by passion, perseverance and commitment to excellence aiming to make our customers happy and enjoy healthfulness and wellness with camel milk."