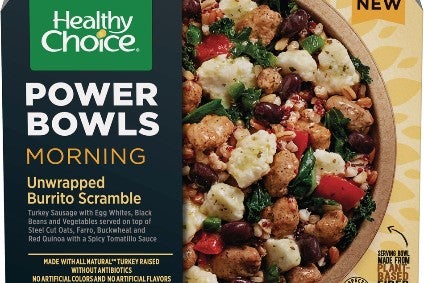 just-food publishes the most notable product development from the international food sector, presented in bitesize format to give you a flavour of the innovation from your peers and competitors announced this week.
General Mills to take Nature Valley SKU into more markets
The US food giant has decided to take its Nature Valley Granola Cups, a product sold in its domestic market, further afield.
General Mills said this week it would launch the SKU in unnamed markets in Europe and in Australia.
Lanette Shaffer, a senior innovation, technology and quality director at General Mills, said the move was an example of the company's work to roll out products across more markets, pointing also to the planned launch of Betty Crocker Mug Treats in India, Saudi Arabia and the UK.
"We're … seeing movement of ideas across the globe this year," Shaffer said.
Conagra Brands unveils Power Bowls breakfast range
US food manufacturer Conagra Brands is taking its Power Bowls range into the breakfast category.
The frozen food maker is launching morning Power Bowls under its Healthy Choice brand in retailers this summer in four varieties: Unwrapped Burrito Scramble; Turkey Sausage and Egg White Scramble; Roasted Red Pepper and Egg White Shashuska; and Pesto and Egg White Scramble.
Each bowl provides 190 calories or less and will sell for a recommended retail price of US$3.49.
Conagra also recently launched four new plant-based Power Bowls including Mango Edamame, White Bean and Feta Salad, Falafel and Tahini and Cauliflower Curry. Each contain 16 grams of plant-based protein and 16 grams of fibre.
Tara Rozalowsky, the brand director for Healthy Choice, said: "Healthy Choice Morning Power Bowls really deliver on a lot of what we're seeking in the morning or any time of day really – something quick and healthy that tastes good because it's packed with flavourful, nutrient-dense ingredients."
Danone of the World yogurt range launched in UK
French dairy giant Danone is launching its Danone of the World range of globally-inspired yogurts and yogurt drinks into the UK.
It has already been launched in Italy.
The range consists of a Greek-inspired Straggisto yogurt, an Icelandic-inspired Skyr yogurt, a Lebanese-inspired Laban yogurt.
The RRP ranges from GBP1.00 (US$1.32) for a 140g Straggisto yogurt to GBP1.50 for a 250g pot of Laban.
Corinne Chant, innovation incubator director at Danone, said: "Yogurt has been recognised for centuries across many cultures of the world as a delicious food source. We wanted to share this rich heritage with UK consumers, taking inspiration from some of the world's best yogurt recipes."
The range is available now and is being sold exclusively via online retailer Ocado.
Arla Foods to take sorbet-style Ihana yogurts to UK, Denmark
European dairy giant Arla Foods is launching its premium lactose-free Ihana yogurt brand in the UK and Denmark.
Arla launched sorbet-style Ihana in Finland in 2016 featuring flavours such as pink lemonade and papaya & lime. The natural ingredients yogurts will debut in the UK this week, with Arla planning to expanded the varieties on offer once the brand is established.
Ihana means wonderful in Finnish.
James Quayle, the brand manager for Arla yogurts UK, said: "The role of the Ihana brand is to offer something new and different to the existing options within the luxury yogurts market, primarily driven by the sorbet-style inspired flavours such as pink lemonade. This is based on the insight that consumers are looking for flavour inspiration and new eating experiences within yogurts."
Halen Brands debuts cauliflower-based snacks From the Ground Up
US venture-capital fund Halen Brands is launching From the Ground Up, a range of cauliflower-based vegan crackers and pretzels.
The snacks are made from cassava flour and vegetable blend powders derived from real vegetables and are both non-GMO and gluten-free. They are also a source of vitamins such as A and C.
From the Ground Up was launched this month in Kings, Fairway, Hy-Vee and Rouses and are also available online from Amazon, Walmart.com, Jet.com, Boxed.com and Fresh Direct. In the autumn the snacks will debut in Sprouts, Shop Rite, Fresh Thyme, Safeway and Albertson's.
The crackers come in three flavours: Sea Salt, Cheddar and Nacho, while the pretzels are available in Original flavour sticks and twists. Both carry a recommended retail price of US$3.99.
Freedom Foods to unveil new range of infant formula products
Australia's Freedom Foods Group is to launch a range of early-stage nutrition products in its home market and South East Asia.
The company said Australia's Own Diamond pro+ Premium Infant Formula, Follow-On Formula and Toddler Milk Drink have been formulated based on the very latest nutritional and scientific evidence within early stage nutrition.
The range includes a combination of both probiotics and pre-biotics as well as a range of vitamins, minerals and other nutrients.
Diamond pro+ Premium Infant Formula has also been formulated to contain lower levels of protein, reflecting recommendations from paediatric health experts.
Australia's Own Diamond pro+ Premium range will be launched exclusively in Coles Supermarkets in Australia.
Epic Provisions launches egg white protein bars
General Mills-owned better-for-you snack brand Epic Provisions has launched a line of protein bars made from cage-free egg whites, nuts, and dried fruit.
Called Epic Performance, the bar range is available in four flavours: peanut butter, peanut butter chocolate, almond butter chocolate, and lemon. Each has six ingredients or less and no added sugar.
Epic Provisions co-founder Taylor Collins said: "The launch of Epic Performance Bars is only the start. Creating a product made from cage-free, non-GMO egg whites is the first step to taking on our commitment to lead and improve the development of premium, pasture-raised laying hen supply chains."
The bars can be found at natural, organic, and traditional grocery stores throughout the US, including Kroger, Target, Walmart, and Whole Foods.
All flavours have a RRP of US$2.29.
Hain Celestial enters UK premium jam category with William's British Conserves
Hain Celestial is launching William's British Conserves in the UK, taking the organic and natural foods specialist into the "premium" jam category.
Available in three flavours – strawberry, raspberry and blackcurrant – William's British Conserves is on the shelves of Sainsbury's, Asda and Ocado at a recommended retail price of GBP2.80 (US$3.70), and will launch in Tesco later in the summer. Hain Celestial's UK range includes jam brand Hartley's.
The new conserve, made from British-grown fruit, is packaged in an embossed 340-gram jar complete with a sleeve detailing the brand's history, which originated in 1871 from grocer William Pickles Hartley.
Ruth Snowdon Gough, grocery marketing director for the US-based group's UK division Hain Daniels, said: "Premium brands are driving growth for jams and spreads and we're seeing that consumers are willing to spend more on products that are unique or special."
Premier Foods' Lloyd Grossman range adds Risotto Kits
Loyd Grossman, the sauce brand owned by Premier Foods, has added Risotto Kits to its range.
Available in Creamy Mushroom and White Wine, Butternut Squash and Sage and Tomato, Ricotta and Red Chilli varieties, the kits are targeted at one and two person households.
This is the first time Lloyd Grossman has introduced a kit concept.
Lisa-Jo Harvey, senior brand manager for Loyd Grossman, said: "It's exciting to be venturing into this new territory and as one of the only brands currently in growth within the Italian cooking sauce sector, we are perfectly placed to drive value."
The kits have a RRP of GBP2.79 (US$3.70) per 300g pack and will be available from Asda.