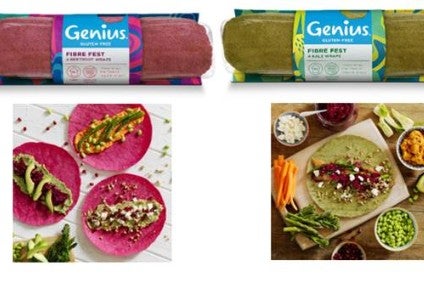 This week's round-up of the most notable product development from the international food sector includes Oxo gluten-free stock cubes from Premier Foods, Arctic Zero plant-based desserts and Bepps' black-eyed pea snacks.
Gluten-free Genius Foods launches plant-based wraps
UK gluten-free manufacturer Genius Foods is launching a new line of plant-based wraps suitable for coeliacs, vegans and vegetarians.
Genius Fibre Fest Beetroot Wraps and Genius Fibre Fest Kale Wraps are part of the Edinburgh-based company's new 'Good for the Gut' range.
The new wraps are available in Tesco this month and will roll out in Sainsbury's and Ocado from September. Each pack contains four wraps at a recommended retail price of GBP2.75 (US$3.53).
The plant-based Good for the Gut range of wraps reportedly provide three times the amount of fibre, and a third less carbohydrates than regular gluten wraps, and also contain chicory root inulin, a naturally occurring Prebiotic Fibre. The gluten-free wraps are also milk-free and contain less than 100 calories per wrap.
Campbell adds sweet potato drink to its V8 range
US food giant Campbell Soup Co. has added to its V8 health juice range with V8+HydrateTM, a plant-based hydration drink made from sweet potato juice.
Campbell said the drink "taps into the naturally occurring electrolytes and glucose of the sweet potato and perfectly blends it with water – creating an isotonic beverage that quickly replenishes fluids and nutrients".
It is available in three flavours: Orange Grapefruit, Strawberry Cucumber and Coconut Watermelon.
Containing 45-calories in each 8-oz can, V8+Hydrate has one full serving of vegetables, no artificial sweeteners, is non-GMO, gluten free and vegan friendly.
Diego Palmieri, chief marketing officer of US meals & beverages at Campbell, said: "V8+Hydrate is a beverage that responds to key consumer demands with a clean, crisp, great taste, and at a more accessible price point. Whether you're on the go, or just finishing your work-out, V8+Hydrate brings a full-suite of benefits to the table through the inherent goodness of sweet potatoes."
A six pack of 8-ounce cans has a RRP of US$4.99.
Struik launches Bunlimited hot dog meal kit in UK
Netherlands-based Struik Foods Europe has launched what it claims is the first hot dog meal kit – Bunlimited – in the UK.
Bunlimited offers a range of hot dogs, toppings, and sauces all in one package, with the only addition being the roll to put it in.
Bryn Scadeng, head of marketing and innovation at Struik, said: "Over the years we've seen the likes of Mexican and Indian meal kits take off, however the Bunlimited range adds a touch of personalisation that you might not find with other products on the market."
The Bunlimited meal kits, priced at GBP3.50 (US$4.49) have been launched in 500 Tesco stores with individual items available from 400 Asda stores.
Premier Foods expands Oxo portfolio
The UK's Premier Foods has launched a trio of 'premium' Oxo Stock Cubes and a gluten-free addition its Stock Pots range.
The new Oxo Stock Cubes contain no added MSG and come in three flavours – Rich Beef, Succulent Chicken and Delicious Vegetables. The first two contain real meat juices.
A gluten-free Red Wine flavour has been added to the Stock Pots range.
Helen Touchais, brand director for flavourings and seasonings at Premier Foods, said: "With a range of different formats we have something for varying shopper needs, and our new range of premium stock cubes means people also have the chance to trade up. This is good news for retailers too, as this will help drive category value."
The Oxo Stock Cubes carry a RRP of GBP1.39 (US$1.79) for a pack of six. The Red Wine Stock Pots are available in a four-pack with a RRP of GBP1.49.
Kraft Heinz and Oprah Winfrey launch O, That's Good! frozen pizza
Mealtime Stories, the joint venture between food giant Kraft Heinz and TV personality Oprah Winfrey has launched a new line in the shape of O, That's Good! frozen pizza.
This launch is the third product line offered by Mealtime, which released refrigerated soups and side dishes in 2017 under the O, That's Good! brand.
The new frozen pizza line is made with a "nutritious twist" – one third of the crust is made with cauliflower. It also contains no artificial flavours or colours.
Christopher Urban, head of Mealtime Stories at Kraft Heinz, said: "After the success of O, That's Good! refrigerated soups and sides, we wanted to bring excitement to the pizza category and give families even more delicious options to please everyone at the dinner table."
The pizza is available in four varieties – Pepperoni, Five Cheese, Supreme, and Fire Roasted Veggie – and has a RRP of US$6.99.
The brand is also extending its original lines with four new refrigerated soups (RRP: $4.99) and sides (RRP: $4.49): Chicken With White & Wild Rice Soup, Roasted Corn Chowder, Sour Cream & Chive Mashed Potatoes and Broccoli Cheddar Rice.
Arctic Zero unveils dairy-free, plant-based desserts
Frozen desserts maker Arctic Zero of San Diego is launching a dairy-free, plant-based range.
Arctic Zero Non-Dairy frozen pint desserts are low in calories – 70-90 per serving – and are sweetened with organic cane sugar and monk fruit, with no sugar alcohols. They are made with the plant-based faba bean protein and contain 1.5 grams of fat or less.
The new desserts will be rolled out in US retailers this month in nine different flavours: Chocolate Peanut Butter; Salted Caramel; Cookie Shake; Purely Chocolate; Cake Batter; Brownie Blast; Cookie Dough Chunk; Hint of Mint; and Cherry Chocolate Chunk.
Arctic Zero Non-Dairy pints, which are also Kosher and non-GMO certified, will initially be available in Publix stores in Florida late in August and will be launched nationwide in the autumn.
The Saucy Affair – Raw Sauces roll out in Sainsbury's
UK-based The Saucy Affair – Raw Sauces is launching its cooking sauces across more than 100 Sainsbury's stores this month.
The sauces are made from raw herbs, fruit and vegetables, with no added salt or sugar, and are both gluten- and lactose-free. They will be available in Sainsbury's in two locations, along the meal solutions aisle and alongside raw meats.
The 250-ml bottle sauces will sell at a recommended retail price of GBP3.49 (US$4.47).
The Saucy Affair was founded in 2016 by Tanya Lambert and offers a range of sauces in flavours such as Teriyaki Malarkey, Cucumber Blunder, Beetroot Cahoot and Smokey Cokey.
Australia's Slendier secures latest UK listing at Morrisons
Slendier, a brand of superfood noodles and pasta from Australia, has sealed another listing in the UK, this time at Morrisons, the country's fourth-largest grocer.
The Slendier range includes konjac noodles, rice, pasta and ready-to-eat meals.
All are fat-, sugar- and gluten-free, The range is also vegan-friendly.
The konjac pasta range is now on sale at Morrisons with the RRP starting from GBP2.50 (US$3.20). The ready to eat meals have a RRP starting at GBP4.50.
Erica Hughes, Slendier managing director, said: "Slendier allows those seeking a healthier lifestyle a product which is quick to prepare and tastes great. It also has a broader appeal with people who are managing health-related ways of eating, such as diabetes and FODMAP diet plans, vegans and those who are gluten-intolerant."
Slendier was on sale earlier this decade through UK online grocer Ocado.
Fazer's adds bagels to its insect product lines
Finnish food company Fazer is adding to its insect product lines with the launch of new Cricket Bagels.
Its Fazer Sirkka bread rolls arrive on the shelves of Finnish retailers tomorrow (22 August).
Described as " tasty soft, novelty containing crickets", the product builds on the launch of Fazer Cricket Bread – sirkkaleipa – late last year.
Markus Hellström, managing director of Fazer Bakeries Finland, said: "Fazer Sirkka Bread has been a huge success. It has exceeded our expectations.
"In-store do not reach out to all consumers and consumer demand is high across the country. This is why we bring available to all Finns tasty novelty, Fazer Sirkka bun."
School of Wok enters retail with Bao Bun kits
UK-based cookery school the School of Wok is entering the retail space with the launch of its Chinese snacks Bao Buns in kit form in Tesco.
The snacks from the meal kits firm, which was founded by chef Jeremy Pang and is located in Covent Garden, London, come in two flavours: barbecue and back pepper.
Each Bao Bun Kit serves two and makes four to six buns, and includes the flour mix, pickling salts, a dry rub and glaze. Customers just have to add their own fresh ingredients. They are available from mid August priced at GBP3.49 (US$4.45).
Company founder Pang said: "At School of Wok we've become known as the UK's Asian cookery hub and with the launch of our new kit range we're excited to be bringing our flair for demystifying oriental cookery into people's own kitchens. With this first launch, we've focused on a key trend on the thriving Asian restaurant scene, the bao bun, which whilst much loved, can be a little intimidating to try out at home. We hope to change all that."
Bepps gains Tesco listing for black-eyed pea snacks
Bepps, the UK black-eyed pea snack brand, is to be stocked by UK big four supermarket Tesco, its first national listing.
Sharing bags of its three-strong range, which comprises Cheese, Sea Salt & Black Pepper and Sweet Chilli flavours, will launch into 479 Tesco stores with a RRP of GBP1.79 (US$2.28).
The puffs are made with black-eyed peas, sourced directly from farmers in South America and West Africa.
They are 100% natural, vegan friendly, gluten free and a source of protein and fibre. Each serving contains 91 calories per pack and no GMO or MSG.
Founder Eve Yankah said: "It's brilliant to have such early support from Tesco and we can't wait to see our range hitting the shelves later this month.
"I created Bepps to meet the growing demand for healthier snack alternatives that not only taste delicious but also deliver nutritional benefits. My long term aim to bring the brand and the black eyed pea to the global stage and this first national listing is a really exciting move in the right direction for us."