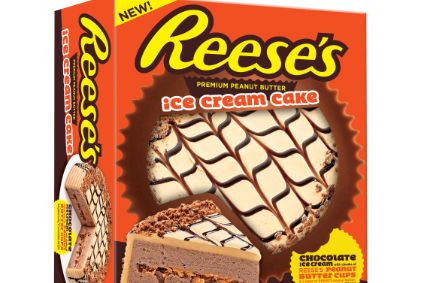 This week's batch of new products includes UK meat-free veteran Quorn making its debut in ambient foods, a new snacks range from Graze, and Kind's debut in frozen snacks.
Hershey unveils new Reese's Ice Cream Cake
US confectionery giant Hershey had added to it's Reese's brand product range with the launch of the Reese's Ice Cream Cake.
Made under licence by New York State-based Rich Products, the cake is available in select grocery stores throughout the country including Publix, ShopRite and Giant Martin's.
The ice cream cake features chocolate ice cream, chunks of Reese's Peanut Butter Cups, a layer of Reese's peanut butter and whipped icing with a Hershey's chocolate drizzle on top.
Kimberly O'Brien, shopper marketing manager, in-store bakery & deli division at Rich Products, said: "We can't think of a better way to kick off ice cream season than with this new cake innovation for Reese's lovers.
"The new Reese's Ice Cream Cake combines everything we love: chocolate, peanut butter and ice cream for a dessert worth indulging in."
Kind healthy snacks brand branches out into frozen
US-based healthy snacks brand Kind is branching out into the frozen category.
Kind Frozen has been launched in Wal-Mart stores in Dark Chocolate Almond Sea Salt. Each 49-gram bar has 190 calories and 11 grams of sugar.
They are non-GMO, have no sugar alcohols or artificial sweeteners, and use fair-trade chocolate.
"Like all of our products, it honours the 'Kind Promise,' which pledges, among other things, that the first ingredient in anything we make will be a nutrient-dense food recommended for daily consumption," said founder and chief executive Daniel Lubetzky.

Blue Diamond enters new category with Almond Breeze Almondmilk Yogurt Alternative
US almond product specialist Blue Diamond has diversified from its snacks and drink-based product range with the launch of its Almond Breeze Almondmilk Yogurt Alternative.
This new plant-based yogurt alternative is paired with Blue Diamond almond toppings or sold 'plain'.
It is available from this month with the following toppings: Toasted Almonds, Honey Roasted Almonds & Granola, Chocolate Almonds & Chocolate Chips, Coconut Almonds & Chocolate Chips, Blueberry Almonds & Oat Clusters and Sea Salt Caramel & Pretzel.
It is also available without toppings in a 24 oz size and comes in two flavours: Original and Vanilla.
Suzanne Hagener, director of brand marketing for Blue Diamond, said: "Consumers are seeking more delicious plant-based foods. We believe our yogurt, made from Almond Breeze almondmilk, is the perfect way to satisfy the need for tasty plant-based options."
The Meatless Farm beefs up product line
UK meat-free supplier The Meatless Farm had widened the range of products it sells in its domestic market.
Leeds-based The Meatless Farm, set up in October 2017 by Danish investor Morten Toft Bech, is launching sausages at Sainsbury's, the first mainstream UK grocer to stock its products, this month.
The Meatless Farm is using a mix of pea, soya and rice proteins in the products. "Our sausages provide the same taste and texture of meat whilst remaining nutritionally sound, this was really key to us. We wanted to add another product to the range which further champions 'kind eating' and provides a healthy, centre of plate solution for families – whether they're veggie, vegan or just swapping out the odd meat meal," CEO Rob Woodall said.
The sausages will be sold in a pack of six at an RRP of GBP2.50 (US$3.27).
just-food interview from April 2019: "There will be a shakedown of brands in UK meat-free" – The Meatless Farm Co.'s new CEO Robert Woodall on looking for an edge
Burton's builds on lower calorie offering with Maryland Oaty Cookie Bars
UK-based Burton's Biscuit Co. has expanded its 'less than 100 calories' biscuits and snacks range with the launch of Maryland Oaty Cookie Bars.
The individually-wrapped chocolate chip cookie bars will be targeted at the on-the-go and lunchbox occasions.
Kate Needham, Burton's Biscuit Co.'s marketing director, said: "As consumer demand for more permissible options shows no signs of abating, Maryland Oaty Cookie Bars reinforces our commitment to leading the way in portion control."
Burton's latest reduced calorie offering contains six Oaty Cookie Bars (each containing 94 calories), with an RRP of GBP1.39.
Maryland Oaty Cookie Bars roll out across numerous channels from this month, with confirmed listings in Tesco and Asda.
Granarolo debuts new line of Taste of Yesteryear cheese
Italian dairy company Granarolo has launched a new range of cheese using traditional production methods.
Its Taste of Yesteryear range is made up of Milk Fior Mozzarella Granarolo Taste of Yesteryear and Ricotta Fresca Granarolo Taste of a Volta.
The mozzarella product, available in sizes from 125g, is described as a "unique product with an intense flavour". It is made with a new technology that goes back to the ancient method of lacto-coupling, using only raw milk from farms in the Granarolo chain.
The ricotta product, available in sizes from 250g, is made using a traditional method called dell'affioramento and harvested by hand through the tapping, which, Granarolo said, retains the flaky structure.
Granarolo said the new range is born from the desire to hit main market trends, according to which 78% of Italian consumers say they want to eat properly to maintain good health and want to put on the table only products for which the provenance is known.
Quorn launches first ambient range
Quorn Foods, the UK meat-free brand owned by Philippines-based Monde Nissin, is moving beyond its frozen and chilled product offerings with the launch of an ambient range.
The new shelf-stable range will deliver eight products across three formats, Wondergrains, Bowls and Strips.
Quorn forecasts its new venture could generate GBP10m of sales within the first year.
The full ambient product portfolio is made up of Quorn Thai Style Wonder Grains (200g), Quorn Mediterranean Wonder Grains (200g), Quorn Mexican 3 Bean Wonder Grains (200g), Quorn Spicy Tikka Strips (180g), Quorn Smoky Fajita Strips (180g), Quorn Chilli Bean Bowl (300g), Quorn Biriyani Bowl (300g), and Quorn Spiced Chickpea and Lentil Bowl (300g).
UK 'big four' supermarkets Tesco and Asda will be the first multiples to list Quorn food cupboard products from June, with other listings expected to follow.
Alex Glen, marketing director at Quorn, said: "With chilled meat-free the number one growth category in retail, and frozen meat-free at number three, we're enabling retailers to introduce new and innovative meat-free options to their food cupboard offering, whilst making it easier than ever for consumers to enjoy more great-tasting meat-free meal solutions.
"To meet highest ever levels of demand, meat-free options need to be more readily available, to enable people to eat healthy protein for a healthy planet."
The new products have recommended retail prices (RRP) ranging from GBP2.19 to GBP2.99.
Graze debuts new snack range Wow Bakes
Graze, the UK-based healthy snacks company owned by Unilever, is rolling out its new Wow Bakes dessert range containing "less than a teaspoon" of sugar.
Oat-based Wow Bakes come in four flavours – chocolate sea salt, honeycomb crumble, sticky toffee and lemon drizzle – and will launch in Tesco this month followed by other "major" retailers in the summer.
The snacks contains less than four grams of sugar – in line with Graze's sugar reduction initiative – and have less than 100 calories.
Pia Villa, the chief brand officer at graze, said: "The introduction of our new sub-100 calorie Wow Bakes is just another step in our mission to help consumers enjoy healthy eating. Following the launch of our initiative to significantly reduce the sugar content across our entire cereal bar range last month, we plan on continuing to push the boundaries of healthy snacking innovation in order to provide delicious, nutritious products for our grazers."