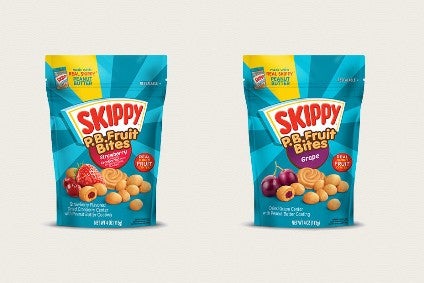 just-food publishes the most notable product development from the international food sector, presented in bitesize format to give you a flavour of the innovation from your peers and competitors announced this week.
Hormel Foods unveils Skippy P.B. Fruit Bites
US-based Hormel Foods is adding fruits to its peanut butter range with the launch of Skippy P.B. Fruit Bites.
The bite-sized snacks with dried fruits launched in US retailers this month in four-ounce resealable pouches at a recommended retail price of US$3.29 to $3.69.
Skippy P.B. Fruit Bites contain four grams of protein and are available in two variants along the peanut butter aisle: strawberry-flavoured dried cranberry and dried grape.
Brand manager Aly Sill said of the launch: "We took the classic peanut butter and jelly flavour and created a convenient, on-the-go snack, combining the undeniably smooth taste of Skippy peanut butter and real dried fruit. We are thrilled to introduce Skippy P.B. Fruit Bites as the next member of the iconic Skippy peanut butter family of products and a perfect snack for peanut butter and jelly lovers across the country."
Kind makes sports nutrition debut with protein bars launch
US snacks business Kind has entered the sports nutrition market with the launch of a new protein bar range in the UK.
The three strong range will launch into more than 400 Sainsbury's stores from 16 September.
Kind Protein bars, which are available in three variants – Crunchy Peanut Butter, Double Dark Chocolate and Toasted Caramel Nut – contain 12g of plant protein per 50g bar. They are high in fibre and contain "heart healthy fats" as well as being gluten-free and lower in sugar.
John McManus, marketing manager at Kind, said: "We know there's a huge opportunity in the protein category here in the UK and we're entering with a unique proposition.
"As we're seeing the functional health trend continue to grow, we've noticed a gap in the market for on-the-go, convenient products, that really deliver on taste, contain whole food, natural ingredients and have a functional benefit."
Pioneer Food Group's Lizi's moves into breakfast drinks
Lizi's, the UK granola brand owned by South Africa's Pioneer Foods Group, is launching breakfast drinks aimed at active and health conscious consumers looking for an on-the-go breakfast option.
Its Lizi's Breakfast Drink comes in a 250ml bottle and is low in sugar and high in protein. It also contains vitamin B6.
The drink is available in chocolate, vanilla and strawberry flavours.
Susanne Fraser, group marketing manager, said: "Consumers' interest in health and wellness is growing, with the rise of more fluid, and convenient lifestyles. With particular focus on this, the on-the-go breakfast market has been crying out for a premium product that meets this demand. We are filling this gap with the launch of Lizi's Breakfast Drink."
Lizi's Breakfast Drink's RRP is GBP1.49 (US$1.92) for 250ml. It is available in Sainsbury's.
Chobani targets savoury with squeezy Greek yogurt product
Chobani, the US Greek-style yogurt company, has launched a condiment in a squeezable, resealable pouch product intended to be used as a topping for savoury food.
The company suggests its Chobani Savor Greek Yogurt ingredient is an alternative to sour cream – but with 50% fewer calories, 75% less fat and twice the amount of protein.
It also sees it as being suitable as a topping for baked potatoes, tacos and soup, an addition to sauces, dressings, and marinades and as a garnish for vegetables and savoury pancakes or crepes.
It is made with natural, non-GMO ingredients and fresh milk from untreated cows.
Available in a 14 ounce pouch, Chobani Savor has a RRP of US$2.99.
PepsiCo's Tostitos arrive in Australia
PepsiCo is launching its Mexican-style corn chip brand Tostitos in Australia.
The 'chips' come in three flavours – Lightly Salted, Splash of Lime and Smoked Chipotle. PepsiCo suggests they feature a "unique shape" that allows for optimal dipping potential.
Olivia Sutherland, marketing director for PepsiCo in Australia, said: "We're so excited to bring Tostitos to Australia and offer a product that allows people to create an authentic Mexican food experience at home – we hope Aussies love them as much as we do."
The Tostitos range launches exclusively in Woolworths this month with all three flavours available in a 175g pack size. The RRP is AUD3.99 (US$2.95).
General Mills unveils Old El Paso "premium" Mexican meal kits in UK
Old El Paso, the Mexican food brand owned by US food group General Mills, is to have its portfolio expanded in the UK.
Its meal kit portfolio is being boosted with three "premium" variants intended to tap into "growing consumer demand for convenient, restaurant-quality meals at home".
Launched under the name Street Market, the new variants – Smoky Chipotle Taco Meal Kit with a Cool Mango Drizzle, Habanero & Lime Taco Meal Kit with a Coco Ancho Drizzle and Ancho Chili & Honey Fajita Meal Kit with Zesty Drizzle – are exclusively available in Tesco from today (6 August).
Lindsay Hill, marketing manager for Old El Paso at General Mills UK, said: "We've developed this premium range to appeal to those with a millennial mindset in that they're looking for meals that are of a style and quality that you would find in a restaurant, but can easily be made at home."
All the meal kits have a RRP of GBP3.99 (US$5.15).
Pladis unveils Jacob's Cracker Crisps Thins
Global snacking company Pladis has added to its UK-based Jacob's Cracker Crisps range.
Its new Jacob's Cracker Crisps Thins are described as a thinner and crispier snack with lighter texture.
Steve Monk, director of the regional brands business unit at Pladis UK&I, said: "Jacob's Cracker Crisps have been a terrific success since launching two years ago, becoming an established brand and the leading baked product within premium sharing crisps and snacks.
"We look forward to driving further growth to the category by offering this new snacking experience to consumers through their light and crispy texture and flavour-packed taste."
Jacob's Cracker Crisp Thins are available in 130g sharing bags in three flavours – Mature Cheddar & Roasted Onion, Sea Salt & Cracked Black Pepper and Thai Sweet Chilli.
They have a RRP of GBP1.89 (US$2.44).