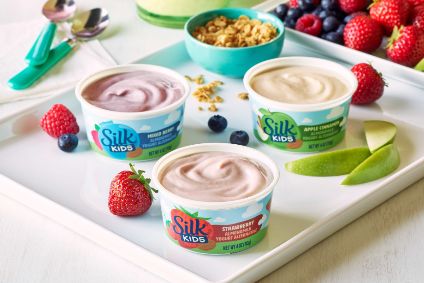 This week's selection of new products includes a cereal partnership between Mondelez/Post Holdings, grain-free cereal from Nature's Path in Canada and a new category in spreads for Upfield's Violife brand in the UK.
India FMCG giant Marico enters plant-based meat
Marico, one of the largest consumer-goods companies in India and home to brands from Saffola masala oats to True Roots shampoo, is wading into the country's budding market for plant-based meat.
The company is rolling out soy-based meat-style pieces in the eastern state of West Bengal. Sanjay Mishra, the chief operating officer for India sales and CEO for new business at Marico, said the business was eyeing increasing interest in India in "a healthier lifestyle".
Mishra said Marico's Saffola Mealmaker Soy Chunks are "a great source of vegetarian protein, high in fibre and low on fat", adding: "They are also very versatile and can be cooked in multiple ways to suit all tastes. We have emphasised our focus on taste, texture and nutrition while developing this differentiated product as we want to ensure that plant-based products such as Saffola Mealmaker Soya Chunks are tasty enough to become a regular part of consumers' diets."
The products come in four sizes – a 45 gram pack available for INR10 (US$0.14), a 200g option at INR45, a 400g bag for INR89 and 1kg version at for INR150.
just-food analysis from October: "It's going to be a marathon and it's going to be worth it" – weighing up the prospects for plant-based meat in India
Danone touts health virtues of Silk kids line
The French giant has launched a Silk yogurt-style product, based on almonds, in the US.
Announcing the roll-out of the new line, Danone pointed to concerns in the country about child nutrition.
"This is a crucial time for parents across the countrtyand Danone North America has convened an important conversation with industry experts to discuss the current challenges in children's nutrition due to the Covid-19 pandemic," Lia Stierwalt, senior director of marketing for Silk plant-based yogurt alternatives, said. "We are happy to announce the launch of Silk Kids Almondmilk Yogurt Alternative as part of the solution."
Danone sought to emphasise how the new non-dairy product is "fortified" with calcium and vitamin D "to help support strong bones". The food also has "25% less sugar per ounce than average flavoured yogurt alternatives", Danone claimed.
Three flavours – mixed berry, apple cinnamon and strawberry – are available.
Chobani debuts probiotic range
Chobani, the US business that started out in the Greek yogurt category, has entered the probiotics segment with a range of yogurts, drinks and shakes.
"The new Chobani Probiotic yogurts and yogurt drinks have a diverse blend of scientifically confirmed probiotic strains with multiple benefits for immune, digestive and gut health, bringing a proactive approach to a new generation of probiotic consumers," the company explained as it also introduced Little Chobani Probiotic pouches and shakes.
Chobani Probiotic 5.3 ounce yogurt cups are available in Blueberry, Vanilla, Strawberry, and Peach at a suggested retail price of US$1.49.
Chobani Probiotic 4 fl-oz yogurt-based drinks come in Raspberry Acai, Blueberry Pomegranate, and Passion Orange Guava retailing at $5.49.
The Little Chobani Probiotic drinks offers Strawberry and Cookies & Cream, while the pouches are available in Strawberry Banana, Mixed Berry, and Strawberry & Grape. Both retail at $4.49.
Kellogg launches cereal bars in the US
US-based Kellogg is targeting the on-the-go market with the launch of new cereal bars in its domestic market.
Its Kellogg's Frosted Flakes and Froot Loops Cereal Bars, based on two of its best-known breakfast brands, are made with cereal pieces and are equal to a half serving of cereal (by weight).
Sarah Reinecke, senior director brand marketing, said: "At Kellogg's, we're always looking to innovate and deliver new experiences that our fans desire, and we know breakfast isn't the only time people munch on cereal.
"Whether you're a cereal-loving kid or just a kid at heart, Kellogg's Cereal Bars offer a whole new way to enjoy Kellogg's Froot Loops and Frosted Flakes on the go, wherever your day takes you."
The bars will be available this month at retailers nationwide in boxes of six, 18 or 36.
Mondelez rolls at Cadbury Nuttier bars in UK
Mondelez International is launching a fruit-and-nut bar in the UK – Cadbury Nuttier.
The US-based snacking giant said the bars will help retailers "extend their healthier bar range". Cadbury Nuttier bars "are filled with fibre" with a composition of 40% fruit and nuts, and a Cadbury milk chocolate base.
Three flavours will be available from January, Peanut & Almond, Cranberry, Peanut & Almond, and Coconut & Almond.
A single 40-gram bar will retail at GBP1.19 (US$1.58).
Lyndsey Homer, the brand manager for Cadbury Nuttier at Mondelez, said: "Cadbury Nuttier is a really exciting launch for us. Not only do we know that the 'Healthier Bars' category is very popular but we're confident Nuttier is one of our best-tasting bars yet, performing exceptionally in testing."
Moorish dessert houmous hits Sainsbury's
UK-based dips maker Moorish is to sell its dessert houmous product via Sainsbury's, its first 'big four' grocer listing.
Marketed as a healthier option for chocolate spread fans, its Moorish Chocolate Spread Dessert Houmous will be sold in 653 Sainsbury's convenience stores from this month.
Available in chilled 150g pots with a RRP of GBP1.80 (US$2.40), the product is described by the challenger brand as a "deliciously versatile and guilt-free alternative for dipping, dolloping or spreading".
Moorish Chocolate Spread Dessert Houmous is plant-based, gluten- and palm oil-free and contains 70% less sugar than branded chocolate spreads.
Moorish founder Julie Waddell said: "Dessert Houmous is huge in the US and we are the first brand to launch as a mainstream UK offer.
"Our Chocolate Spread Dessert Houmous not only tastes incredible – it is also a guilt-free proposition, with versatility across multiple eating occasions from breakfast to snacks, desserts and evening nibbles."
Post Holdings, Mondelez combine for Oreo O's cereal
US food majors Post Holdings and Mondelez International have teamed up to produce a new breakfast cereal incorporating the latter's Oreo biscuits.
Oreo O's is launching in the UK and Ireland during December in Asda, through retailers Morrisons and Dunnes, with Sainsbury's and Booths set to join the pack next year.
The cereal is manufactured by Post-owned Weetabix under licence to Mondelez. A 350-gram box will retail at GBP3.99 (US$5.39).
Oreo O's contains "crunchy cocoa hoops combined with vanilla flavour discs" and is "aimed at filling the gap in the cereal market for a more indulgent, adult proposition".
Nature's Path joins grain-free ranks
Nature's Path is launching the Canadian firm's first grain-free breakfast cereal.
Described as "protein-rich" by the organic manufacturer, which also makes snack bars, the Grain Free Hot Cereals come in Maple Almond Crunch and Cinnamon Apple Crisp in on-the-go formats.
Instead of grains, chia and pumpkin seeds provide the protein content, along with nuts. They are suitable for vegan and paleo diets, and have no artificial colours, flavours or preservatives.
Arjan Stephens, the general manager of Nature's Path, said: "We consider our Grain Free Hot Cereals 'conscious comfort food'. We hand-picked the healthiest grain-free ingredients straight from nature and infused them with delicious flavours to create a dependable boost of nutrition."
The cereals are available across Canada in stores of Target, Kroger, Sprouts and Whole Foods Market.
Upfield takes Violife dairy-free brand into spreads
Netherlands-based dairy-free firm Upfield has taken its Violife brand into a new segment with Cocospread, which has been launched in the UK and Ireland to add to the brand's range of cheeses.
Cocospread is 100% vegan and is available in Asda supermarkets and Whole Foods Market at a recommended retail price of GBP2.40 (US$3.24). The spread is free-from allergens, dairy, nuts, palm oil and preservatives, and is non-GMO.
Upfield claims the spread "contains just a quarter of the sugar, half the fat, and half the calories typically found in other chocolate spread products on the market".
Simon Orchard, Violife's country manager for the UK and Ireland, said: "It's Violife's mission to create great tasting vegan products that can be enjoyed by everyone, and we're certain that Cocospread delivers on this."
Upfield acquired the Violife brand in 2019 when it bought Greece-based business Arivia.
Ornua launches cheese for pizza-delivery customers
Ireland dairy cooperative Ornua has released a three-strong range of cheeses specifically for the pizza delivery market in the UK.
Consistent Shred Pizza Cheese has been launched by Ornua's ingredients division in Europe under the Spinneyfields brand in Mozzarella, Mozzarella & Cheddar and Pizza Topper, with the latter described as "ideal for all uses and budgets".
The new range is being manufactured at the company's plant in Ledbury, a town in the West Midlands county of Herefordshire.
Joan Bombardo, managing director of Ornua Ingredients Europe, said: "At Ornua, we pride ourselves on being pizza cheese specialists, and today we make cheese for over 100 million pizzas annually. During the pandemic, the delivered pizza sector experienced rapid and sustained growth, and we believe that the launch of the new Spinneyfields Consistent Shred Cheese range will enable our customers to capitalise on this growth."