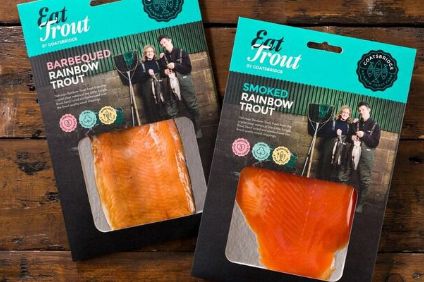 This week's product news includes a new range of purees from Ella's Kitchen, vegan cheese from Tine's UK subsidiary Norseland and a "premium" line of beef SKUs from Vion Food Group.
Irish trout products firm Goatsbridge makes UK debut at Sainsbury's
Kilkenny, Ireland-based Goatsbridge Trout Farm has launched a range of its trout products – including Ireland's first trout caviar – at 159 Sainsbury's stores in the UK.
The family-owned business company said the move is part of a company growth plan which involves expansion beyond its home market.
The products available at Sainsbury's are Goatsbridge Eat Trout Smoked Rainbow Trout at GBP4.75 (US$6.08), Goatsbridge Eat Trout Lemon & Garlic Flaked Trout (GBP3.75), Goatsbridge Eat Trout Rainbow Trout Caviar (GBP9.95) and Goatsbridge Eat Trout Hot Smoked Flaked Trout (GBP3.75).
Mag Kirwan, managing director of Goatsbridge, said: "We have been perfecting our trade for over 50 years and are confident our products will be well received by UK consumers."
Goatsbridge already supplies major supermarket multiples in Ireland including Aldi as well as restaurants, delis and specialist fishmongers.
Hain Celestial-owned Ella's Kitchen introduces Mighty Grains purees
Ella's Kitchen, the UK-based producer of organic baby foods owned by Hain Celestial, is launching Mighty Grains purees.
Mighty Grains come in three flavours and are designed for children aged four months and above: Apple and Raspberry Buckwheat; Peach and Mango Amaranth; and Squash and Apple Quinoa.
The range is now available in Tesco, Morrisons, Asda, Boots pharmacy, and online retailer Ocado at a recommended retail price of GBP1.10 (US$1.41) each for a 120-gram pack.

Vion Food Group introduces "premium" beef range
The Netherlands-based meat processor is targeting retail and foodservice with its new Cool Cuts line.
The new products are taken from Simmentaler cattle or the Holstein Friesian breed. The cuts are matured over three weeks, then packed and deep-frozen individually.
The range includes steaks like entrecote, T-bone and filet, as well as flat iron, tomahawk, côte de bœuf and churrasco ribs. All types are marketed "ready to cook" in individual packaging ready for sous-vide preparation by the customer.
Vion claims it is "breaking new ground" in production, with output to order. "Not every customer wants rump steak in the 250-gram version, but perhaps rather in portions of 180 grams," Bernd Stange, the CEO of Vion's beef unit, says. "We are able to cater to these demands individually.
Morrisons launches V Taste vegan line
UK big four retailer Morrisons has extended its vegan range, including the launch of the new V Taste brand.
It said the launch is in response to consumer demand.
Morrisons has expanded its range of vegan foods to include dairy-free cheeses, meat alternatives, V Taste vegan ready meals and vegan food-to go-items such as Indian burrito wraps.
It has also developed chocolate and red velvet cupcakes that will be added to their Market Street Cake Shop range.
The retailer said it is now clearly labelling more than 300 products that are suitable for vegans.
Launch products include frozen Katsu Curry Melts, fresh ready meal V Taste 3 Bean Chilli Non Carne and cake shop V Taste Chocolate Vegan Cupcake.
The supermarket's vegan buyer, Alex Dodd-Jones, said: "More and more people are eating vegan and we are listening and responding to customers who tell us that they want more vegan options. We are also making vegan food easier to find."
Australian baker Great Temptations gets Coles listing
Great Temptations, a bakery business in Australia, has secured its first national listing with the country's two biggest grocers.
The Perth-based firm is to stock two lines – muffins and brownies – in 200 Coles Express stores.
"Having a national presence in Coles Express adds another dimension to our brand. The more places our customers can find our product the better," managing director Carl Quarrell said.
Quarrell added the business is set to launch gluten-free chocolate chip cookies and macaroons. The business also told just-food it is working on a "more healthy, protein-based convenience snack".
Aunt Bessie's adds to UK product portfolio
Aunt Bessie's, the UK frozen Yorkshire pudding and roast potato maker owned by Nomad Foods, has launched four new products.
Linked to traditional roast dinners, Yorkshire Bases are large square-based Yorkshire puddings while a new vegetable offering is Chantenay Carrots & Parsnips.
New varieties of frozen potato have also been launched in the shape of Lightly Seasoned Wedges and French Fries. The wedges are gluten-free and made with sunflower oil. Both products are available in two sizes.

Hannah Haas, marketing director at Aunt Bessie's, said: "Our new product offerings come at an exciting time for the business. We hope that our Yorkshire Bases will inspire our shoppers to create new and innovative recipes, using the bases with burritos, wraps, pizzas and more. Meanwhile, our Chantenay Carrots & Parsnips offer consumers a premium product that will help to elevate their roast dinners to the next level."
Tine's UK subsidiary Norseland launches vegan smoked cheese
Norseland, a subsidiary of Norwegian cooperative Tine, is moving into the UK plant-based market with the launch of a vegan cheese.
Applewood Vegan Cheese will roll out in Asda stores in January in 200-gram blocks at a recommended retail price of GBP2.20 (US$2.83).
Based in Somerset in south-west England, Norseland said its smoky vegan cheese is coconut-based and is enriched with calcium and vitamin B12.
The firm's senior brand manager, Lisa Harrison, said: "We ran in-depth focus groups with consumers following a vegan diet, foodie flexitarians and dairy-free consumers, and the results clearly showed that each group miss the taste of cheese and that there is a huge demand for a cheese-alternative that melts really well."
Kabuto Noodles targets kids with new range
The UK's Kabuto Noodles is planning to bring out an Asian-style pot noodle range aimed at children between ages five and 12.
The Bristol-based company's Kabuto Kids will be launched in February in two flavours: Happy Chicken Noodles and Lucky Vegetable Noodles. The instant noodle pots are made ready by adding hot water.
The company said they have been made child-friendly by using shorter noodles and reduced spices in a smaller pot. They are made with natural ingredients and contain no additives or preservatives.
Company founder Crispin Buck came up with idea of Kabuto Kids when he realised getting his two active children fed before rushing them off to after school clubs was a challenge.