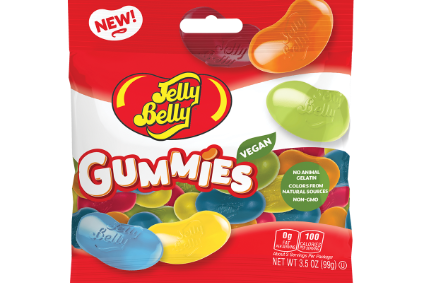 This week, we report on a batch of new products including Krispy Kreme's retail snacks, a "mash-up" breakfast cereal from Kellogg and Finland's Fazer Group launching vegan chocolate.
Itsu products launch in France
UK-based Asian foods maker Itsu Grocery is launching in France, selling a range of products across the English Channel.
Itsu Grocery has secured listings for its noodle cups and veg gyoza at Costco outlets in France.
"In September, we will expand our distribution in the Paris region," a spokesperson said.
The launch of Itsu products in France coincides with a partnership with Lagardère Travel Retail, which will manage the first Itsu restaurants in France, including an outlet in Paris Orly Airport, which is scheduled to open by the end of the year.
Julian Metcalfe, the founder of Itsu, said: "The time has come for our restaurants and our products to be offered to French consumers. Our mission is to contribute to a better, healthier and fresher future of food, both through fast food – but also at home. Thanks to the unique combination of restaurants and a range of healthy products, we will bring to French consumers a completely new concept."
Candy company Jelly Belly moves into gummies
US confectionery firm Jelly Belly has launched sweet and sour variants in a new gummy range.
Specialising in jelly beans until now, it is launching Jelly Belly Gummies in five flavours in September – Berry Blue, Green Apple, Lemon, Orange and Very Cherry – in sweet and sour variants.
The California-based company's gummies are vegan-friendly, contain no animal gelatine, are non-GMO and are made with colours from natural sources.
Both mixes will be available in 4oz and 7oz. bags and 3.5oz 'grab and go' bags.
Orkla's Naturli' launches ice cream in Sweden
Naturli' Foods, the meat- and dairy-free supplier backed by Nordic food giant Orkla, has launched its range of plant-based ice creams in Sweden.
Denmark-based Naturli' is rolling out three flavours, including salty caramel with roasted almonds and raspberry with choco flakes.
The ice creams are made from an oat base. Naturli' has so far secured listings at City Gross, Matrebellerna and Lidl.
Nestle-Lactalis JV expands Lindahls range in UK
Lactalis Nestlé Chilled Dairy, the UK arm of the European chilled-dairy venture between the French dairy behemoth and the world's largest food maker, is adding to its Lindahls line with products aimed at "regular gym-goers".
The companies are launching two products under the Lindahls Pro sub-brand – pot quark snacks and drinks, both containing whey protein and casein protein.
Paul Wiseman, marketing manager at Lactalis Nestlé Chilled Dairy, said: "We are committed to providing great tasting, high protein dairy for active people and are confident that this new innovative range, with its unique 50:50 mix of whey and casein, will be a hit with consumers."
The quark pots are available in Strawberry & Lime Pie and Lemon Cheesecake flavours, containing 18g of protein. Morrisons is the current stockists, with a recommended retail price of GBP0.95.
The drinks, available in Raspberry & Vanilla or Tropical, flavours, contain 23g of protein in each serving). They will be available at Asda from next month, with an RRP of GBP1.25.
Caulipower targets convenience with microwaveable rice alternative
US frozen-food firm Caulipower has entered another category, now offering microwaveable cups of Riced Cauliflower.
Available in three flavours – baja style, curried and sesame citrus – the rice cups are available on Amazon, plus bricks-and-mortar chains including Gelson's and Busch's. Alberstons and Sprouts are among the retailers to follow later in the summer.
"I said we'd never do riced cauliflower unless we could truly make it better-for-you, better tasting, and more convenient," founder and CEO Gail Becker said. "Through this latest innovation, that's exactly what we've been able to do, all in category-busting packaging."
The firm said the cups are sold in "reusable, recyclable and dishwasher-safe containers".
just-food interview, April 2020: "We're fortunate to be in operation, unlike a lot of businesses" – US packaged food firms on coronavirus
just-food interview, October 2019: From pizza to chicken but with cauliflower – Gail Becker on rise of US frozen-food firm Caulipower
UK dessert maker Freaks of Nature adds to range
The fledgling UK business, which has carved out a foothold in the country's major grocers, has expanded its line-up of plant-based desserts.
Freaks of Nature said it is offering a dairy- and gluten-free trifle, as well as an apple crumble.
The trifle will be "initially available" exclusively in Asda from 20 July, with the single 125g pot trifles having a recommended retail price of GBP1.50 (US$1.86).
The twin-pack apple crumble has an RRP of GBP3.50 and will be available in Tesco and Asda from next month.
Founder Peter Ahye said: "Despite the lockdown difficulties we have been forging ahead. We've invested GBP1m in capacity at our factory in Yorkshire so that we can expand our range of delicious desserts whilst being as eco-friendly as possible. The new sustainable packaging we've sourced, reinforces our commitment to minimising our impact on the environment."
Krispy Kreme in retail snacks push
The coffee-and-doughnut chain is launching more products through the US grocery retail channel.
From next month, Walmart stores will stock boxes of Doughnut Bites and Mini Crullers.
"For over 80 years, fans all across America have asked us to bring the great taste of Krispy Kreme to their neighbourhood," Dave Skena, chief marketing officer for Krispy Kreme, proclaimed. "Now, with the help of our partners at Walmart we are able to do just that."
The Doughnut Bites – available as Original Glazed, Chocolate and Apple Cinnamon – are sold in five sleeves of four Doughnut Bites per box. The 20 doughnuts are priced at US$3.97.
Krispy Kreme's Mini Crullers come in Original Glazed and Blueberry. They are available in four sleeves of two Mini Crullers. The eight crullers total for $3.97, or a 12 oz. box for $3.88.
Fazer test-launches oat-based chocolate
Finland's Fazer Group is trialling the sale of chocolate products with oats as a central ingredient.
Fazer Oat Choco is lactose-free and suitable for vegans. The bars are also free from palm oil, the company said.
"Our knowledgeable chocolate technologists have succeeded in solving a creative challenge we have been working on for a long time; a completely plant-based chocolate that is vegan, lactose-free, palm oil-free and made with 100% responsible cultivated cocoa. This is an innovation that we are now testing to get valuable feedback from consumers about the taste of the product," Robert Engman, the CEO of Fazer's confectionery business in Sweden, said.
The bars are available through Fazer's online store. The 62g bars are priced at around SEK28.
India's LT Foods launches instant rice pots
LT Foods, the India-based rice supplier, has broadened its range with the launch of a line of instant rice products.
The Daawat Cuppa Rice products, prepared for consumption by adding hot water, are available in five flavours, including Daal Chawal and Schezwan Rice.
LT Foods said the products would go on sale in in stores and on online channels in India this month, with "a small quantity" exported to the Middle East "for the Indian diaspora there".
Ashwani Kumar Arora, LT Foods' managing director and CEO, said: "Post the test launch and based on the response we will decide on the production capacity and investment in this product, though I am confident that the product will do well with the changing scenario as people are getting more brand and health conscious."
The products are priced at INR70 (US$0.92).
Kellogg's cereal "mash-up"
In its home market, the US giant is putting two of its products in one box, pointing to data that shows "almost half" of consumers mix cereals together.
Kellogg's Mashups contain Frosted Flakes and Froot Loops. Available as a "limited edition", the cereal is "available in stores nationwide" and online.
Suggested retail prices are US$3.99 for a 9.8-ounce box and $5.69 for a 15.6-ounce box.
"Kellogg's is always looking to innovate and deliver new experiences that our cereal fans desire," Erin Storm, marketing director of Kellogg's "all family" cereal products, said.
Pointing to a company survey of more than 3,000 US adults in December, Storm added: "As almost half of cereal lovers mix cereals together1, we wanted to make this two-in-one breakfast experience even easier."