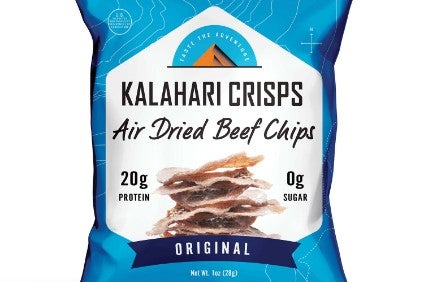 This week's new product offerings include a vegan chocolate range from Lindt and a plant-based push from Spanish meat major Noel Alimentaria.
Kalahari branches out into beef crisps
Kalahari Snacks, a US-based biltong producer, is expanding into the crisps category.
The Boston, Massachusetts-based business is launching Kalahari Crisps made with slices of roasted beef in three flavours: Original, Southwest Verde, and Rosemary Citrus.
Its new crisps contain 20 grams of protein and have zero sugar or carbohydrates, with 100 calories per serving. They are already available on Amazon and the company's online portal, and will roll out in Sprouts Farmers Market in August. The suggested retail price is US$4.99.
Brett Johnston, one of the company's three co-founders, said: "Going back to my South African roots, we wanted to make sure the newest Kalahari product was just as simple and delicious as our last…….we wanted to continue powering individuals through their everyday adventures by creating a snack that is packed with good-for-you fuel."
Lactalis enters hot cheese arena in UK with Brie bakes
French dairy giant Lactalis has entered the hot cheese sub-category in the UK with the launch of Président A La Carte Crispy Bakes with Brie.
Available in Waitrose and from Ocado this month, Lactalis suggests the new product under its President brand "is suitable for vegetarians and consumers looking for a protein alternative to meat that is tasty and nutritious".
Each pack of Président A La Carte Crispy Bakes with Brie contains six items and has an RRP of GBP2.50 (US$3.15).

Héloïse Le Norcy-Trott, group marketing director for Lactalis UK & Ireland, said: "We are confident that this exciting new launch will not only be a hit with consumers looking to try a hot Brie product in a convenient format, but it will also support our long term aim to become the No.1 continental dairy brand in the UK."
Lindt to launch vegan chocolate
Chocolate maker Lindt & Sprungli is to roll out a line of vegan products in Germany.
In November, a line of vegan tablets will go on sale under Lindt's Hello brand.
Lindt said it has replaced the milk in the chocolate with an oat-based ingredient.
Three variants have been developed – Cookie, Hazelnut and Salted Caramel. The 100g bars have a recommended price of EUR2.99 (US$3.39).
Conagra to launch more than two dozen new products across multiple brands
US food group Conagra Brands has revealed it is to launch more than two dozen new products this summer, reflecting trends such as plant-based and keto-friendly.
The Chicago business said brands including Birds Eye, Marie Callender's, Healthy Choice and Snack Pack are among those bringing new items to market.
New plant-based offerings, in a variety of flavours, will include Birds Eye Meatless Lasagna with Gardein Plant-Based Protein, Birds Eye Skillets with Gardein Plant-Based and Healthy Choice Power Bowls with Gardein Plant-Based Protein.
Gardein Ultimate Plant-Based Jerky will be available in three flavours – Original, Teriyaki and Hot & Spicy – while Gardein Plant-Based Soups will be available in five plant-based meat flavours.
Marie Callender's Pot Pies with Gardein Plant-Based Protein will be available in two flavours, Chick'n and Be'f.
Also new this summer will be Blake's Gluten Free Mac and Cheese, keto-friendly and gluten-free Evol Pizza, available in two flavours, and Evol Modern Lifestyle Bowls with Paleo-friendly options, available in four flavours.
Healthy Choice Bone Broth Soups are also amongst the new offerings. They are available in three flavours made with bone broth, Chicken Noodle, Chicken with Rice, and Lentil Vegetable.
New snacks will include Orville Redenbacher's Microwave Popcorn Made with Avocado Oil, Slim Jim Original N' Cheese 10-Pack, Slim Jim Pork Rinds, available in two flavours, and Snack Pack Mermaid Tropical-flavored Pudding.
Gathered Foods adds entrees to Good Catch plant-based seafood range
US-based Gathered Foods has added frozen fish-free entrees and appetisers to its Good Catch-branded range.
It is launching plant-based Thai Fish Cakes, Classic Fish Burgers and New England Style Crab Cakes to add to the faux tuna product it already offers.
Chad Sarno, co-founder and chief culinary officer at Good Catch, said: "Recreating the taste and texture consumers expect from whitefish and crab cakes challenged our team to push our boundaries. We are really proud of the final outcome."
The entrees and appetisers are made from Good Catch's six-legume blend (peas, chickpeas, lentils, soy, fava beans and navy beans), which is used as the base of its products to create the texture that mimics the flakiness of seafood.
Good Catch uses natural vegan flavourings for seafood notes in the products.
The new frozen appetisers and entrees have an RRP of US$5.99 and are available in retailers across the East Coast, with expanded distribution throughout the country planned for later this year.
Spain's Noel Alimentaria expands plant-based range
Noel Alimentaria, the Spanish meat-processing major, has broadened its range of meat-free products.
The family-owned company launched its first meat-alternative items, a substitute for a veal burger, last year and has announced the development of more products, all sold under the Nature sub-brand.
This month, Noel Alimentaria is offering alternatives to chicken burgers, as well as substitutes to veal and chicken strips.
For the retail channel, the burgers will be sold in 113g packs of two and the strips in 16g packs. For foodservice, the company is also planning to offer the products as an ingredient or in frozen format.
The company is selling the new products in cardboard packaging, it noted. It is "in talks with several [retail] chains" about listings, a spokesperson said.
Before the end of the year, Noel Alimentaria is also looking to launch alternatives to beef mince, as well as substitutes to pork options chorizo and sausages.
Pladis adds VIBs to McVitie's biscuits range in UK
Global snacking firm Pladis has launched a new "special" chocolate biscuit range under its UK brand McVitie's
Its McVitie's Very Important Biscuits, or V.I.Bs, are available in three flavours – Classic Caramel Bliss, Heavenly Chocolate Hazelnut and Luscious Blood Orange.
Emma Stowers, brand director for McVitie's at Pladis UK&I, said: "We're seeing a huge opportunity to encourage shoppers looking to make snack-time a little bit special to trade-up. But at present, shoppers on the look-out for special biscuits are likely to have to spend up to 200% more than they do on everyday treats, so we're setting the RRP for V.I.Bs very competitively.
She added: "We're aiming high with this launch. Our vision is for it to become a bestselling range in the biscuit aisle within its first few years on shelves."
The range will be launched in Asda from Sunday (12 July) with an RRP of GBP1.79 (US$2.24). Further roll-out into other major retailers will follow from the end of August.
Grupo IAN teams up with Heura Foods on plant-based dish
Major Spanish manufacturer Grupo IAN has worked with local veggie-foods business Heura Foods on a new product.
Under its Carretilla brand, Grupo IAN is launching the Heura with Tomatoes and Peppers ready meal. The dish contains the plant-based meat alternative developed by the fledgling Heura Foods.
Grupo IAN markets a range of ready meals, including vegetarian dishes, under the Carretilla brand but this is the first time the two companies have worked together on a Heura product.
"Carretilla's goal is to help people save time in their daily lives by offering a wide range of ready-to-eat meals that are tasty, homemade and varied, while at the same time offering new proposals and experiences", Susana Fernández, marketing director of Grupo IAN, said. "With our Heura recipe we want to innovate and go one step further within our veggie dishes, offering for the first time a plant based alternative to meat. An ideal option, not only for vegetarians or vegans, but also for those who want to reduce meat consumption and have a flexitarian diet."
Hovis launches Glorious Grains minerals-enriched bread
Hovis, the UK bread brand, is launching a loaf enriched with vitamins and minerals to meet demand for nutritional foods during the pandemic.
Hovis Glorious Grains contains vitamin B1, copper, magnesium and phosphorus, and is due to roll out in Tesco, Sainsbury's, Morrisons and Waitrose this month. It is baked with seven different types of sprouted wholegrains including rye, wheat, spelt, oats, barley, buckwheat and teff, infused in a "natural sourdough".
Nina Shanahan, head of marketing for Hovis, which is owned by UK-based food manufacturer Premier Foods and US private-equity firm The Gores Group, said: "Having listened to consumer demands, we are excited to launch our delicious new Glorious Grains loaf which contains minerals and vitamin B1 and helps to support the immune system. This is a great addition to our health-focused range, which includes Hovis Fabulous Fibre, helping consumers reach the daily target fibre intake without compromising on taste."
In June, UK broadcaster Sky News suggested, quoting sources, that the Hovis owners were exploring a sale of the brand, which dates back to 1886. Premier Foods declined to comment on the speculation, while The Gores Group did not respond to a request for comment.
Oatly rolls out plant-based Oatgurt yogurts
Oatly, a Swedish plant-based yogurt manufacturer, has launched a new range in the UK – Oatgurt.
As both the company and brand names suggest, the yogurts are made from oats and come in four flavours: Plain, Strawberry, Blueberry and Greek Style, and are available in Tesco from today (6 July).
The plain and Greek style yogurts have no added sugar. All carry a recommended retail price of GBP1.99 (US$2.49), except the Greek variant, which retails at GBP2.20.
Oatgurt contains calcium and iodine, along with the vitamins B12 and D. The yogurts are made with rapeseed oil high in unsaturated fat – "replacing saturated fat in the diet…..unsaturated fat helps maintain normal blood cholesterol levels," Oatly said.
Ishen Paran, the general manager for Oatly UK, added: "After being so popular across Europe, we're now introducing our line-up of four Oatgurt flavours to the UK. Branching out our product range even further and launching such a food staple with Oatgurt shows our continued commitment to making it easier for people to switch from dairy to oat."
Winterbotham Darby's Squeaky Bean vegan 'tortillas'
UK-based food group Winterbotham Darby is launching Spanish-inspired ready-to-eat tortillas through its vegan brand Squeaky Bean.
Made with a potato and onion topping and a chickpea base, the new product is more similar to an egg-based frittata but is being called a tortilla because of its connections with Spain, a company spokesperson told just-food.
The 250-gram tortillas are available in 90 Sainsbury's stores across the country at a recommended retail price of GBP2.00 (US$2.50).
Sarah Augustine, Squeaky Bean's joint creator, said: "We know some consumers struggle to find ready-to-eat and easy-to-create vegan food options, which can often mean those new to eating a plant-based diet, or who want to reduce their intake of animal products, perceive it as challenge. We also see a huge gap for egg replacement products, an area for which many of our consumers are craving tasty solutions."