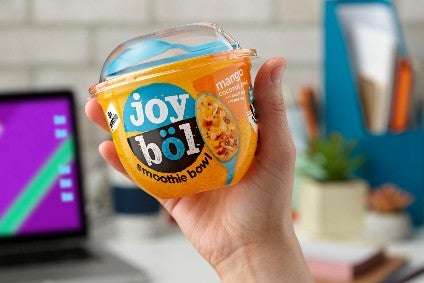 just-food publishes the most notable product development from the international food sector, presented in bitesize format to give you a flavour of the innovation from your peers and competitors announced this week.
Kellogg Joybol smoothie bowls launch in UK
Kellogg is bringing its Joybol brand of smoothie bowls to the UK targeted at "young millennials".
Described as "an all-in-one fruit smoothie bowl", Joybol contains a mix of grains, nuts, seeds and fruit in an on-the-go pot, which just needs the addition of cold water or milk.
They come in three flavours: Super berries and acai, Strawberry almond quinoa, and Mango and coconut.
Kellogg said: "Joybol is launching into an environment where our target audience of urban millennials is set to be worth 75% of all packaged food growth by 2025. This, combined with the 'deskfasting' habit already representing 12% of breakfast occasions, sets Joybol up to take advantage of both the trend and the long-term behaviour of busy, on-the-go consumers."
So Delicious introduces vegan frozen mousse in US
So Delicious Dairy Free is launching a vegan frozen mousse range in the US.
Delicious Frozen Mousse contains 300-330 calories per pint and are Non-GMO Project Verified, certified gluten-free and made with dairy-free ingredients.
The mousses are available in grocery retailers nationwide at a suggested price of US$5.49, and come in a variety of flavours: Salted Caramel Swirl; Mango Swirl; Peanut Butter Swirl; Strawberry Swirl; Lemon Swirl; Chocolate Chip; and Cranberry Cherry Swirl.
Jack Link's launches biltong in UK
US meat snacks business Jack Link's has launched a line of biltong products in the UK.
Asda has listed the Jack Link's biltong and the manufacturer is offering a 25g pack at a recommended price of GBP1.50 (US$1.97) and a 70g product at GBP2.99.
Nestle's Garden of Life introduces Gol organic snack bars
Nestlé-owned health and nutrition company Garden of Life is introducing a new range of on-the-go organic snack bars in the US – GoL.
Pronounced 'goal', the bars contain 12 grams of protein from Certified USDA Organic grass-fed milk and use unique ingredients such as wild organic blueberries, organic cashews, organic coconuts and pink Himalayan salt.
They are also non-GMO Project Verified and Certified Gluten-Free.
GoL are available in US retailers in four flavours: Chocolate Coconut, Blueberry, Chocolate Sea Salt and Maple Sea Salt.
Nestlé acquired Garden of Life when it snapped up Canada-based vitamins and supplements group Atrium Innovations in December.
PepsiCo's Stacy's Snacks brand rolls out Cheese Petites
The Stacy's Snacks brand, owned by food and drinks giant PepsiCo, is launching a bite-sized cheese snack in the US.
Stacy's Cheese Petites, which contain six grams of protein, will roll out in the deli section of US retailers this month in two flavours: Parmesan with Rosemary, and Romano with Garlic and Pepper.
With cheese as the first ingredient, Stacy's Cheese Petites are also said to be a good source of calcium. The four-ounce bags are priced at US$4.99.
Hormel JV adds to Herdez range in US
US group Hormel Foods is rolling out a line of sauces it says will "bring the authentic flavour of street tacos to your home".
Hormel has launched Herdez Taqueria Street sauces, products "inspired" by cuisine in Mexico.
"The inspiration for these sauces and the packaging was born from the local taquerias found across Mexico, where a truly authentic street taco needs little more than a simple filling and a drizzle of a sauce from the iconic squeeze bottle," Sebastian Friedman, brand manager at MegaMex Foods, said.
MegaMex is a venture Hormel set up in 2009 with Herdez Del Fuerte to market Mexican food in the US.
The four Taqueria Street sauces – including ingredients such as habanero and chipotle peppers – are on sale in nine-ounce bottles at a recommended price of US$3.59-3.99.
The Real Yorkshire Pudding Co launches dessert variants
The Real Yorkshire Pudding Co. in the UK is launching two sweet pudding variants in Asda – Rhubarb and Ginger Crumble and Toffee Apple crumble.
Based in Thorne near Doncaster, the company's puddings are gluten-free and offer consumers a new twist on Yorkshire puddings that are traditionally eaten as an accompaniment to a meal rather than a dessert, particularly for Sunday lunch.
Charles Payne, managing director at the firm bought by food investment group Go2 Foods in 2016 for an undisclosed amount, said: "Over the years, Yorkshire puddings have been eaten as starters and desserts and this is a great way for us, as a brand, to put a modern twist on a traditional British classic.
"As a business, we are focussed on leading innovation within the category and expanding the meal occasions in which Yorkshire puddings are eaten, after all they are not just for Sunday's."
The new puddings will sit alongside regular desserts in the chilled aisle.