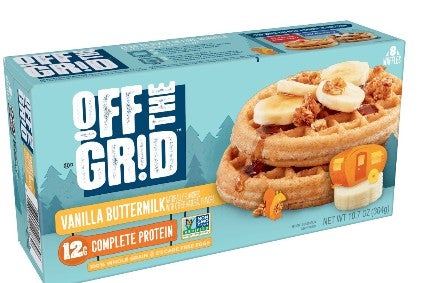 This week's batch of new products includes frozen waffles from Kellogg, a dairy-free ice cream from Coca-Cola Amatil in Australia, and a meat-free range from Vivera.
Kellogg's Off the Grid frozen waffles
US-based breakfast cereal and snacks maker Kellogg is launching a frozen waffle brand Off the Grid offering a "complete protein" solution for morning consumption.
Off the Grid will roll out in June in three varieties: Vanilla Buttermilk, Cinnamon Brown Sugar, and Wild Blueberry, with each containing 12 grams of "complete protein".
The waffles are made using soy protein isolate, whey protein concentrate, whole wheat flour, egg whites (cage free), and hemp seeds. They are non-GMO Project Verified, consist of 100% whole grains and are free of artificial colours and flavourings.
"Off the Grid waffles were created to deliver a hearty and wholesome breakfast experience within any healthful lifestyle," said Laura Newman, the marketing director for Off the Grid. "Crafting waffles with complete protein was very intentional for us – so that we could offer protein that is valuable to our bodies."
Coca-Cola Amatil's alternative to ice cream
Coca-Cola Amatil, the Australasian food and beverage group, has developed Lumi, a dairy-free alternative to ice cream, a product it touts as "guilt-free".
The company said Lumi is being distributed across Australia with a focus on food courts, theme parks, tourist attractions, and "on-the-move" locations like airports and juice bars. It replaces the Perfect Fruit brand in Australia and New Zealand.
"Australia is a premier market for soft serve," Rebecca Matchado, the general manager of Amatil's Perfect Fruit Company, said. "One recent study found we were second in the world as ice cream lovers, behind Norway. But we're also health-conscious, and keen to reduce our intake of sugar and fat."
Flavours in the range include coconut, mango and mixed berry.
Meat-free firm Vivera adds to UK range
Vivera, the Netherlands-based meat-free supplier, is expanding the range of products it sells in the UK.
The company is launching vegan Bacon Pieces at Sainsbury's stores. During the course of the year, Vivera said the product "will be introduced in other European countries".
Gert Jan Gombert, Vivera's commercial director, said: "Especially in the British market we foresee a large demand for our fat-free vegan bacon. Traditionally it is one of the product categories where meat has been difficult to replace. Our product development team has done an outstanding job in making the bacon pieces as tasty as the available regular bacon while reducing the fat level to zero."
Sainsbury's, meanwhile, is to also start selling Vivera's vegan steak, a product launched last year.
Fazer Nordi dark chocolate arrives in US
Finnish food company Fazer is introducing US consumers to its range of premium Nordic dark chocolate tablets.
Fazer Nordi comes in a variety of flavours and will roll out in Fairway Market in the New York Metropolitan market this month. The company will expand distribution into other grocery and speciality retailers in the US and other international markets later in the year.
The range comprises: Sea Buckthorn & Salty Caramel, Hazelnut and Campsite Coffee, Raspberry & Tangy Licorice, and Smooth and Dark Original, all containing 70% dark chocolate.
Nordi utilises 100% sustainably-sourced cocoa, with non-GMO ingredients that "promote overall health and well-being", complete with "unique Nordic recipes".
Tesco launches its lower price Jack's products in mainstream stores
UK 'big four' supermarket Tesco has announced that a range of own-brand products from its new lower cost store brand Jack's will appear in its mainstream retail outlets this month.
Jack's, named after Tesco founder Jack Cohen, was launched in late 2018 and is widely seen as Tesco's response to the success of discount supermarkets such as Aldi and Lidl.
Of the 1,800 products available in the Jack's range, the five food products selected for Tesco stores will be priced between GBP0.59 (US$0.76) for 150g snack bags and GBP1.07 for a 450g pack of Jack's Malt Wheats.
The snack range consists of Jack's Onion Rings, Jack's Bacon Rashers, Jack's Cheese Balls and Jack's Salt & Vinegar Sticks.
The launch of the Jack's range coincides with a spate of anniversary-linked price cuts from the retailer.
Tesco chief customer officer Alessandra Bellini said: "To continue the celebration of 100 years of great value at Tesco, we're launching a second burst of exceptional deals on hundreds of products to help customers get even better value on their weekly shop."
Yaar debuts chilled quark bars in UK
UK-based dairy start-up Yaar is launching what it describes as "the UK's first range of quark bars" into 'big four' supermarket Sainsbury's.
Describing the move as "creating a new category in the ever-expanding dairy and snack market" it suggests the bars deliver "all the goodness of dairy in a handheld snack and require absolutely no spooning".
Each bar is made of quark and coated in either a Belgian milk chocolate, caramel or toffee glaze. The centre is said to have a thick and creamy taste like yogurt and the texture of a cheesecake.
The bars have less than 140 calories, are gluten-free, suitable for vegetarians and have no artificial colours, additives or preservatives.
There are three editions in the Yaar Bar range. Two are launching into Sainsbury's (Cloudberry and Vanilla) and all three have secured a listing at Whole Foods Market (Cloudberry, Vanilla and Toffee).
The RRP is from GBP0.99 (US$1.28) per bar.
Yaar is backed by Aser, an investment company in sports, lifestyle and entertainment, which includes football club Leeds United and Eleven Sports in its portfolio.
Foundr Andrei Garbuz said: "Yaar was launched to disrupt the dairy category by bringing a brand new handheld dairy snack bar to UK consumers. With the introduction of the UK's first quark bars, we are creating a new category and offering spoon-free dairy snacking on-the-go in an accessible, convenient and tasty format."
Bio-tiful Dairy rolls out kefir quark fruit compote pots
UK-based cultured drinks maker Bio-tiful Dairy is launching a new kefir quark product with fruit.
Kefir Quark with Berry Compote will initially be available in four flavours: Strawberry & Rhubarb, Black Cherry, Raspberry, and Blackcurrant, although it will be a few more weeks before the latter variety is rolled out.
The 160-gram pots contain 17 grams of protein, have no added sugar and host "billions of gut-friendly cultures". They are made with UK-sourced milk, and provide essential vitamins and minerals.
Kefir Quark with Strawberry & Rhubarb Compote is available now at select Sainsbury's stores, while Whole Foods Market will stock the Strawberry & Rhubarb, Black Cherry and Raspberry varieties. They carry a recommended retail price of GBP1.50 (US$1.95).
Burton's launches lower calorie Jammie Dodgers variant
The UK's Burton's Biscuit Co. has launched a new, better-for-you Jammie Dodgers variant which has 97 calories per portion.
Jammie Dodgers Jam & Yogurt Snacks combine a yogurt filling and Jammie Dodgers' raspberry jam, sandwiched between two shortcake biscuits featuring the "iconic heart design".
The individually wrapped snack bars are launching in Tesco this month before rolling out across multiple channels.
Kate Needham, Burton's Biscuit Co.'s marketing director, said: "The Kids Minis market is worth GBP62.3m (US$81.3m), with children consuming biscuits as part of a carried-out lunch increasing by 32% year-on-year.
"Biscuit portion packs are also in continued growth, highlighting the opportunity to deliver snacks that are convenient and permissible whilst still a delicious treat."
The Jammie Dodger Jam & Yogurt Snacks contain five portions of two biscuits per pack, with a RRP of GBP1.39.