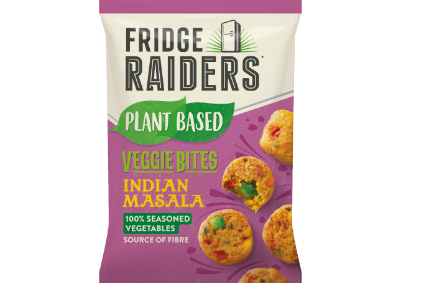 This week's batch of new products that caught the eye include a new plant-based brand from Symington's and an orange flavoured Galaxy chocolate bar from Mars.
Kerry Foods takes Fridge Raiders into plant-based
Kerry Foods has launched a plant-based variant of its chilled snack range Fridge Raiders in the UK.
Its Veggie Bites are seasoned vegetable snacks available in three flavours: Simply Seasoned, Mexican Heatwave and Indian Masala.
The range is available from grocers including Tesco, Sainsbury's and Morrisons.

Lauren Innes, senior brand manager, Fridge Raiders, said: "We are so excited to enter the plant-based category with the launch of our new Veggie Bites range. Fridge Raiders is committed to creating real food that will sustain consumers for longer, through our investment in flavour innovation and delivering great tasting, high quality snacks."

The new products come in two different SKUs: a 70g format for back of store and a 50g format designed for food-to-go. Both have a RRP of GBP1.00 (US$1.34).
Symington's debuts plant-based brand Blooming Good Food Co.
UK food company Symington's has announced the launch of a new plant-based brand – Blooming Good Food Co.
Described as vegan-friendly, Blooming Good Food's ready-meals will roll out in Sainsbury's from 6 January in four varieties: Warming Tomato & Lentil Dhal, Banging Black Eyed Bean & Vegetables, Hearty Sweet Potato & Lentil Curry, and Smokey Sweetcorn & Green Beans.
Symington's said the brand uses all natural ingredients with fewer than 200 calories per serving. The pots are recyclable and carry a recommended retail price of GBP1.50 (US$1.99) each.
Neil Burke-Thompson, the brand manager at Symington's, said: "Our new Blooming Good Food Co. brand is a brilliant addition to the Symington's family and we're really excited to launch in January. All of the best flavours come naturally, from vegetables and grains to other tasty plants, so there is no need for artificial add-ons. Our new brand is 100% plant-based and is perfect for consumers looking to reduce their meat intake without compromising on taste."
Mars adds Orange Block, Fusions to Galaxy chocolate range
Confectionery heavyweight Mars has added two variants to its Galaxy chocolate range in the UK – Orange Block and Fusions – alongside a new packaging design to be rolled out late in December.
"After rigorous consumer testing, Mars Wrigley UK identified that the new on-pack design resulted in higher purchase intent compared to the current branding, with consumers agreeing that it was easier to read and more modern," Mars said.
Product wise, Orange Block will launch in retailers in March, while the Fusions chocolate bars will roll out exclusively in Sainsbury's in January followed by wider availability in other stores late in 2021.
Orange Block will be available in large- and single-bloc formats.
Fusions come in three flavours: Blonde Chocolate with Sea Salt, Dark Chocolate with 70% Cocoa, and Dark Chocolate with Raspberry Meringue.