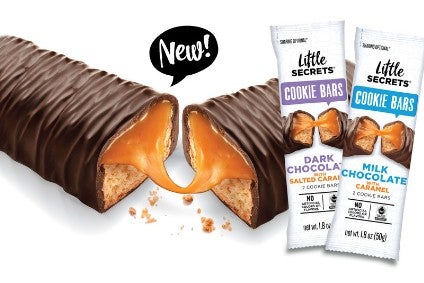 New products that caught the eye this week include a duo of natural Fair Trade Cookie Bars from US-based Little Secrets xxxxxx
Little Secrets adds Fair Trade Cookie Bars to wafers line-up
Little Secrets, a US-based natural candy producer, is launching Fair Trade-certified Cookie Bars.
The Cookie Bars add to the Colorado-headquartered firm's Crispy Wafer line and are available in both milk and dark chocolate with no artificial colours or flavours: Dark Chocolate with Salted Caramel and Milk Chocolate with Caramel.
The new bars have a crispy cookie centre with real caramel wrapped in Fair Trade chocolate.
They will be on shelves of Whole Foods stores nationwide in January, along with Sprouts, Lucky's, Natural Grocers, Fresh Market, Earth Fare, PCCs, Fresh Thyme and Central Market.
Valeo lunches vegan variety of Kettle Chips in UK
Ireland's Valeo Foods Group has launched a vegan variant of its Kettle Chips crisps range in the UK in the shape of Vegan Sheese & Red Onion.
Developed by the brand's innovation chef Phil Hovey, alongside vegan chefs at plant-based food company Bosh, the variety features vegan 'Red Leicester-style' alternative cheese from brand Sheese.
Sheese does not contain any artificial ingredients and is produced in a completely vegan factory.

The new SKU will be available in Asda from the start of January, followed by Tesco and Morrisons at the end of the month.
Hovey said: "At Kettle we're always looking for ways to bring our flavour combinations to everyone, regardless of their dietary requirements."
The crisps have a RRP of GBP1.99 (US$2.58)
Valeo bought the European snack assets of US food giant Campbell Soup Co. – including Kettle Chips – in September.