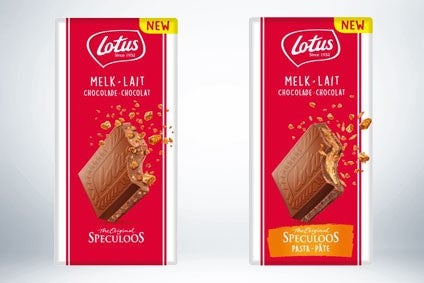 The pick of this week's new products includes Lotus Bakeries ' move into chocolate and the debut line from fledgling child-nutrition firm Else Nutrition.
Lotus Bakeries enters chocolate
The Belgium-based food manufacturer has stepped into another category, launching chocolate in the US.
Through the Lotus Biscoff brand, the company sells biscuits, spreads and ice cream domestically and in select international markets.
Lotus Bakeries has announced the launch of chocolate, sold under the Lotus brand, in Belgium.
The products, which Lotus Bakeries said will go on sale this autumn, also leans on the Biscoff brand. One variety contains crunchy Biscoff pieces and another includes the Biscoff spread filling.
Glanbia takes its Slimfast Keto range to UK
Ireland-based dairy and sports nutrition group Glanbia is introducing its SlimFast Keto diet range of product to the UK.
It claims it is the UK's first range of mainstream Keto products.
Glanbia says SlimFast Keto is nutritionally designed to fit into a Keto diet lifestyle, calorie controlled to help with weight management and "specially formulated to support your body in shifting its energy source from carbohydrate to fat.".
The range is made up of shakes and bars.
Keto Fuel Shakes are available in three flavours – Rich Chocolate, Creamy Vanilla and Smooth Mocha.
Each tub contains ten sugar-free servings at 199 calories per shake. Enriched with zinc and vitamins B6 and B12, it has an RRP of GBP14.99 (US$19.67).
Keto Fuel Bar contains peanuts, a caramel-style layer and chocolate-flavoured coating. Each 46g bar contains 200 calories and has an RRP of GBP2.29.
Alan Kenny, SlimFast head of science and education, said: "The new SlimFast Keto range provides delicious keto-friendly products which can be easily incorporated into daily life without compromising on your goal of staying in ketosis."
Else Nutrition claims plant-based formula "leap forward"
Canada-based infant-formula start-up Else Nutrition has finally launched its debut product after delays linked to Covid-19.
Else Nutrition is rolling out – via an online launch initially – a product for toddlers. The beverage is organic, plant-based and free from soy.
Hamutal Yitzhak, CEO and co-Founder of Else Nutrition, said the product "marks a huge leap forward in plant-based alternatives in the baby and toddler category".
He added: "For more than 120 years, cow's milk and soy have dominated. After seven years of R&D, we are finally able to offer something else to parents and bring a real, clean-label alternative to families across North America, so that they will never have to compromise on the health and nutrition of their toddler again."
The beverage – Else Plant-Based Complete Nutrition for Toddlers – is available at elsenutrition.com, currently priced at $36 for a single 22 oz. powder canister and $136 for a four-pack. The product will also be offered on Amazon later this month and in "select retail chains sometime during Q4 2020", the company said.
Else Nutrition is also looking to launch a product for babies aged up to 12 months but said the "plant-based, clean-label" still needs approval from the US Food and Drug Administration. It is "anticipated to launch in approximately two years", the company added.
Major listing for animal-free ice cream Brave Robot
US start-up The Urgent Company has announced a list with a major grocer for its new animal-free ice cream brand.
Albertsons Southwest – the division of the namesake grocer covering – Arizona, New Mexico and El Paso, Texas – is a stockist of the ice cream, The Urgent Company said.
Brave Robot ice cream contains an animal-free whey protein from Perfect Day , the US animal-free dairy-ingredients start-up.
Perfect Day co-founders Ryan Pandya and Perumal Gandhi set up The Urgent Company with former Glanbia and Aseptic Solutions executive Paul Kollesoff.
"We are excited to bring animal-free dairy to consumers, creating a new ice cream category at retail that we can run with," Kollesoff, The Urgent Company's co-founder and general manager, said.
Eight flavours – including hazelnut chocolate chunk and raspberry white truffle – are available, sold at US$5.99 a pint. The Urgent Company also has a direct-to-consumer service.
Last month, Perfect Day announced financial backing from the asset manager behind the Canada Pension Plan. The company said the investment helped more than double the amount raised in its Series C round.
In July last year, Perfect Day launched on a limited basis an ice cream produced using the principles of cellular agriculture. According to the company, three flavours, available online at US$20 a pint, sold out in under 24 hours.
This May, California-based ice-cream firm Smitten said it would use Perfect Day's ingredients to create its first vegan and lactose-free products.
Vital Farms launches ready-to-eat Egg Bites
US-based Vital Farms has launched a read-to-eat breakfast product in the shape of Egg Bites.
The Austin, Texas, company's single-serve, refrigerated bites are made with ingredients including its liquid whole eggs, cheese, meat and vegetables.
Meghan Shookman, director of innovation at Vital Farms, said: "People are staying at home more than usual right now and, for many, their days are busier than ever. We know a growing number of consumers crave a protein-packed breakfast made with fresh ingredients, but don't always have the time.
"Egg Bites are made with the ethically-sourced ingredients that we believe consumers love and expect from Vital Farms."
Egg Bites are gluten-free and available in four flavour combinations – Uncured Bacon & Cheddar Cheese, Roasted Red Pepper & Mozzarella Cheese, Uncured Ham, Bell Peppers, Onions & Cheddar Cheese and Sun-Dried Tomato, Basil & Mozzarella Cheese.
Each pack comes with two 2.3oz egg bites, which can be heated directly in the microwave in their recyclable tray. The product will be available in retail stores nationwide, including Whole Foods Market and select Target locations, from this month.
Earlier this month, Vital Farms listed on the Nasdaq Global Select Market in New York. Before winning the listing, Vital Farms had said in a prospectus the company would use the proceeds to increase its capitalisation and "financial flexibility", and possibly for M&A. It is also seeking to invest $15m in its Egg Central Station plant.