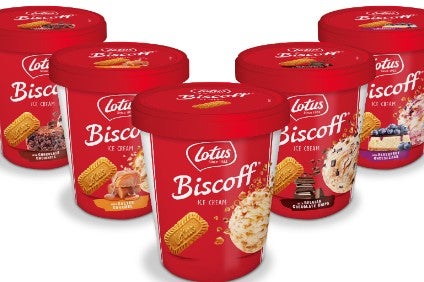 This week's batch of new products includes Mondelez launching a lower-in-sugar Cadbury product in India and Premier Foods rolling out baking mixes in the UK.
Lotus Bakeries to take ice cream to more markets
Belgium-based snacks business Lotus Bakeries is to launch its range of ice cream in more markets this year and next.
The owner of Biscoff biscuits and Bear snacks is rolling out pints and bars in the US this summer and autumn. Markets in the Middle East, as well as Taiwan, will see products launched before the year is out. "More countries to come in 2020," Lotus Bakeries told just-food.
The ice cream is manufactured in Belgium. Products are already on sale in South Korea and in certain markets in Europe.
In the US, Lotus is positioning the ice cream, which contains Biscoff biscuit pieces, as "super premium". The recommended prices are US$5.99 for pints and the same for a pack of three bars.
Perdue adds vegetables to chicken to create Chicken Plus
US chicken product heavyweight Perdue Farms has added vegetables and plant-based protein to its core product line in its new Chicken Plus range.
The nuggets, tenders and patties in the range are made from adding blended cauliflower, chick peas and plant protein to white meat chicken.
Perdue said it has launched the products to "help flexitarian families who are hungry for new ways to fill the vegetable void without sacrificing flavour or nutrition".
Eric Christianson, chief marketing officer for Perdue, said: "By blending plants and vegetables with the Perdue chicken families love, not only are we helping to meet demands for millions of parents but we are appealing to the growing number of flexitarian families who have an increased commitment to getting more plants and vegetables in their families' diets."
Perdue Chicken Plus is available as panko dinosaur-shaped nuggets, rice tenders and panko patties.
It comes in a 22oz bag with a suggested retail price of US$6.99, and will be available from September.
Unilever trials wrapper-less multipack for Solero lollies
Anglo-Dutch consumer goods giant Unilever is to trial a wrapper-less multipack for its Solero ice lollies brand in the UK.
The company said it will be using 35% less plastic in Solero Organic Peach pack compared to the original Solero Organic pack in the trial.
Its trial is part of Unilever's #GetPlasticWise 'Five Point Plastic Plan' which aims to rethink plastic wrapping.
The new box has built-in compartments so the individual ice lollies can be inserted without a plastic wrapper, and the box can be widely recycled in the UK.
The range is being trialled with online retailer Ocado to test the new packaging and gather consumer response.
Noel Clarke, vice president of refreshment at Unilever, said: "If successful and the feedback from customers is positive, this innovative pack could reduce the amount of plastic we use in the future to package our ice creams."
Beyond Meat introduces 'meatier' Beyond Burger
US plant-based protein business Beyond Meat has launched a 'meatier' version of its flagship Beyond Burger.
The California firm said the new version of its product has marbling designed to melt and tenderise like traditional ground beef while the patty features a meatier taste as a result of blended pea, mung bean and rice proteins that provide a more fibrous texture.
The burger, which has already started shipping to retailers in the US, is made entirely from plants without GMOs, soy or gluten. Each 4oz patty contains 20g of plant protein.
Ethan Brown, Beyond Meat founder and chief executive officer, said: "The new Beyond Burger is the next step in our journey toward building meat directly from plants that delivers a consumer experience indistinguishable from its animal protein equivalent."
Mars' biscuits feature Galaxy, Bounty brands
Mars is rolling out a range of filled biscuits in the UK featuring its Galaxy and Bounty confectionery brands.
Galaxy White Chocolate Chunk Cookie comes in a pack of eight and is available now at Asda stores. The recommended retail price is GBP1.99 (US$2.52) for a 180-gram pack.
Bounty Secret Centre Biscuit features shortcake cups filled with Bounty coconut cream, sprinkled with desiccated coconut and coated in chocolate. They will launch in Sainsbury's on 16 June priced at GBP1.99 for a 132-gram pack of eight biscuits.
Mars Soft Centres are in stores now at Asda, Sainsbury's, Coop, One-Stop, NISA and Spar. They feature a soft centre of caramel and chocolate, covered with crunchy cookie with chocolate and caramel chunk pieces. They will also retail at GBP1.99 for a 144-gram pack of eight biscuits.
Quoting data from Nielsen, Mars Chocolate Drinks and Treats said the UK sweet biscuit category is worth around GBP2bn and is growing at a 2.7% pace year-on-year.
Michelle Frost, general manager at the division, said: "We believe that our new launches combining the strength of our brands and product innovation will help to drive sales within the category."

Bahlsen rebrands UK products as Praline Squares and Luxury Jaffa Cakes
Germany-based biscuit maker Bahlsen has rebranded two products it sells in the UK – First Class and Messino – as Praline Squares and Luxury Jaffa Cakes, respectively.
Bahlsen said the name Luxury Jaffa Cakes is "designed to help UK shoppers recognise what is behind the pack, whilst emphasising the quality taste credentials of the Jaffa cake".
Similarly, the Praline Squares name is intend to "drive trial amongst established special treat biscuit buyers".
Julien Lacrampe, trade marketing manager at Bahlsen, said: "With the increased growth in the special treats category we felt the time was right to enhance Luxury Jaffa Cakes and Praline Squares with new brand names that will help shoppers understand both products more."
Luxury Jaffa Cakes are available in 125g boxes from this month exclusively in Waitrose with a RRP of GBP1.25 (US$1.59). Praline Squares also come in 125g containers and will be available in Sainsbury's and Waitrose from this month with a RRP of GBP1.50.
Mondelez International launches lower sugar Cadbury Dairy Milk bar in India
Confectionery giant Mondelez International has launched a version of its Cadbury Dairy Milk chocolate bar in India with 30% less sugar.
Cadbury Dairy Milk 30% Less Sugar has no added artificial sweeteners and will sit alongside the existing portfolio of Cadbury Dairy Milk products on shelves.
The product has been in development for nearly two years, worked on by a team of scientists, nutritionists and chocolatiers at the company's research and development facilities in India and the UK.
Mondelez said the team has "successfully replaced the physical functionality of the sugar in solid chocolate in a way that preserves the structure of chocolate and stays true to the unique texture and taste profile of Cadbury Dairy Milk".
Deepak Iyer, president for Mondelez's business in India, said: "This is the most significant innovation in the brand's history in India. As we continue to define the taste of chocolate, we understand our consumers, and are conscious of our commitments to them."
Shagun Sachdeva, a consumer insights analyst at data and analytics firm GlobalData, said there is a "growing consumer inclination towards health and wellness, as well as reduced sugar products" in India, adding: "The company seems to have taken a cue from major food and beverage giants, which are reinventing their portfolios and offering healthy and nutritional products with reduced sugar content."
The bar will be priced at IRP50 (US$0.72) for 43g, and will be with retailers by mid-June.
Premier Foods unveils Mr Kipling brand baking mixes
The UK's Premier Foods plc has launched a range of Mr Kipling baking mixes and finishings so consumers can recreate some of the brand's flavours at home.
Its range is made up of Cherry Bakewell, Country Sponge and Apple Pie Baking Mixes and finishings and Vanilla Buttercream and Almond Icings.
Premier said the launch represents a "significant growth opportunity within home baking".

Initially available at retailer Asda, the cake mixes "use high-quality ingredients with 100% natural flavours, including real fruit pieces and no artificial colours".
Ellie Ntougia, marketing controller for baking at Premier, said: "The addition of the Mr Kipling home baking products to our range opens up new opportunities to retailers, who can offer home bakers high-quality products from brands they already know and trust.
"Our home baking ranges cater to people of all skills, providing quick and easy ways to either bake the products straight from the pack, or for more experienced bakers to use as a base for their own creations."
The products carry an RRP of GBP2.50 (US$3.17).
Oggs wins Sainsbury's listing for free-from cakes
Oggs, formerly Alternative Foods, has secured listings in Sainsbury's and Waitrose for its plant-based cakes.
Free-from dairy and eggs, the Oggs mini cakes are available in four flavours: Zesty Lemon, Salted Caramel, Victoria Sponge and Chocolate Fudge.
"Completely plant-based and entirely ethical, this range is made with the well-being of animals (vegan), human (intolerance to human trafficking) and our whole environment (love carbon emissions) in mind," the company said.
Oggs said "no part of any animal is used" to create the cakes, which come in 100% recyclable packaging.
A pack of four mini cakes carries a recommended retail price of GBP4.25 (US$5.38), while a two-pack retails for GBP2.20. There is also a nine-pack of mini cupcakes for GBP4.25.
Kabuto Noodles expands into meal kits
Kabuto Noodles, the UK-based producer of "upmarket" noodle pots, is expanding its range into meal kits.
The three-strong range of Asian-inspired ambient meal kits will roll out in 297 Tesco stores this month in Spicy Garlic Ramen, Chilli & Lime Leaf Ramen and Mellow Miso Ramen. They have no additives or preservatives and carry a recommended retail price of GBP3.50 (US$4.44) each.
Founder Crispin Busk said: "We're big fans of meal kits and how they encourage cooking skills and trial of new flavours. By adding some fresh ingredients, customers can create a great quality Asian meal. Our meal kits up the quality within the category and take us into the evening meal occasion."
Parag Milk Foods takes premium milk brand into Singapore
Indian dairy business Parag Milk Foods has taken its fresh milk brand Pride of Cows to Singapore.
The Sensex-listed firm said it becomes the first Indian company to sell fresh milk in Singapore, where the "farm-to-home premium milk brand" will be available through various home-delivery platforms.
Parag is airlifting milk supply from its dairy farm in Manchar, near Pune, direct to the city-state to ensure freshness.
Devendra Shah, the chairman of Parag, said: "A typical Pride of Cows consumer has an evolved taste preference and is brand as well as health conscious. With an abundance of such consumers in Singapore, we have identified a huge opportunity for expansion there. As the consumption of fresh and organic milk has increased in Singapore, consumers have become mindful of the source of the milk they consume and its nutrient content and we believe that there is a dearth of such products in the country."