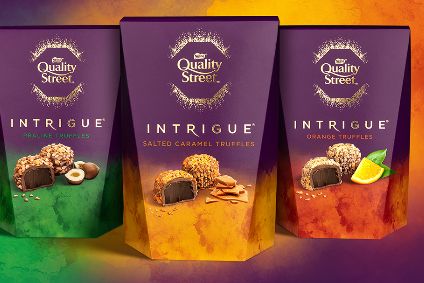 This week's batch of new products includes Ginsters teaming up with Quorn for a vegan sausage roll and new Quality Street from Nestle.
Marfrig takes plant-based burger to China
Brazilian meat-giant Marfrig Global Foods is taking its recently-introduced plant-based Revolution Burger to China.
Marfrig first introduced the meat-alternative burger in Brazil via the foodservice channel last year, and now plans to launch the product in China this year. It has since rolled into retail in its home market.
The company said it also plans to add to the range, with plant-based versions of the Middle Eastern delicacy, kibbeh, meatballs and ground beef.
Marfrig's plant-based products are made at its facility in Várzea Grande, Brazil.
Nestle launches new Quality Street in UK
Swiss food giant Nestlé has launched a new Quality Street in the UK, its first new product under the brand for 85 years.
Quality Street Intrigue is described as "a range of indulgent truffles inspired by classic Quality Street flavours." The product arrives in UK stores from this week.
Rebecca Holt, brand manager for Quality Street, which is often seen as a Christmas treat, said: "Quality Street is a much-loved UK brand; and we know many fans would love to enjoy more of it all-year round. That's why we've created a product that will enable consumers to experience Quality Street in a brand new way.
Quality Street Intrigue comes in three flavours: Salted Caramel Truffles, Praline Truffles and Orange Truffles. They are available in 200g boxes with a RRP of GBP5.00 (US$6.43). Each box contains 20 individually wrapped sweets.
Itsu partners with Meatless Farm in 'meat' ball dish
Itsu Grocery, the London-based Asian-inspired food company, is teaming up with The Meatless Farm Co. to launch a dish with vegan 'meat' balls.
The new creation is claimed to be the UK's "first vegan-friendly Asian 'meatballs"', incorporated in a rice bowl meal.
The Meatless Meatball Rice bowl dish consists of five meatless meatballs, served with wholegrain brown rice, ginger and greens, and topped with teriyaki and gochujang chilli paste.
UK-based Meatless Farm is supplying the 'meat' balls, which are made with lemongrass, tamarind, coriander, chilli and garlic to create a unique Asian flavour, and naturally coloured with beetroot, radish, tomato and caramelised carrots.
Itsu said the products is now available in its restaurants at an introductory price of GBP5.99 (US$7.71) and is on a " mission" to make 50% of its menu plant-based.
Ginsters teams up again with Quorn for vegan sausage roll
Ginsters, the savoury products maker owned by Samworth Brothers, has collaborated again with UK-based meat-free firm Quorn to launch a co-branded vegan sausage roll.
Ginsters' Vegan Quorn Sausage Roll will be available across the UK from 15 April at a recommended retail price of GBP1.25 (US$1.63).
Last year, the two companies teamed up to create the Ginsters Vegan Quorn Pasty.
The vegan sausage rolls contain a meat-free, "high in fibre sausage, peppered with herbs and spices, in a light puff pastry".
Andy Smith, Quorn's director of business development, said: "We couldn't have asked for a better start to our collaboration with Ginsters. Our vegan pasty became the fastest-selling meat-free pasty in the market, so teaming up to create a sausage roll version has been a natural – and exciting – progression."
Kieran Hemsworth, Ginsters' managing director, added: "We know 55% of all consumers are reducing their meat intake, yet choice for vegan rolls is very limited. This extension to our meat-free range has been developed to close the disparity between consumer demand and market choice."
Mamma Chia launches dairy-free 'milk'
Mamma Chia, a US-based maker of organic plant-based snacks and beverages, is launching a dairy-free 'milk'.
Mamma Chia Organic Chiamilk contains no sugar and is a source of Omega-3 and claims to have more calcium than regular cow's milk. It has 60 to 70 calories per serving and is also free-from lactose, soy and gluten.
It comes in two varieties in 28-ounce bottles, Unsweetened Original and Unsweetened Vanilla, and will be available in Sprouts Farmers Market from March, with "additional retail expansion" planned.
Carlsbad, California-based Mamma Chia was founded in 2009 by Janie Hoffman, who is chief executive. Last autumn, the company also launched organic Chia Protein Smoothies made with Chiamilk.
Hoffman commented: "For over ten years, Mamma Chia has been creating delicious, nutrient-rich beverages and snacks powered by the magic of chia. We are delighted to share more of that magic with our light and creamy plant-based Chiamilk that makes it easy to enjoy more of the nourishing benefits of chia as part of your daily routine."
Upfield expands into new category with Tulipán Rama cream
Netherlands-based food manufacturer Upfield, which is primarily focused on the plant-based category, has expanded its portfolio of margarines and biscuits into cream with the launch of a new brand in Spain – Tulipán Rama.
Originally supplied to foodservice customers, Amsterdam-headquartered Upfield is now introducing the product, also translated as Tulip Rama, into retail, including Carrefour, Eroski, Alcampo, Bonpreu, Condis and Consum.
Tulipán Rama is made from vegetable oils that have higher levels of unsaturated fats and lower levels of saturated fat than dairy cream, and also contains oils from milk, Upfield said.
"Our new Tulip Rama range can be referred to as an alternative to cream as it contains dairy," a company spokesperson confirmed.
"Currently, we use dairy ingredients in a small proportion of our products. Less than 1% of our ingredients, by weight, are from milk or milk derivatives. Through recipe innovation we have increased the proportion of our portfolio that are lactose and dairy-free, as well as offering a range of 100% plant-based products.

"While some of our products are suitable for vegans (like Flora), when our products do contain dairy, we ensure clear on-pack labelling, to enable informed consumer choice."
Ferrero takes Kinder brand into new wafers category in Spain
Italy-based confectionery group Ferrero is taking its children's Kinder chocolate brand into a new category in Spain – cookie wafers.
Called Kinder Cards, the innovation provides a two-millimetre thick crunchy cocoa wafer, which "looks like chocolate because of its glossy and detailed appearance", combined with a creamy filling.
"Kinder presents the first cookie of the brand, an innovation that concentrates the best of two worlds: the soul of Kinder and the essence of cookies," Ferrero said.
Kinder Cards is designed for children aged three to ten years, with 28% milk as the main ingredient, which, according to Ferrero, is the "highest percentage of milk in its category". The biscuits also have no colours or preservatives.
UK maker of Big Tom cocktail mix moves into ketchup
UK-based James White Drinks has made a move away from its core Big Tom brand Bloody Mary cocktail mix offering into the tomato ketchup category.
The business, based in Suffolk in the east of England, is launching spiced tomato ketchup using the Big Tom spice blend and the same source of Portuguese tomatoes,
It claims the ketchup has a significantly lower sugar content compared to that of other leading brands and up to 50% fewer calories.
Lawrence Mallinson, managing director, James White Drinks, said: "Launching Big Tom Spiced Tomato Ketchup has been an ambition of mine for at least ten years. It has taken us well over a year to develop because we were so determined that it should be true to the distinctive Big Tom taste."
Available in a 260g glass bottle, Big Tom Spiced Tomato Ketchup is gluten-free and vegan and will be available from major retailers priced at GBP2.50 (US$3.25) per bottle.