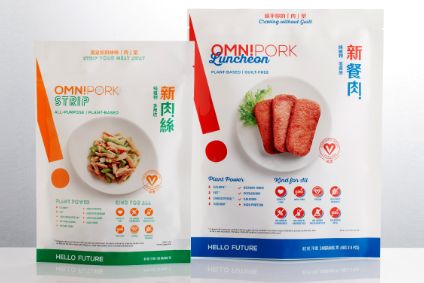 This week, we report on product news including major French milk brand Candia extending into plant-based drinks and Canada's Maple Leaf Foods launching a "fusion protein" range.
Mars launches M&M's bars in France
Following the launch of the product in markets including the US and the UK, Mars is rolling out five varieties in France.
The 165g bars have a recommended price of EUR2.79 (US$3.13).
Mars outlined how it hoped the launch of the bars in France would boost sales of the M&M's brand in the country.
"With the arrival of M&M's chocolate bars in France, we are eager to offer our consumers a unique taste experience. In support of this launch, which encountered a strong success in other markets, we aim to double the size of the brand by 2030," Stéphanie Domange, the CEO of the company's Mars Wrigley France unit, said.
Citing Nielsen data, Mars said the chocolate bar category had seen growth of 7% between 2014 and 2019. Sales stand at around EUR1.26bn, with the "family" segment – at which the M&M's bars are targeted – accounting for 28% of the category.
JBS offshoot Planterra Foods unveils Ozo meat-free in US
Colorado-based Planterra Foods, a unit of the Brazilian meat giant, had been set to launch Ozo in April but the onset of Covid-19 is said to have delayed its unveiling amid range resets.
Planterra said yesterday (18 June) it was launching three SKUs – a pack of two patties, ground and a "Mexican-seasoned" ground, all made from a blend of pea and rice proteins.
The products are available through bricks-and-mortar retailers including Albertsons and Kroger, as as well as via a direct-to-consumer service.
As part of a marketing push, Planterra is employing sampling vans to visit six cities during June and then July. The company said "more than one million free samples of Ozo" would be delivered over the next year.
More products join line-up of Asia meat-free brand OmniPork
Hong Kong plant-based meat supplier Green Monday Group has added to the range of products sold under the OmniPork brand, which is becoming of the stand-out meat-free brands in Asian markets.
OmniPork Luncheon and OmniPork Strip have joined the line-up as the company seeks to offer a plant-based alternative to luncheon meat – among the more popular processed-meat products in east Asia – as well as an alternative to pork strips used in meal recipes.
"Luncheon meat is a food that everyone in Asia has a love-hate relationship with, including those in Hong Kong, mainland China, Korea, etc," Green Monday founder David Yeung said. "Eating is not only about filling up our stomachs and absorbing the daily nutrition we need, it is also about satisfying our cravings. Just like how Hong Kong people have an irresistible craze for luncheon meat & egg noodles and luncheon meat & egg sandwiches. That is also the case for me. Even though I have been following a plant-based diet for almost 20 years now, I still miss the taste of luncheon meat and egg noodles once in a while."
He added: "Pork strip is another commonly used ingredient in Asian restaurants and homes. OmniPork Strip is suitable for almost every dish."
Retail packs of OmniPork Luncheon – made from a blend of soybeans and wheat – and OmniPork Strip – which contains soybeans and sunflower oil – will be available for purchase from next month in Hong Kong.
Green Monday first launched the OmniPork brand in 2018. Outside Hong Kong, OmniPork products are available in markets including mainland China, Singapore, Thailand and Canada. Green Monday expects the brand to be sold in "up to 20 regional markets" by the end of the year.
Danone talks YoPro brand into another category in Australia
The French dairy giant has extended its high-protein brand YoPro into another sector in Australia.
Danone has launched ice cream-style "dessert sticks", available in mint chocolate and salted caramel flavours.
The company said the products had 10 grams of protein, no artificial sweeteners and below 110 calories per dessert.
"We're hoping the new indulgent flavours will encourage health-conscious consumers to treat themselves more often and tempt existing ice cream lovers to switch to a healthier protein packed option," YoPro brand manager Xavier Gonzalez said.
The sticks are sold in packs at four in Coles supermarkets.
French milk Candia expands into dairy-free
Candia, one of the best-selling milk brands in France, is venturing into plant-based alternatives.
Sodiaal, the co-op behind the brand, is launching two beverages under the Candia Végétal sub-brand.
The varieties – Praline Almond and Roasted Hazelnut – have been developed as French consumers "are demanding more taste and more variety in the choices available to them at breakfast", the company said. "They refuse to compromise on pleasure and nutrition."
The plant-based milk alternatives are sold in 50cl bottles, which the group described as "practical" and "easy to take everywhere with you".
Sodiaal has suggested a price of EUR1.29 (US$1.45) for the beverages.
Kellogg introduces RXBAR for kids
Kellogg's nutrition snack bar brand RXBAR has launched a reformulated version for kids with zero added sugar in the US market.
RX Kids Protein Snack Bars contain five grams of protein and have no artificial colours or preservatives. They come in four varieties, Chocolate Chip, Strawberry, Double Chocolate and Peanut Butter Chocolate Chip.
The kid's bars have the same base ingredients as the adult version – egg whites and dates – but with the addition of whole grains, gluten-free oats and a "few other real, high-quality ingredients".
Jim Murray, the president of RXBAR, said: "Our new RX Kids bars are rooted in consumer feedback. We want to provide a convenient snack option that parents can feel good about buying and kids are happy to eat, so the bar's easy-to-chew oat base and kid-friendly flavours are direct results of what we heard from fans."
Paulig launches plant-based brand Gold&Green in UK
Finland's Paulig Group has secured a UK listing for its plant-based meat-alternative brand Gold&Green.
The brand, on sale in retailers in Finland and the Netherlands, will go on sale in London retailer Planet Organic, which has eight stores in the UK capital.
"This is the start of something very exciting here in the UK and we are looking forward to realising our growth potential through some great retail partnerships," Sanna Antola, head of brand and portfolio for Gold&Green, said.
Two chilled SKUs are being listed – natural mince and tomato mince, both marketed under the Pulled Oats sub-brand.
The 175g packs have a promotional price of GBP3.75 (US$4.67) in June.
Asked if the company was in talks with any of the UK's national supermarket chains, Antola told just-food: "We want as many consumers as possible to be able to enjoy our delicious Pulled Oats here in the UK. Therefore, as part of our ongoing retail expansion plans we are actively developing further partnerships with leading supermarkets."
UK chocolate maker Seed and Bean hits Sainsbury's
Seed and Bean, the fledgling but growing UK-based organic chocolate maker, has announced listings with one of the country's four major multiple retailers.
Three of the company's bars will go on sale in more than 200 Sainsbury's stores from the middle of next month.
Until now, in the UK, Seed and Bean's products have been available through retailers including Ocado, Whole Foods Market's UK stores and Planet Organic.
Oliver Shorts, the company's co-owner, said: "I could not be happier to see three of our bars going into Sainsbury's and becoming available to customers nationwide. It's the first time our brand will be available in bricks and mortar stores across the UK, and despite the challenging times over Brexit and Covid-19, it goes to shows what years of hard work can achieve."
Maple Leaf debuts 50/50 fusion range
Canadian food group Maple Leaf Foods has launched a new fusion range of products incorporating both meat and plant ingredients.
Maple Leaf 50/50 is rolling out in major retailers across Canada and features four products: a burger, dinner and breakfast sausages, and mince. All contain real meat in combination with pea proteins and natural ingredients with varying degrees of protein per serving.
"By offering the taste and texture of traditional meat products, a simple and easy to understand list of ingredients, and 50% of the meat, Maple Leaf 50/50 helps Canadians enjoy the foods they love, while feeling good about the choices they've made for their family and the planet," the company said.
Casey Richards, Maple Leaf's senior vice president for marketing and innovation, added: "There has been significant growth in the meat-alternatives category, but the taste, texture and long list of ingredients have been barriers for some consumers who want to explore plant-based protein foods. We are proud to launch Maple Leaf 50/50 and introduce fusion protein as a balance of meat and plant-based protein."
UK plant-based This gets first 'Big Four' listing
This, the UK plant-based brand behind alternatives to chicken and bacon, has secured its first listing with one of the country's four major grocers.
London-based Plant Meat, which trades as This, said "the full range" would be available at Tesco, with products including the company's This Isn't Bacon rashers and its This Isn't Chicken Goujons. The rashers are priced at GBP2.95 (US$3.73) and the goujons at GBP3.85.
"Launching in the UKs largest food retailer is a gigantic milestone for us, and on our side, we'll keep brand-building at breakneck speed – to make the most of it," This co-founder Andy Shovel said.
In the year since This was launched, the company had won listings at smaller UK chains including Waitrose, The Co-op and Ocado. It also won foodservice accounts with outlets including Honest Burger. The company says it is "on-track for annualised revenue of circa GBP7-10m later this year".
From just-food's interview pages, May 2020: "Foodservice is the most exciting part of our outlook when Covid-19 clears" – Andy Shovel, co-founder of UK meat-free brand This
Alpro Kids launched in Germany
And Danone has rolled out a range of Alpro yogurt products aimed at children in Germany.
The French group is launching two flavours – strawberry and mango – that are "very popular with children".
The company sought to emphasise how the yogurts allowed parents to "offer their children delicious and balanced products", saying the food is "naturally low in saturated fatty acids and enriched with vitamin B12, Vitamin B2 , vitamin D and calcium".
A recommended price of EUR1.89 (US$2.14) for a four-pack of 50g yogurts has been put forward.