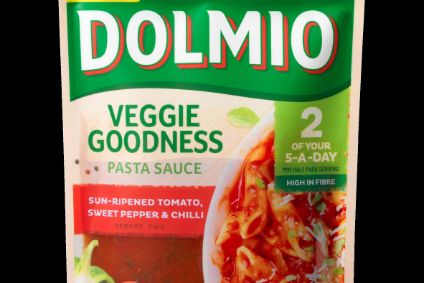 This week's batch of new products includes a vegan bolognese sauce from Mars' Dolmio brand and additions by Kellogg to its Incogmeato plant-based range.
Mars launches vegan version of Dolmio Bolognese sauce
Mars has added a plant-based variant to its Dolmio pasta sauce range in the UK in the shape of a vegan Bolognese.
Its Dolmio Plant Based Bolognese pouches can be prepared in 45 seconds and have a RRP of GBP1.64 (US$2.13). They are available in two flavours: Fiery Chilli, Pepper and Beans, and Fragrant Basil and Carrots.
Mars said its latest offering "taps into increasingly popular meat-free trends and appeals to health-conscious vegans, vegetarians and flexitarians looking for tasty and satisfying meat substitutes".
The product is made using a soy-based plant protein and contains no artificial colours, flavours or preservatives.
Rob Hollis, marketing manager for Dolmio, said: "With our increasingly busy lives and the increased focus on plant-based eating, we believe that now is the perfect time to make it just that little bit easier to enjoy a plant-based Bolognese meal with our new range of Dolmio products."
The sauces will be available in Tesco and Morrisons this month.
Kellogg adds to MorningStar Farms' Incogmeato plant-based range
US food giant Kellogg's subsidiary MorningStar Farms has added three products to its Incogmeato plant-based range.
It has introduced meat-free Burger Patties, Original Bratwurst, and Italian Sausage products to its portfolio, all made using non-GMO soy.
Sara Young, general manager, plant-based protein, at Kellogg, said: "Our great tasting, ready-to-eat Incogmeato line-up offers the most meat-like experience yet.
"Our Burger Patties, Original Bratwurst and Italian Sausage are the first of many new plant-based foods coming this year from Incogmeato."
Germany's Frosta debuts Fish from the Field vegan range
Germany-based frozen food group Frosta is launching a three-strong range of plant-based 'fish' products via its foodservice arm in its home market.
Called Fish from the Field, the oven-ready vegan line-up consists of breaded fish cakes (75 gram), breaded fried fish (100 gram), and breaded crispy fillets (75 gram).
The products are being promoted as "Harvested – not caught" and are made with vegetables, hemp protein and linseed oil (an Omega 3 source), with no additives, flavourings, colourings or preservatives. The use of soya has "deliberately" been avoided, Frosta said.
Kind takes snack bars into frozen, chilled aisles
Kind Healthy Snacks is branching out into frozen and chilled bars in what the New York-based firm describes as its "biggest innovation expansion ever".
And it is also introducing a new chocolate covered snack bar – Kind Bark – featuring nuts and 55% cacao dark chocolate, which is Fair Trade certified. It is available in Dark Chocolate Almond & Sea Salt; Dark Chocolate Almond & Salted Caramel; and Dark Chocolate & Roasted Peanuts.
All the new products are due for launch this month and include the plant-based Kind Frozen Bars made from nuts layered with dark chocolate and nut butter. Varieties include: Dark Chocolate Peanut Butter and Dark Chocolate Almond & Sea Salt.
For the chilled aisle, the company is rolling out the Kind Nut Butter Bar, the first refrigerated product for the business. It comes in: Peanut Butter Crunch; Peanut Butter Dark Chocolate; Almond Butter Dark Chocolate; and Almond Butter Blueberry.
Kind is also taking its bar ingredients into "clusters", or what it calls "hand-to-mouth, grain-free versions" consisting of Nut & Fruit Clusters and Nut & Seed Clusters.
Founder and executive chairman Daniel Lubetzky said: "Since day one, Kind has been obsessed with upholding our brand promise – to create innovative, premium foods that are both healthy and tasty. While these categories are new for us, each is consistent with how we've always entered new categories – with an eye to creatively elevate people's overall experience."
Vion introduces organic brand Der Grune Weg
Vion Food Group is introducing a new brand of organic pork and beef in Germany – Der Grüne Weg, which translates as The Green Way.
The Netherlands-based firm, which recently launched into the meat-free category, said the new brand is based on its Dutch line of organic meat, De Groene Weg.
Der Grüne Weg will include steak cuts such as ribeye, fillet and tenderloin, along with burgers and mince.
Vion said it is rolling out the new brand amid increasing demand for organic meet in Germany, where appetite is growing 10% annually, "with even higher figures in Scandinavia and France".

Mondelez rolls out Maynards' Superfruit Jellies
Confectionery giant Mondelez International is launching Superfruit Jellies under its Maynards Bassetts brand in the UK.
Superfruit Jellies have a "high" real fruit juice content of 30% in each gum, providing vitamin C and E, with every 130-gram bag containing a mix of four flavours shaped as fruit: papaya, pomegranate, blueberry and cranberry.
Marta Sanso, senior brand manager for Joyful Candy at Mondelez, said: "Candy is all about emotional connections. However, authenticity is a key trend – and new Superfruit Jellies perfectly tap into this. That's why we're introducing our new Maynards Bassetts Superfruit Jellies which are not only tasty but contain real fruit juice and are a source of vitamins, perfectly placed to bring incremental shoppers to the category."
Each 130-g bag carries a recommended retail price of GBP1.00 (US$1.29).
UK baker Roberts uses waste bread to make hot cross buns
UK breadmaker Roberts is upcycling waste bread to make hot cross buns.
The independent bakery, based in Cheshire in north-west England, has launched its Ultimate Hot Cross Buns – a traditional Easter offering – in UK 'big four' supermarket Tesco. Each four pack has a RRP of GBP1.39 (US$1.80).
Made from a "golden, luxury enriched dough infused with orange oil, real fruit pieces and upcycled bread ferment," they mark Roberts' first foray into reusing ingredients that would have previously gone to waste.
Its upcycled bread ferment is made from white loaves that are misshapen and would otherwise end up in the bin. Roberts upcycles them in a fermenter, along with other ingredients, to create a sponge that is then added to its Ultimate Hot Cross Bun mix.
They are also being packaged in paper that can be recycled at home.
Alison Ordonez, director of Innovation at Roberts, said: "The enriched dough makes for a light and springy texture and upcycling bread ferment adds to this, whilst supporting our superb sustainability credentials."