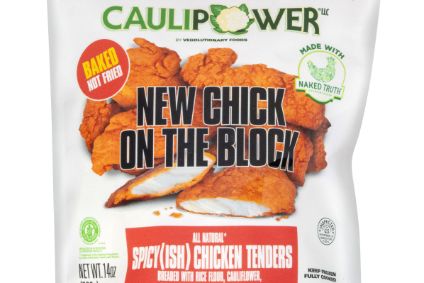 This week's batch of new products includes a lower calorie version of its Cathedral City cheese from Dairy Crest and Quorn Foods linking up with KFC on vegan burger The Imposter.
Mars takes Juicy Fruit to India
The US confectionery giant has launched chewing hum brand Juicy Fruit in India, the latest of its international products to hit the country.
The gum will be available in India in strawberry flavour, priced at INR5 (US$0.07).
"Mars Wrigley Confectionery has already made significant inroads in the fruity confections category in India, with the launch of Skittles® candy last year," Yogesh Tewari, the company's local marketing director, said.
Caulipower launches blended chicken-and-cauliflower product
US-based Caulipower, which as its name suggests creates better-for-you cauliflower-based products, has extended its range with a new blended vegetable and chicken line.
Its new frozen Caulipower Chicken Tenders are made from Naked Truth-branded chicken and a coating made from cauliflower.
Caulipower said the baked product, which arrives in 4,200 US national and regional stores in the autumn, is aimed at "dramatically improving the nutritional profile of one of America's favourite comfort foods".
The 14oz. bag contains 480 calories and the products contain zero saturated fat, no added sugar, 30% fewer net carbs, 22% more protein, and 21% more fibre than the category average, according to Caulipower.
Gail Becker, Caulipower founder and CEO, said: "We are bringing another long-overdue game changer to the frozen aisle. The evidence that people want healthier coated and baked chicken tenders is already all-over social media. So, we listened and our newest Caulipower meal hack was born."
Caulipower Chicken Tenders come in a resealable pack with a RRP between US$8.99 and $9.99.
Kraft Heinz debuts spoonable smoothie Fruitlove
US food heavyweight Kraft Heinz has launched Fruitlove, a spoonable smoothie that combines yogurt with fruit and vegetables.
The company says each cup of Fruitlove contains the goodness of three or more real fruits and vegetables and provides a good source of protein, calcium and vitamins A, B1, and B3.
Fruitlove comes in five flavours: Strawberry Banana Twirl, Mango Medley, Harvest Berry Blend, Pineapple Coconut Bliss and Blueberry Dream.
Nicole Kulwicki, head of brand building at Fruitlove, said: "We know that snacking is both functional and emotional and Americans want more from the foods they snack on – more flavour, nutrition and a better overall taste experience.
"Fruitlove was born from the idea that we could create a better and more exciting way to snack on smoothies."
Fruitlove has a RRP of US$1.99.
Oatly launches dairy-free ice cream in the US
Swedish dairy-free food business Oatly has moved into a new category with the launch of Oatly Frozen, a new dairy-free ice cream brand to be sold in the US.
Available in seven flavours – Oat, Vanilla, Chocolate, Strawberry, Chocolate Chip, Mint Chip, and Coffee – the ice cream contains no dairy, gluten, nuts, or soy and is non-GMO. It is also certified Vegan and Kosher.
Currently on sale in southern California via the company's food truck, it is to be sold via New York City retailers at the end of this month, more north east retailers this summer and select national retailers in the autumn.
The ice cream contains 200-260 calories per serving and has a RRP of US5.99 for a pint.
General Mills adds four to US cereal roster
US food group General Mills has added four new products to its domestic cereal roster.
Mermaid Cereal, Drumstick Cereal, Peanut Butter Chex and Nature Valley Oats & Dark Chocolate Crunchy Granola will all be available from US retailers from this month.
Mermaid Cereal contains "star and tail-shaped orange and teal corn puffs" and is described by General Mills as offering a "spoonful of orange and pineapple flavours with a fruity milk finish." It has a RRP of US$3.99 for a mid-size box and $4.99 for a family size box.
Drumstick Cereal is described by General Mills as "a new take on a classic treat". It is made with cocoa nuggets, cone and ice cream-flavoured cereal pieces. It is available in vanilla and mint chocolate flavours. It has a RRP of $3.99 for a family size box.
Peanut Butter Chex is gluten-free and made with no artificial flavours, colours or preservatives. It has a RRP of $3.59 (mid-size) and $4.89 (family size).
Nature Valley Oats & Dark Chocolate Crunchy Granola is a take on the Nature|Valley bar in cereal form. Described by General Mills as a "feel-good, indulgent snack," it is made from whole-grain oats baked in dark chocolate. It has a RRP of $4.49 for a 16oz pack.
Pladis adds to better-for-you offering with McVitie's Granola Oat Bakes
Snacks business Pladis – owned by Turkey's Yildiz Holding – has added to its better-for-you biscuit range in the UK with the launch of McVitie's Granola Oat Bakes.
With 35% less sugar than the average oat biscuit, according to Pladis, the vegan-friendly biscuits are available in two flavours – Dark Chocolate and Almond and Cranberry.
Emma Stowers, brand director for McVitie's at Pladis UK&I, said: "We've developed a range which ticks both the taste and health boxes – allowing us to drive incremental sales among shoppers seeking a healthier afternoon snack, without compromising on taste. "
The biscuits will be available in 140g packs for an RRP of GBP1.89 (US$2.40). The range will launch in Asda this month, followed by further roll-out across multiple retail.
Burton's takes Maryland Cookies brand into bars
The UK's Burton's Biscuit Company is entering the chocolate biscuit bar market with its Maryland brand for the first time.
Maryland Chocolate Cookie Bars come in a pack containing eight 19g individually wrapped, coated chocolate cookie bars. They contain 97 calories per bar.
Kate Needham, Burton's Biscuit Company's marketing director, said: "We're hoping to invigorate the out of home treat occasion by offering the UK's only fully coated chocolate choc chip cookie in a single serve bar that's ideally suited to on-the-go."
The product will be rolled out across multiple channels from mid-July and has a RRP of GBP1.39 (US$1.76).
Spain's Pasta Gallo launches vegan products
Spanish pasta business Pasta Gallo has launched vegan products in its domestic market.
The new range is made up of two types of fresh pasta and a sauce.
Its Vegana pasta is available in two varieties – Tortelloni with Creamy Spinach filling and Tomato Tortelloni with Creamy Vegetable filling.
Its Vegan Soya Bolognese Sauce, is made using 100% vegetable protein.
Gallo claims to be the first Spanish company to offer fresh pasta and vegan sauce made without milk, lactose or eggs.
It said: "In recent years there have been significant changes in consumer habits. This has meant that many food companies have had to adapt to these new habits, creating categories that make shopping and consumption easier and more comfortable."
The products are now available through major Spanish retailers.
Quorn Foods links up with KFC on vegan burger The Imposter
UK meat alternative food producer Quorn Foods has joined forces with fast food giant KFC to create The Imposter burger, a foray by KFC into vegan food.
The burger is to be trialled for four weeks, starting today (17 June) at KFC restaurants in three UK locations: London, Bristol and the West Midlands.
Yum Brands-owned KFC describes the new product as an alternative take on its Original Recipe Fillet Burger.
The Imposter burger is a Quorn meat substitute fillet, coated in KFC's original recipe herbs and spices, topped with iceberg lettuce and mayonnaise and served in a soft, glazed bun.
Tony Davison, Quorn's global head of foodservice, said: "Working with KFC we've created a bespoke Quorn fillet that does Colonel's recipe justice. We have no doubt that KFC fans are going to love the modern take on a finger lickin' favourite."
The Imposter burger will sell for GBP2.99 (US$3.76). It will also be available in wrap and salad box versions.
Quorn, owned by Philippines-based Monde Nissin, has already made an excursion into fast food, working with UK high street baker Greggs on its vegan sausage roll product.
Danone launches Aptamil in Nigeria
The French manufacturer has taken one of its flagship infant-formula products to the west African country.
Asked to confirm local reports Aptamil has hit the market, Danone told just-food: "Aptamil has indeed recently been launched in [Nigeria] with a series of state-of-the-art early life nutrition products.
"Whereas we believe breast milk is the best source of nutrition for babies, this way we offer options for women who can't breastfeed, or who choose not to breast feed, and are searching for safe, healthy options for their children."
Danone could not immediately disclose stockists or price-points.
UK's Dairy Crest launches lower calorie Cathedral City cheese range
Dairy Crest, the UK dairy business owned by Canada's Saputo, has launched Cathedral City 82, a lower calorie range based on its cheddar cheese brand.
Described as "a superior tasting, smooth and creamy half fat cheese," it has 50% less fat and 33% fewer calories than "standard" cheddar, according to Dairy Crest.
Nigel Marchant, Cathedral City marketing controller, said: "We've seen a more recent shift in government, retailer and consumer focus towards calorie reduction, and in response, a rise of calorie based product propositions in other grocery categories such as ice cream, which are successfully changing consumer perceptions of 'lighter' offerings in their respective sectors.
"Cathedral City 82 aims to leverage this trend to offer consumers a healthier cheese that tastes great and that, at 82 calories per portion, they can readily incorporate into their daily diet."
Cathedral City 82 will launch on a nine month exclusive deal in Tesco this month with a range of Block (200g), Big Slice (150g, 5 x 30g slices) and Grated (180g) formats.
The products have a RRP ranging from GBP2.00 (US$2.51) to GBP2.25.