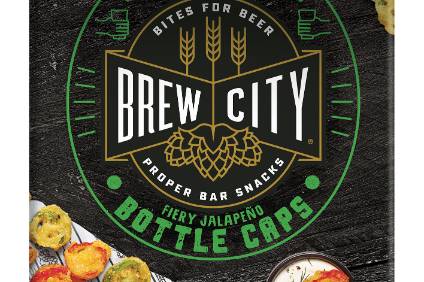 This week's batch of new products includes McCain eyeing craft beer demand, Nestle again targeting sugar and US-based Beyond Meat trialling a product with KFC.
McCain takes Brew City brand to UK
The Canada-based frozen-food group is rolling out products in the UK under its Brew City brand, 20 years since it was first launched in the US.
Two decades ago, McCain Foods targeted the foodservice channel in the US, launching Brew City products on the back of demand for craft beer.
The Brew City range to hit the UK is aimed at foodservice and retail. The range includes products "designed especially" for the market "to be enjoyed in the home and at appropriate pubs and restaurants" and which, McCain said, "specifically developed to pair perfectly with craft beer".
The UK line-up includes Cheesy Brew Bites, IPA Last Order Fries and Fiery Jalapeno Bottle Caps.
Mark Hodge, marketing director for McCain in the UK, said "the craft beer trend" had "really exploded in recent years" in the country.
The products will initially be rolled out to Tesco, Asda, Sainsbury's and The Co-op with plans to roll out to convenience stores in future months.
Nestlé launches lower-sugar chocs
Staying in the UK, the Swiss giant is adding a sub-brand to its local chocolate portfolio.
Nestlé has launched the More sub-brand with the development of new KitKat and Yorkie products containing 30% less sugar, as well as more protein and fibre, when compared to "similar chocolate bars".
A raspberry and hazelnut KitKat Chunky More will go on sale from next week, with an oats, apple and cinnamon Yorkie, to follow "before the end of the year".
Nestlé said the products were part of its "ongoing work to innovate and develop its confectionery to provide better choices".
In order to make the claim on sugars, Nestlé compared the products to a basket of 136 other chocolate bars, which the company told just-food represented "the top 85% of all chocolate products", both from its own portfolio and competitors.
The new More bars have 30% less sugar than the average of the basket. In the KitKat Chunky More product, there is 37g sugar per 100g and 15.5g per bar. The Yorkie More has 37.6g per 100g and 15.8g per bar.
Marfrig to supply plant-based burger to Burger King
The Brazil-based meat giant is the company behind Burger King's Rebel Whopper in Brazil.
The plant-based burgers are to be available in 75 Burger King outlets in the Brazilian city of Sao Paulo from 10 September.
"The brand will assess public acceptance, then evaluate product expansion," Marfrig said.
Earlier this month, in a separate initiative, Marfrig signed an agreement with ingredients supplier Archer Daniels Midland for the joint development of meat-alternative protein products in Brazil, with meat-free burgers the first off the production line.
Del Monte Foods launches Bubble Fruit popping boba snack
Canned fruit specialist Del Monte Foods has launched a snack in the US based on the popping boba trend.
Its shelf-stable Bubble Fruit line will be available starting in September across retailers nationwide including Walmart, Target and Kroger. The product comes in three flavours: Peach Strawberry Lemonade, Sour Apple Watermelon and Pear Berry Pomegranate.
The company – the US subsidiary of Del Montre Pacific – said Bubble Fruit "combines the goodness of a classic fruit cup with bursting boba to create a fun and delicious after-school snack option for kids and teens".
Popping boba is made using a process that relies on the reaction of sodium alginate and either calcium chloride or calcium lactate. It has a thin, gel-like skin with juice inside that bursts when squeezed.
Del Monte said that, unlike other popping boba products, its Bubble Fruit does not contain any artificial colours or artificial sweeteners.
Liam Farrell, VP of brand marketing at Del Monte Foods, said: "By leveraging on-trend inspiration like the boba phenomenon, Bubble Fruit is a clever reinvention of a classic product that kids will want to eat and parents will feel good about serving."
Beyond Meat links up with KFC in plant-based chicken trial
Yum Brands-owned fast-food chain KFC is to trial chicken-style products from US plant-based protein business Beyond Meat.
The takeaway chicken giant is selling Beyond Fried Chicken at a store in Atlanta, Georgia, for a limited period.
The product is available in nuggets with a choice of dipping sauce, or boneless wings with one of three sauce options: Nashville Hot, Buffalo or Honey BBQ.
Nuggets are available in six or 12-piece combo meals (which include a side and medium drink) for US$6.49 and $8.49, or four-piece à la carte for $1.99. Boneless wings are available in six or 12-piece options for $6 and $12.
Ethan Brown, founder and CEO of Beyond Meat, said: "To be able to bring Beyond Fried Chicken, in all of its KFC-inspired deliciousness to market, speaks to our collective ability to meet the consumer where they are and accompany them on their journey."
Danish Crown introduces hybrid meat dish with veg
Meat producer Danish Crown is introducing a new product combining meat and vegetables.
The so-called 50/50 range of minced beef and pork will be stocked in Rema 1000 and Meny supermarkets in Denmark with half the portion given over to veg. The line is aimed at consumers who want to cut down on their meat intake.
Finn Klostermann, the chief executive of Danish Crown Beef, said: "The name of the concept is 50/50, and it is being launched in both a beef and a pork variant. Fifty percent of each packet is the high-quality Danish Crown meat that Danes know and love, while the remaining 50 percent is vegetables which are, of course, also high-quality."
Different vegetables are paired with each meat product such as carrots, peppers, chickpeas and kidney beans.
Danish Crown already supplies hybrid meat products to a "small number of retail chains" but they only contain 20% to 30% vegetables.

Noble Foods-owned Gu to debut hot puddings sub-range
The UK's Noble Foods has launched a sub-brand under its Gü desserts range.
Heavenly Hot Puds will bring together existing products – Chocolate Soufflé and Chocolate Molten Middle – alongside two new additions, Belgian Chocolate Brownie and Sticky Toffee Pudding.
The products will be widely available from 2 September with a RRP of GBP3.30 (US$4.02) for a twin pack.
Stuart Agnew, marketing director at Gü, said: "Establishing a credible, new brand as part of the Gü portfolio is not only central to our ambitious growth strategy but we also believe it will improve navigations of the aisle.
"People have told us that looking for a hot or cold dessert can sometimes become quite tricky and Heavenly Hot Puds will help to create a clear differentiation between our hot and cold puddings."