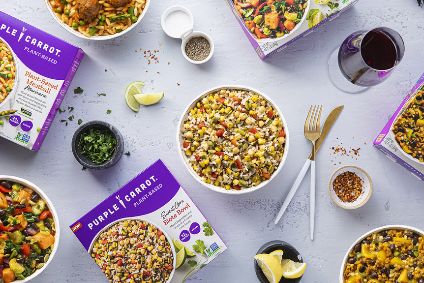 This week's new product offerings include a global take on Old El Paso kits form US food group General Mills and a new 'superfood' cereal for kids from Kellogg-owned Kashi.
Purple Carrot links up with Conagra to launch ready meals into retail
Purple Carrot, the US plant-based meal-kit firm, has joined forced with packaged food business Conagra Brands to launch a range of frozen ready meals in retail outlets.
The plant-based, single serve meals are being sold in the frozen aisle at most Whole Foods Market stores across the country.
The range, made in conjunction with Conagra and encompassing products from its Gardein plant-based brand, consists of Plant-Based Meatball Marinara, Maple Chipotle Veggie Bowl, Sweet Corn Elote Bowl and Fiesta Pepper Bowl.
Andy Levitt, founder and CEO of Purple Carrot, said: "As more and more consumers are seeking to add plant-based options to their weekly routines but aren't ready to commit to a full lifestyle change, these single-serve meals offer a perfect way to get a taste of what plant-based foods can offer."
The meals have a RRP of US$5.29.
Mondelez debuts Cadbury Chocobakes Choc Layered Cakes in India
Global confectionery giant Mondelez International has moved into cake products in India with the launch of Cadbury Chocobakes Choc Layered Cakes.
This follows the earlier launch of Cadbury Chocobakes Choco-filled Cookies.
The new product will be available throughout India from this month.
Deepak Iyer, president – India, Mondelez International, said "We are expanding our portfolio into related categories by driving the taste of chocolate as a snack – beyond the bar.
"With our individually wrapped chocolatey cakes we are not only providing a new eat experience but driving consumer convenience both for in-home and on-the-go consumption."
Chocobakes Choc Layered Cakes are priced at INR10 (US$0.13) for a single pack (21 gms) and NRP60 for a pack of six (126 gms).
Muller debuts low-fat Müllerlight Crunch yogurts
German dairy firm Müller is introducing a low-fat, split-pot yogurt in the UK – Müllerlight Crunch.
Müllerlight Crunch comes in two flavours – Flamingo Edition and Crunch Toffee Cheesecake Inspired. The former variety is a limited edition, while the latter is a permanent fixture.
Both use British-sourced milk, with the yogurts offering 98 kcal per pot.
Müllerlight Crunch Toffee Cheesecake Inspired is available now in a six-pack format in Morrisons, and will roll out in Asda from 13 July, along with the limited edition Crunch Flamingo. The recommended retail price is GBP3.00 (US$3.75).
Michael Inpong, the strategy and marketing director for Müller Yogurt & Desserts said: "Our new Müllerlight Crunch range is in the fastest-growing yogurt format, it contains tempting crunch inclusions like flamingo pink biscuit balls. Müllerlight has had its challenges, but we are confident in our approach. We think that we have found the perfect solution for many shoppers."
Thai Union to launch King Oscar sardines in the UK
Canned seafood giant Thai Union Group is to launch its Norwegian subsidiary King Oscar's sardines range in the UK.
King Oscar Royal Selection Sardines will be sold alongside the products of John West, the UK-based brand also owned by the Thai company
The products will be available in Waitrose from 6 July with an RRP of GBP2.99 (US$3.73).
King Oscar's Royal Selection Sardines range features MSC-certified, sustainably wild-caught Brisling sardines in extra virgin olive oil, flavoured with non-GMO ingredients.
They are available in red bell pepper, garlic, rosemary and hot chilli, sliced Spanish manzanilla olives and basil, oregano and garlic flavours.
Paul Reenan, president of Thai Union Europe, said: "King Oscar's premium brand-positioning and established brand heritage will be a welcome addition to the canned fish market in the UK and will complement our existing John West brand."
McCain revives Potato Smiles in Australia – with a modern twist
In Australia, McCain Foods is relaunching its Potato Smiles as EmotiBites.
The frozen-food giant still sells the Smiles in markets including in the UK but, after delisting the product in Australia, has brought back a more up-to-date version.
"In the 90s, Smiles were a classic for the pre-digital era, now they bring the same joy, but updated to reflect today's social world," Karen Ramsay, marketing manager for McCain in Australia and New Zealand, said. "With the new shapes, Australians are not just welcoming smiles back to their tables, but also winks, flowers, hearts and thumbs-ups."
EmotiBites are currently available in Coles supermarkets for AUD4.00 (US$2.21).
Lactalis launches latest hot Seriously cheese product
The French dairy giant is looking to capitalise on the growth from its flagship UK cheese brand with the launch of another hot-cheese item in the market.
Lactalis has secured listings at Waitrose and Ocado for its Seriously Nuggets, a pack of six nuggets of its cheddar cheese. The company confirmed the product will be "listed in other major multiples later in the year".
Citing IRI data for the year to 24 April, Lactalis said sales of Seriously were up 16% compared to the previous 12 months. Heloise Le Norcy-Trott, group marketing and category director for Lactalis' operations in the UK and Ireland, said: "With Seriously performing well in the market with double-digit value sales growth year-on-year, we wanted to continue to build on this success by introducing yet another exciting hot cheese product."
Utz and Monogram work together on NPD
US snacks giant Utz Quality Foods has teamed up with local meat products and convenience-foods manufacturer Monogram Foods to launch a range of frozen appetisers.
Three products are being marketed under Utz's Zapp's brand – Boudin Balls, which include Cajun-style andouille sausage and rice; Fried Pickles; and Pimento Cheese Stuffed Jalapeño Peppers. A fourth item is Utz Cheese-Filled Cheese Balls.
Mark Schreiber, Utz's chief customer officer, said the tie-up would allow "our fans to experience some of our best snack brands in an appetiser form".
Wes Jackson, the president of Monogram Foods, added: "With more than 90% of consumers now snacking multiple times throughout the day, we are excited to offer a flavourful twist to snacking."
The Utz-branded cheese balls are available nationally at Walmart stores. The retail giant is also stocking the Zapp's appetisers at stores in the south east of the US. Other stockists for the Zapp's products are set to include Giant Food, Harris Teeter and Lidl.
Last month, Utz, one of the largest producers of savoury snacks in the US, announced it is to go public after a merger with a vehicle set up by a former Kraft Foods executive.
General Mills launches Old El Paso World Taco Kits
US food group General Mills is offering a "global take" on its Old El Paso Mexican-style food range through a new Old El Paso World Taco Kits range.
They fusion products are based on the flavours of the Caribbean, Japan and Korea.
Each World Taco Kit contains ten flour tortillas, one seasoning packet and one sauce packet and requires only the desired protein and toppings to be added at home.
The Caribbean Jerk kit includes medium pineapple pepper sauce and mild jerk seasoning mix while the Japanese Teriyaki kit contains medium honey soy sauce and mild teriyaki seasoning mix.
The Korean BBQ kit features medium sesame chilli sauce and mild Korean barbecue seasoning mix.
Old El Paso World Taco Kits have a suggested retail price of US$3.80.
Two new taco seasonings have also been launched. The chorizo mix and Al Pastor seasoning mixes are available in 0.85oz packets with a RRP of $0.99.
And General Mills has also rolled out more condiments under the Old El Paso brand, launching a line of Squeeze Sauces and Taco Sauces.
Also new are Old El Paso Squeeze Sauces. Available in Creamy Queso, Creamy Salsa Verde and Zesty Ranch flavours, they have a RRP of $3.69 per 9oz bottle.
Kellogg's Kashi creates 'superfood cereals' for kids
Kashi, the plant-based business owned by US cereal heavyweight Kellogg, has created what it describes as "superfood cereals" for kids.
The Califonia company has added Super Loops – in chocolate and berry variants – to its Kashi for Kids line in which products are created by children.
The cereals deliver 4g of protein, single-digit sugar and 'superfood' ingredients such as berries, lentils and cocoa.
Instead of using single grain flour, Kashi uses a blend of ingredients such as brown rice flour and red lentil flour. Both cereals are Non-GMO Project Verified and USDA Organic.
The cereals are available throughout the US at retailers including Walmart.