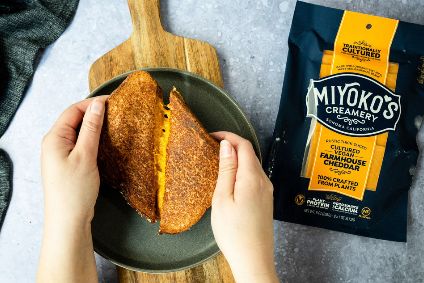 This week's batch of new product launches that caught the eye include a three-strong range of mousses from Gud Puds and new plant-based cheeses and oatmilk butter from Miyoko's.
Miyoko's Creamery to add plant-based cheese and oatmilk butter to range
US-based plant-based dairy company Miyoko's Creamery is adding two cheeses and an oatmilk butter to its product portfolio.
The California-based business is launching Miyoko's Creamery Game-Changing Cheddar Cheese, Miyoko's Creamery Game-Changing Pepper Jack Cheese and Spreadable Oat Milk Butter this spring.
Miyoko's said the cheddar and pepper jack cheese will be the first in a new line of everyday cheeses from the company. They are made using cultured legumes and oats. They are Miyoko's first nut-free vegan cheese options.
CEO Miyoko Schinner said: "We're at a pivotal moment in the plant-based movement, where we need to start appealing more to flexitarians by creating products that give them the taste satisfaction of the dairy cheeses they are used to. These new cheeses we're launching have a taste and price that make them competitive with traditional dairy, and will help us cross that chasm to reach omnivores."
The cheeses will be available in three formats: 1oz slices, shredded packages and 8oz cheese blocks.
The oatmilk butter will be available in Hint of Sea Salt and Garlic Parm variants. The Hint of Salt flavour is available in 12oz tubs, while the Garlic Parm is available in 7oz tubs.
BetterBody Foods unveils plant-based condiments and spreads
US-based BetterBody Foods has launched the Plant Junkie range of plant-based condiments and spreads.
The Utah company is offering salad dressing and mayonnaise alternatives that are dairy, egg, soy, nut and gluten-free and oil-based spreads.
The Plant Junkie's range features five types of ranch dressing made with avocado oil and two vinaigrettes made with expeller-pressed canola oil. New spreads include regular and chipotle lime flavours made with each type of oil.
Plant Junkie products will be available from March.
Noble Foods-owned Gu Puds launches trio of mousses
Gu Puds, the London-based desserts maker owned by Noble Foods, is launching a three-strong range of mousses in major UK retailers.
Milk chocolate mousse with Ganache, Dark chocolate mousse with Guerande Salted Caramel, and Dark chocolate mousse with Ganache make up the line-up from GU, which recently opened a new manufacturing plant in Bishops Stortford in Hertfordshire, England, and generates sales of more than GBP54m (US$70.1m).
Amy Heap, marketing controller at Gu, said: "The premium mousses are a delicious new addition to the Gu family, with more than half of consumers who tried the product claiming that they think these are worth paying more for than the chilled dessert they currently buy."
Gu Mousses will be available in twin-packs at a recommended retail price of GBP3.30, and come in potted glass ramekins which are fully recyclable.