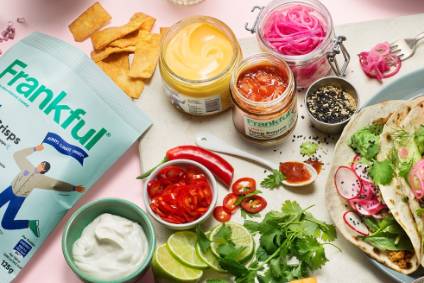 This week's selection of new products includes tuna meatballs from Thai Union's UK canned fish brand John West and new casseroles and wraps for Tyson Foods' Jimmy Dean breakfast range.
Orkla launches plant-based brand in Sweden
The Nordic FMCG group, home to Anamma vegan food and majority owner of Naturli', has launched a plant-based brand in Sweden.
Frankful is a brand targeted at Swedish consumers' love for tacos, Orkla said, which has secured listing for a range of products at retailers including ICA, Coop and Axfood.
Orkla says its new Frankful products could encourage Swedes to eat plant-based tacos. The products on offer include frozen mince, a vegan cheese alternative, an apple salsa and a hot sauce.
The products are made at Orkla factories across the Nordic region and the company is looking at launch the Frankful brand in other markets in the area "shortly".
Samworth Brothers launches Ginsters' empanadas
Ginsters, the savoury snacks brand owned by UK-based Samworth Brothers, has launched a two-strong range of empanadas.
Available in Chicken Tikka and BBQ Pulled Pork, the on-the-go pastries, traditionally a Spanish or Latin-American snack, use British-sourced poultry and meat.
Kieran Hemsworth, Ginsters' managing director, said: "Each empanada is less than 100 calories and boasts a distinctive depth of flavour. By combining flavour trends with more consumer variety, the launch will help to broaden the appeal of savoury pastry."
A two-pack will retail at GBP1.50 (US$1.98), while a pack of three will cost GBP2.00.
Thai Union-owned John West in tuna meatballs launch
John West, the UK canned fish business owned by south-east Asian seafood giant Thai Union, is claiming a category first with the launch of tuna meatballs.
Available in two new product ranges – John West Tuna Bowls and John West Bites for Kids – tuna meatballs, the company suggests, "bring natural protein to the easy light meals category for the first time, setting a new premium standard for healthy, convenient meals".
John West Tuna Bowls and John West Bites for Kids pair the tuna meatballs with a selection of vegetables and either pasta, beans or rice in a sauce to create a microwaveable meal.
The John West Tuna Bowls range is made up of Chilli & Garlic Tomato Sauce with Penne Pasta, Fajita Sauce with Beans, Red Peppers and Rice and Smokey BBQ Sauce with Sweetcorn and Rice.
Its John West Tuna Bites for Kids range consists of Tomato Sauce with Penne Pasta, BBQ Sauce with Sweetcorn and Rice and Cheesy Tomato Sauce with Macaroni.
The products contain no artificial colours, flavours or preservatives.
Jon Burton, marketing director at John West, said: "Our new tuna meatballs make it even easier to incorporate fish – a fantastic natural source of protein – into our diets, and John West Tuna Bowls and John West Tuna Bites for Kids provide a quick, easy meal that you can feel good about."
John West Tuna Bowls and John West Tuna Bites for Kids are available in Asda from 27 August, with a RRP of GBP2.49 (US$3.27) and GBP1.79 respectively.
Tyson adds casserole bites and wraps to Jimmy Dean breakfast range
US meat giant Tyson Foods has extended the frozen breakfast range of its Jimmy Dean brand with Jimmy Dean Casserole Bites and Jimmy Dean Delights Breakfast Wraps.
The Casserole Bites are "poppable bites" that are ready in under a minute. They are available in three varieties. Two are savoury – Sausage, Egg & Cheese and Meat Lovers – and one sweet – French Toast.
The Breakfast Wraps are described as "protein-packed wraps".
With no artificial colours or flavours, each wrap delivers 13-14 grams of protein. They are available in three varieties: Spinach & Bacon, Turkey Sausage & Veggie and Southwest Style.
The products will be available in the frozen aisle of retail stores nationwide beginning this autumn.
Mondelez takes Bournvita brand into cereal in India
Mondelez International is taking its Bournvita brand into breakfast cereal in India.
The US-headquartered snacking giant has just rolled out Bournvita Fills in the Indian states of Andhra Pradesh, Telangana and Maharashtra under a phased launch, and will be introduced nationwide in the "coming months".
Deepak Iyer, the president for Mondelez in India, said: "Bournvita Fills are an easy-to-eat and nutritious
snack that can be had with or without milk. We see tremendous opportunity for this product and are excited about the role it will play in the lives of our consumers. A few years back, the brand extended successfully into morning snacking occasions with the launch of Bournvita Biscuits."
Bournvita Fills come in two pack sizes – 18 grams or 250 grams.
Murray River enters confectionery market with plant-based chocolate
Australia-based dried fruit products business Murray River Organics has entered the confectionery category with the launch of a plant-based range of 'mylk' chocolate.
Its organic Fruit & Nut Mylk Chocolate is being sold by Woolworths.
The five-strong range includes Organic Mylk Chocolate Sultanas made with the company's own organic sultanas.
It also makes use of the organic raw hazelnuts and almonds and sulphite-free organic apricots picked by Murray River Organics specialist farming partners.
The products are dairy-free, gluten-free, and certified organic.
Tara Lordsmith, the company's general manager of marketing and sales, said: "Customer demand for organics isn't limited to one category, the need for better-for-you products is holistic and we were prepared to branch out to cater to this need."