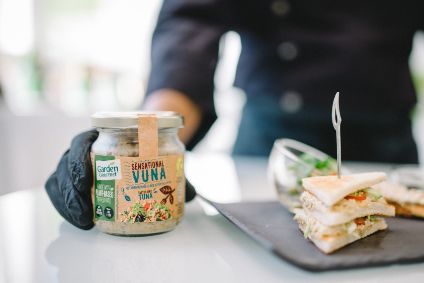 This week's batch of new products includes Nestle's move into seafood alternatives and a new category for Premier Foods.
Nestle enters alternative seafood category
Nestlé has made its debut in the seafood alternative space with the launch of plant-based tuna under its Garden Gourmet brand.
The Vuna named product will first be introduced in Nestlé's home market of Switzerland in a chilled format and also as 'tuna' sandwiches in select retailers. The company is also in the process of developing other plant-based fish and shellfish alternatives, it said.
Stefan Palzer, Nestlé's chief technology officer, said: "Sustainably produced plant-based seafood alternatives can help to reduce overfishing and to protect the biodiversity of our oceans. Our plant-based tuna alternative is delicious, nutritious and high in protein, while also being mercury-free."
The tuna alternative is made with six ingredients, including pea protein, and is free-from colourings and preservatives and is a source of amino acids.
It was developed at Nestlé's research centres in Switzerland, Germany and the US.
B&G Foods introduces Green Giant cauliflower breadsticks
US food group B&G Foods has taken its Green Giant vegetable brand into breadsticks with a veggie twist.
The frozen Cauliflower Breadsticks form part of the Green Giant Veggie Swap-Ins line of products and come in Original and Garlic flavours.
The bake-in-the-oven breadsticks are gluten-free and will be available across the US in September in a pack of six. They have no artificial colours, flavourings, or preservatives.
Country Archer debuts Zero Sugar Beef Jerky
US meat snacks company Country Archer Provisions has added a better-for-you product to its range in the shape of Zero Sugar Beef Jerky.
The California business – formerly known as Country Archer Jerky Co. – has launched the product in three flavour variants – Spicy Sesame Garlic, Mustard BBQ and Classic.
It has worked with chef Will Horowitz to deliver a "clean, yet gourmet snack that doesn't compromise on flavour or texture".
Country Archer suggests the product would suit keto diet followers who pursue a low-carb and low-sugar lifestyle.
Its new product is made with 100% grass-fed and finished beef, and contains no soy, preservatives, MSG, or nitrates/nitrites.
Country Archer CEO Eugene Kang said: "With our commitment to only using grass-fed and finished beef and focus on real ingredients, we knew we could create a zero-sugar, no soy option with a super clean ingredient list that truly delivered on taste."
Zero Sugar Beef Jerky has an RRP of US$5.99-$6.99 and is available from retailers including Wegmans, Sprouts Farmers Market and select Whole Foods Markets stores.
Unilever's Hellmann's mayonnaise brand adds coleslaw
Unilever's Hellmann's mayonnaise brand is launching coleslaw in the UK under a partnership with Natures Way Foods, a producer of fresh convenience foods based in West Sussex on the south coast of England.
Unilever says Hellmann's Coleslaw made with Real Mayonnaise is "its first-ever licensed product launch in the UK".
The coleslaw has been launched exclusively in Tesco this week, with other retailers set to follow later in the year. It comes in 100% recyclable pots, either in a 250-gram or 500-gram format, carrying recommended retail prices of GBP1.00 (US$1.32) and GBP2.00, respectively.
J&J Snack Foods unveils Filled Soft Pretzel Bites
US-based J&J Snack Foods is adding Filled Soft Pretzel Bites to its Superpretzel frozen snack range.
Available in three cheese flavours – Mozzarella, Pepper Jack and Pub Cheese – the microwaveable snack contains 7g of protein per serving.
Alissa Davis, vice president of marketing at New-Jersey-based J&J, said: "We worked diligently to research and develop a product that would enhance our long-standing iconic soft pretzel, while providing fans with a deliciously simple snacking solution.
"As we strive to be innovative within the category, we also stay mindful of what is sought out by consumers in-market, which we believe to be easy, cheese-filled snacks for solo snacking, entertaining and even quick mini meals."
Filled Soft Pretzel Bites are available in the freezer section of "select retailers" nationwide and have a RRP of US$4.99-$5.99.
Premier Foods makes herbs and spices debut through licensing deal
Premier Foods, the UK-based owner of the Batchelors soup brand, has entered the herbs and spices category through a licensing agreement with South Africa's Cape Herb and Spice.
The joint licensing venture will see London-listed Premier launch a range of herbs and spices with online retailer Ocado from today (17 August) to take advantage of more people cooking at home during the coronavirus pandemic. Talks are in process with other major UK retailers, a spokesperson for the business said.
The line-up includes tins of Chipotle, Piri-Piri and Siracha, along with Texan Steakhouse, Asian Stir fry, Mediterranean Roast, Caribbean Jerk, Portuguese Peri Peri, and Louisiana Cajun rubs. And in grinder format, the offering encompasses BBQ Steak, Garlic Addict, Lamb, Chicken and Italian. All carry a recommended retail price of GBP2.99 (US$3.91).
Savan Sabharwal, marketing controller at Premier, said in a statement: "This is the perfect time for us to introduce Cape Herb & Spice to the UK market. We know it can be difficult to find new ideas or have the confidence to experiment with flavours. The Cape Herb & Spice range offers a vast range of products – from an everyday Garlic Addict Grinder, to a Texan Steakhouse Rub – which will help shoppers broaden their repertoire."
Boparan-owned Bernard Matthews revives Turkey Twizzlers
UK turkey specialist Bernard Matthews, owned by local food group Boparan Holdings, has brought back its Turkey Twizzlers.
But the company, based in Norfolk in eastern England, said the turkey meat product – previously derided as the archetypal processed food aimed at children – now has a new healthier recipe.
Its re-launch, after a 15-year hiatus, sees the product made available in two flavours, Original Tangy Tomato and new Chilli Cheese.
New packaging features a traffic light food label to "allow shoppers to easily review the nutritional breakdown".
David Leigh, marketing director at Bernard Matthews, said: "We are very excited that the Turkey Twizzler is back and we are confident that it is here to stay.
"Passion for the Turkey Twizzler has not waned over the intervening years and recently a petition to bring it back garnered nearly 30,000 signatures."
The product is being listed by all major supermarkets from 30 August.
The Turkey Twizzlers come in packs of eight with a RRP of GBP3.00 (US$3.92).
PepsiCo's Fruit Bowl brand launches Dino Yogurt Eggs
Fruit Bowl, the UK-based kid's snack brand now owned by PepsiCo, has launched a yogurt coated raisins product – Dino Yogurt Eggs.
Dino Yogurt Eggs, which roll out in Morrisons this week in packaging inspired by dinosaurs, are made with real fruit and come in three natural colours.
They are targeted at children aged four to ten years and are available in multi-packs containing five 20-gram bags at a recommended retail price of GBP2.00 (US$2.61). Waitrose will be stocking the snacks from 28 September.
Susanne Fraser, group marketing manager for Fruit Bowl, said: "Ahead of the launch of Dino Yogurt Eggs, we've listened to our customers and conducted significant research into what parents want. This showed key insights into a need for ease, convenience, portioning and great tasting, real fruit products that engage children on their level too."
Fruit Bowl was owned by Pioneer Foods UK, before its parent company in South Africa, trading as Pioneer Foods Group, was acquired by US-based food and beverages giant PepsiCo. That deal cleared competition hurdles in March this year.