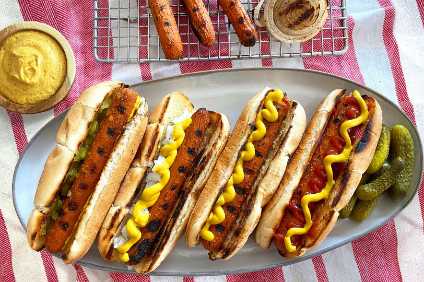 This week's new product selection includes plant-based cheeses from Bel Group, the first meat-free chicken product from Fazenda Futuro and a new Cadbury variant from Mondelez International.
Nestle rolls out Mezeast brand in Netherlands
Nestlé is launching a brand in the Netherlands to fit with Middle Eastern tastes for products such as falafel and hummus.
Mezeast features a line-up of 13 products ranging from mixes, sauces, spreads and breads, incorporating ingredients such as pomegranate, tahini, oregano, cumin, caraway, coriander and onions, all sourced from the Middle East.
The line-up includes shawarma, kofta, falafel and hummus, toum, tahini, muhammara, harissa and pomegranate sauce and the range will only be available in Dutch retailer Albert Heijn.
"We are proud to introduce Mezeast as it allows us to share and spread the unique generosity and goodness of Middle Eastern cuisine and food culture," said Valerie van Schaick, director of food at Nestlé in the Netherlands.
Lindt & Sprüngli launches Nuxor chocolate range in Spain
Switzerland-based chocolate manufacturer Lindt & Sprüngli has launched a range in Spain under the Nuxor brand.
Described as "the chocolates with the highest percentage of hazelnuts on the market", Lindt said Nuxor are targeted at Spanish consumers who have a preference for chocolate with nuts.
The new brand has two varieties – milk chocolate and gianduia dark chocolate with whole hazelnuts – and is available in chocolate box and nougat shapes.
Alicia Gatius, marketing director of Lindt & Sprüngli in Iberia, said: "Our master chocolatiers have once again surprised us, developing a unique product with a winning combination."
The Nuxor range is now available in supermarkets as a 165g box of chocolates (RRP: EUR4.99/US$5.85) or a 200g nougat block (EUR6.99).
Del Monte Foods introduces Veggieful Pocket Pies
Del Monte Foods, the US subsidiary of Del Monte Pacific, has added to its frozen range with Veggieful Pocket Pies.
Pocket Pies are "filled with nutritious vegetables and real cheese and offer a variety of plant-based proteins," Del Monte says, suggesting heat and eat products such as this are becoming more popular because of the number of people now working from home.
Liam Farrell, VP of brand marketing for Del Monte Foods, said: "New Veggieful Pocket Pies take the stress out of making healthful food choices by providing a tasty, easy-to-prepare veggie-packed option."
Pocket Pies expands Del Monte's Veggieful line of snacks. They contain one full serving of vegetables in each pie and no artificial flavours or preservatives.
The range is made up of four flavours: Spinach Artichoke Parmesan, Broccoli Potato Cheddar, Plant-Based Philly Cheesesteak and Rosemary Garlic Plant-Based Chicken.
Hooray Foods hits Whole Foods with plant-based bacon
US-based Hooray Foods has won listings with Whole Foods Market for its 100% Plant-Based Bacon product.
The San Francisco-headquartered vegan food company's debut product will be rolled out in 300 Whole Foods stores across seven regions of the US from 1 November.
Hooray Foods founder Sri Artham said: "People who love bacon, love Hooray," adding: "The finished product has a taste and texture that replicates the unique and delicious taste of bacon."
The company's plant-based bacon is minimally processed and made with coconut oil, rice flour, tapioca starch, liquid smoke, umami seasoning (shiitake mushrooms, salt, mushroom extract, calcium carbonate), maple syrup, salt and beet juice concentrate.
As well as being meat-free, it is gluten-free, allergy-free, dairy-free and soy-free.
Stray Dog Capital recently led a seed fundraising round for Hooray Foods.
New market for Milka spread
Mondelez International is to launch a Milka-branded spread in another European market.
The US confectionery giant is introducing the product in Spain. The Cocoa Cream with Hazelnuts spread will be available in 360g and 600g packs.
Citing data from Kantar, Mondelez said Milka was among the top 50 most purchased brands in Spain last year. The company markets chocolate, biscuits, ice cream and desserts under the brand in Spain.
"Milka is already present in different segments, and thanks to its success, we have decided to enter the cocoa cream market, allowing such a beloved brand to also be present at family snacks or breakfasts," Miguel Alonso Lamamié de Clairac, a brand manager for Mondelez in Spain, said.
Fazenda Futuro debuts meat-free chicken
Fazenda Futuro, a Brazilian meat-free business set up last year, has launched its first chicken alternative product – Future Chicken.
The plant-based chicken pieces – Futuro Frango in Portuguese – will initially roll out in its home market with supermarket retailer Pão de Açúcar, followed in the next two months by markets in which the start-up is already present: Chile, Colombia, Mexico, Uruguay, the Netherlands, Sweden, Portugal, Australia and the United Arab Emirates, a company spokesperson confirmed to just-food.
Fazenda, founded by Marcos Leta and Alfredo Strechinsky, introduced its debut product, the meat-free Futuro Burger, last year, and has since added mince, meatballs and sausages to its portfolio.
Future Chicken is made with non-GMO pea and soy proteins and offers 18 grams of protein per serving, with zero cholesterol and saturated trans fats. The product is encased in 100% sustainable and plant-based packaging, composed of sugar cane.
Bolthouse Farms debuts Wunderoots plant-based brand
Bolthouse Farms is continuing its foray into the plant-based category with the launch of a new vegetable-based brand – Wunderoots.
The California business, once owned by Campbell Soup Co., said the new products are part of its "long-term vision of Plants Powering People".
Wunderoots includes Carrot Dogs, Carrot Fettuccine kits and Riced Carrot kits and will be rolled out to the retail channel in the coming spring.
"Carrot Dogs are a great alternative to both traditional meat-based and newer plant-based hot dogs, made with simple ingredients and whole carrots," Bolthouse said.
The Fettuccine kits include sauces like Marinara, Spicy Thai Basil and Red Coconut Curry, while the Riced Carrot kits come with Sesame Stir Fry, Green Chile and Yellow Coconut Curry sauces.
Kroger adds 50 items to plant-based range
US grocery major Kroger has added 50 items to its own-label plant-based brand Simple Truth.
The supermarket group suggests it now has the country's largest natural and organic brand which will feature more than 75 plant-based foods and beverages by the end of 2020.
New additions include non-dairy cheeses, oatmilk ice cream and Emerge chicken-less patties and grinds.
Also added to the range, which launched with more than 20 products last September, are salad dressings, ready-to-eat brownie batter and cauliflower dips.
Emerge Chick'n patties and grinds are said to offer the same taste, texture and sizzle on the grill or in a pan as chicken and are free of GMOs, dairy, and soy. They provide up to 21 grams of wheat-based protein per serving.
Stuart Aitken, Kroger's chief merchant, said: "We look forward to continuing to drive the growth of the plant-based category through our Simple Truth brand, which exceeded US$2.5bn in sales last year, and we anticipate increased interest in our plant-based selection in 2021 and beyond."
Mondelez adds Bournville dark chocolate version to Cadbury Fingers
Mondelez International has added a Bournville dark chocolate version to its Cadbury Fingers snack range in the UK.
The US-headquartered snacking and confectionery giant said the launch of Cadbury Bournville Fingers is "designed to help retailers to drive biscuit category sales".
Katie Dade, senior brand manager for Cadbury Bournville at Mondelez, said: "With consumers continuing to spend more nights in at home, we have seen an increase in shoppers looking for the perfect treat to share with others in their households. In particular, consumers are looking for products from trusted brands such as Cadbury and Bournville, which deliver on both quality and taste, in a range of formats."
Cadbury Bournville Fingers carry a recommended retail price of GBP1.50 (US$1.94) for a pack of 20 biscuits.
Bel Group starts plant-based offensive with Boursin
France's Bel Group, the cheese firm that recently took a stake in plant-based business All in Foods, plans to offer a dairy-free alternative for each one of its brands starting with Boursin.
A plant-based version of Boursin will be introduced in the US before the end of October through Amazon, while Bel is also currently developing dairy-free Mini Babybel ready to be launched next year in the same market.
Bel said it will roll out a new international brand dedicated to plant-based cheese in the "coming months".
And in January, the company is due to launch The Laughing Cow Blends targeted at flexitarians and featuring a mix of cheese, vegetables and spices in the US, Canada, the UK and Germany.
Kendamil claims first with Human Milk Oligosaccharides formula
Kendamil, a UK-based infant-formula maker, is rolling out an organic product that it claims is the first in the world to contain Human Milk Oligosaccharides found in natural breast milk.
The company said Kendamil Organic is the "most scientifically advanced organic formula in the UK", and it has won an entirely new listing in Boots for the baby powder to add to its current customers Sainsbury's and Waitrose, where the formula will launch across those three retailers from the end of October at a RRP of GBP14.00 (US$18.21) per tin.
Organic ingredients are sourced exclusively in the UK.
Kendamil Organic also contains Nucleotides, organic molecules that are said to improve the immune function, and Taurine, an amino acid that helps infants absorb fat. It also includes ARA, or arachidonic acid, which Kendamil said has been linked with "improved visual acuity and cognitive development".
The formula contains no fish oil, and instead incorporates plant-based Omega-3, "making it a far more natural, better tasting product, but also the only vegetarian formula on the market", the company said.
CEO Ross McMahon said: "We are extremely proud to be launching the world's first organic formula featuring HMOs, offering parents an organic baby formula that is our closest match to breast milk. When it comes to infant nutrition, breast milk will always be best for babies. However, many parents will turn to baby formula at some point and here at Kendamil, we are passionate about providing UK mums the next best alternative to breast milk."
Itsu debuts vegan version of its gyoza dumplings
UK-based Asian food maker Itsu has added a meat-free variant to its dumplings range with the launch of Teriyaki Chick'n Vegan Gyoza.
Itsu said it took a year to develop the recipe for the frozen product, which is plant-based and high in protein.

"With a meat-like texture and bursting with flavour, these dumplings are perfect for those looking to follow a flexitarian diet or even those simply in search of new flavours to try," Itsu suggests.
Julian Metcalfe, CEO and founder of Itsu, said: "As a brand we have always tried to provide our customers with a huge range of vegan options. With a rise in sales for our plant-based products, it seemed the perfect opportunity to launch the UK's very first 'vegan meat' gyoza."

The Teriyaki Chick'n Vegan Gyoza will be available on Ocado and in selected Waitrose stores this month and in Tesco from November. It has a RRP of GBP3.75 (US$4.89) for a pack of 12.