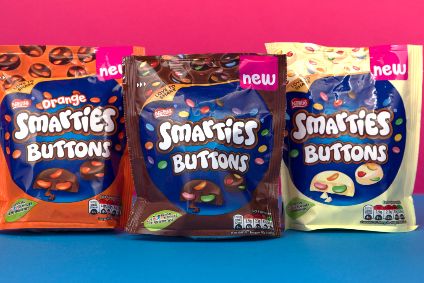 More plant-based activity features in this week's wrap, rounding up the new products that have caught our eye.
Nestle unveils Smarties Buttons in the UK
Nestlé has announced a new product launch based on its well-known confectionery brand Smarties.
Smarties Burtons are to be unveiled in the UK and Ireland in the next few weeks. It is the first time the 83-year-old sweet has been available in this format. They will be available in sharing bags and single packs.
The buttons are available in milk, white and orange-flavoured chocolate, all containing mini-Smarties.
Alberto Pisanello, brand manager for Smarties, said: "We know that Smarties hold special memories for so many people, and they are much loved for their bright colours, taste and texture. At the same time, consumers tell us they like their favourite brands to keep things fresh with exciting innovations and new varieties to try.
"Our Smarties Buttons offer all the fun, colour and crunch of Smarties, enveloped in a delicious smooth milk, white or orange-flavoured chocolate button."
The milk chocolate variety is available as a single 32.5g pack and a 90g sharing bag;and the white chocolate version as a single 30g pack and an 85g sharing bag. Orange Smarties Buttons, available in an 85g sharing bag, are available exclusively in Asda.
Keytone Dairy launches SuperFood Frozen Purees in Australia
New Zealand's Keytone Dairy has launched a SuperFood Frozen Purees range in Australia under its recently-acquired Super Cubes brand.
The range – Mixed Berry, Mango and Banana – will be stocked in 960 Woolworths stores from April and will also be launched in independent supermarkets.
Keytone, which bought the Super Cubes brand from Australia's 40Forty Foods in September, said the range was developed by its in-house product development team and was demand-driven by Woolworths.
Keytone CEO Danny Rotman said: "The product roll-out of the new innovative Super Cubes products and securing national ranging with Woolworths represents one of a number of exciting opportunities in the sales pipeline for the company."
Just adds folded 'egg' product to plant-based range
US plant-based 'egg' manufacturer Just has launched a new product in the shape of folded Just Egg.
The San Francisco business – formerly known as Hampton Creek -, which applies "cutting-edge science and technology to create healthier, more sustainable foods," already offers a liquid Just Egg product.
The new frozen product will begin rolling out in April in Whole Foods Markets, Albertsons Safeway, Gelson's Markets, Stop & SHOP , Kings Food Markets and Giant Martin's with more to come. In all, it will be sold in approximately 5,000 stores at launch and will be available for restaurants and other foodservice destinations from major distributors.
The folded Just Egg will be sold as a box of four, and the key ingredient is protein from the mung bean. It is non-GMO, egg-free, dairy-free and has no artificial flavours.
Foodservice distributor Sysco flexes muscle with plant-based move
Sysco, one of the largest distributors of products to the US foodservice market, is launching an own-label plant-based burger patty.
The Sysco Simply burger is a vegan, gluten-free, non-GMO soy patty and contains 18 grams of plant-based protein per serving.
"Sysco developed Sysco Simply to offer our customers more of what they need to be successful in a competitive marketplace," Brian Todd, Sysco's senior vice president, merchandising and marketing, insisted. "This launch, and the Sysco Simply brand, demonstrate our commitment to providing our customers with innovative, versatile and easy-to-use product solutions.
The burger joins a meat-free ground option sold to customers under the Sysco Simply brand.
BellRing Brands takes Premier Protein to UK
Another protein bar has hit the UK market, with US business BellRing Brands launching its Premier Protein brand on the other side of the Atlantic.
Online grocer Ocado is stocking the bars, for which three flavours have been made available for the UK – Chocolate Brownie, Chocolate Peanut Butter and White Chocolate & Vanilla
The 50g bars, on sale at GBP1.49 (US$1.94), contain 20g of protein and 1.3g of sugar per bar. The company said the bars would be rolled out to "additional retailers".
Zoe Stroud, active nutrition brand manager at BellRing, said: "Taste is paramount when it comes to repeat purchase and Premier Protein performed extremely well in all of our testing. The product also offers excellent nutritionals with a high protein but low sugar content, at an accessible price point.
Meanwhile, BellRing is lining up another of its brands, PowerBar, for a launch to UK grocery and convenience stores. just-food has asked for more details on the retailers to come for both Premier Protein and PowerBar.
BellRing is majority-owned by US food manufacturer Post Holdings, which has a product portfolio including breakfast cereals such as Grape-Nuts and Weetabix . The company was listed in New York last autumn. Post still owns around 70% of the business.
Kepak's veggie Rustlers launch
Ireland-based meat group Kepak is the latest company in that part of the industry to go after the interest in vegetarian brands.
Kepak is rolling out a vegetarian product under its ready-to-cook burger brand Rustlers.
The Rustlers Moroccan Vegetarian Burger – which has a recommended retail price of GBP2 – is made with chickpeas, carrot and coriander. Every Rustlers comes with a sachet of sauce and the veggie product is sold with mango chutney and a yoghurt-and-mint sauce.
"With a third of consumers actively seeking to introduce plant-based options into their diets, we feel that a brand as synonymous with taste and convenience, Rustlers can really bring something new to the market, with convenience and enjoyment considered key requirements by flexitarians," Kepak marketing and business development director Adrian Lawlor said, citing a 2018 survey from Kantar.