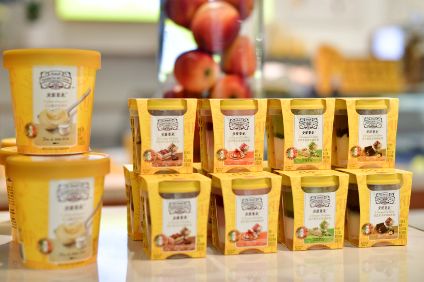 This week's batch of new products includes Kellogg pushing Nutri-Grain into US kids category and a nut butter line of Greek yogurts from Chobani.
Nestlé's ice cream push in China
The world's largest food maker has launched an ice-cream brand it claims targets consumers wanting "super-premium" products.
Nestlé is selling an Italian-inspired brand – Antica Gelateria del Corso – online in China, including on the Tmall platform.
The company is running a pop-up shop in Shanghai until 11 August to further market a range of products.
A Nestlé spokesperson said: "Antica Gelateria del Corso complements the ice cream business in China, targeting [the] super premium segment – consumers who would like to pursue different cultural experiences and high-quality lifestyle and choices."
Danone's So Delicious yogurt alternatives
So Delicious Dairy Free, the US business owned by French giant Danone, is launching Oatmilk Yogurt Alternatives.
Free from dairy, gluten and nuts with oats the core ingredient, Oatmilk Yogurt Alternatives are certified as vegan and are non-GMO Project Verified.
They come in four flavours: Triple Berry with blueberries, strawberries and blackberries containing eight grams of sugar per three ounce serving; Spiced Pear & Fig complete with cinnamon (7-g of sugar); Strawberry Rhubarb; and Sweet Mango.
The line is carried in Whole Foods Market at a suggested retail price of US$1.89.
Joshua Cook, the brand manager for plant-based yogurt at So Delicious, said: "We couldn't be more excited to expand our portfolio and bring Oatmilk Yogurt Alternatives to consumers from coast to coast. The new Oatmilk Yogurt Alternatives are perfect for a morning breakfast, an on-the-go snack or as an ingredient in other delicious dairy-free delights."
Kellogg takes Nutri-Grain into kids market
Nutri-Grain products targeted at children are the latest products off the Kellogg development line in the US food giant's domestic market.
Kellogg has launched three varieties of Nutri-Grain Kids – called Awesome Apple, Strawberry Blast and new Grapetastic.
The company has suggested retail prices of US$3.69 for a five-count box and US$5.79 for a ten-count box.
Del Monte Fresh Produce Better Break ready meals
Del Monte Fresh Produce, the fresh fruit and vegetable business in the US, is expanding its offerings with a new on-the-go prepared meals range – Better Break.
The line up includes dishes made with cauliflower, broccoli, sweet potato, kale and corn, complete with a sauce, with vegetarian and plant-based options containing four grams of protein per serving.
Choices consist of Spicy Pomodoro made with kohlrabi linguine and chunky, spicy chipotle pepper tomato sauce; Zesty Green Chile with kohlrabi, cauliflower, kale, chickpea and bell peppers in a green chile sauce; and Summer Corn with cauliflower, broccoli, sweet potato, kale and corn sauce with roasted corn and bell pepper.
Better Break meals have 130 calories per serving or less and will roll out over the summer in US retailers nationwide with a suggested retail price of US$3.99 for a seven-ounce portion.
Stonyfield unveils fruit, veg smoothies
Stonyfield Organic, the US dairy business owned by France's Lactalis, is rolling out a range of smoothies made with fruit and vegetables.
Dairy- and gluten-free Fruit & Veggie Smoothie Pouches are made with 100% real fruit and vegetables, and are certified as both USDA organic and non-GMO. They come with no added sugar, half a serving of fruit per pouch and coconut cream.
Three flavours are available in Whole Foods Market: Berry Cherry Blast Smoothie made with blueberries, cherries, apples and beets; Tropical Twist Smoothie with mangoes, bananas, pears and carrots; and Strawbana Smash Smoothie containing strawberries, bananas, pears and sweet potatoes. They will roll out in "other" retailers in January, a spokesperson confirmed.
"With Fruit & Veggie Smoothie Pouches, we're able to offer not only a nutritious, portable, family-friendly snack, but also cater to different dietary needs and preferences," said Natalie Levine, the brand director at Londonderry, New Hampshire-based Stonyfield. "We recognise what's important to today's families, and our new pouches really offer everything – taste, convenience, and plant-based – all in one delicious pouch."

Chobani rolls out Greek yogurt with nut butter line
Chobani is rolling out a new Greek yogurt line complete with nut butters.
The US-based business will launch the five-strong range across the country this month including: Vanilla Greek Yogurt with Almond Butter; Plain Greek Yogurt with Almond Butter; Honey Greek Yogurt with Almond Butter; Chocolate Greek Yogurt with Hazelnut Butter; and Vanilla Greek Yogurt with Cashew Butter.
The new product incorporates its low-fat Greek yogurt consisting of 2% milk fat with the nut butters made with natural non-GMO ingredients, with no artificial flavours, sweeteners or preservatives.
A 5.3 ounce single-serve cup will carry a recommended retail price of US$1.69.
Country Archer Jerky Co. launches Sweet and Savory Meat Sticks
US meat snacks business Country Archer Jerky Co. has launched sweet and savoury variants of its meat sticks.
The new flavours are Chorizo Beef & Pork, Maple Pork, Pineapple Pork and Hatch Chile Turkey.
The California-based business said: "The brand's new mouthwatering flavours are packed with protein and low in calories, carbs and sugar, perfect for on-the-go snacks or those adhering to diets from keto to paleo."
Its chief executive officer, Eugene Kang, said: "We're excited to further a clean snack revolution with our Meat Sticks, and now our customers have even more options when looking for a nutritious, high-protein snack."
The new meat sticks flavors hit the shelves this month and are widely available through major retailers.