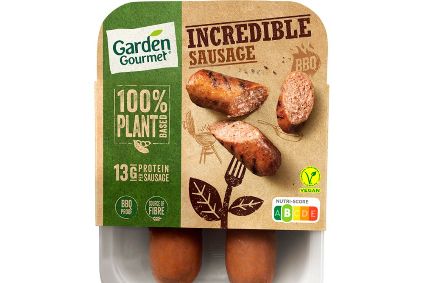 New product launches that caught the eye this week include a new milk chocolate KitKat variant from Nestlé and its plant-based sausage debut in Europe and the US, and dairy-free ice cream from Alden 's Organic.
Nestlé to launch plant-based sausages in Europe, US
Swiss food giant Nestlé is launching plant-based sausages in Europe and the US.
The soy-based Garden Gourmet Incredible Sausage will be available in Bratwurst and Chorizo styles. It will launch for retail starting in March in 11 European markets, including Austria, Belgium, Germany, the Netherlands, Norway, Sweden and Switzerland.
A version for the foodservice channel will also be available.
Ingredients include beetroot, carrots, peppers, and rapeseed and coconut oils. They contain 13 grams of plant-based protein and around 40% less fat than a sausage made of pork.
The US will see the pea protein-based Sweet Earth Sausage arrive on shelves beginning in April in three varieties – Habanero Cheddar, Asian Ginger Scallion and Chik'n Apple . A version for foodservice will be available as well.
Nestlé will also launch a range of plant-based deli meats, which will be available in the US both in retail (pre-packaged) cases and from the deli counter.
Wayne England, head of Nestlé's food business, said: "After the huge success of our plant-based burgers and grounds, we're now adding another favourite. These plant-based sausages really deliver on flavour and texture."
US turkey giant Butterball moves into meat snacks
Butterball, the US turkey heavyweight, has expanded its portfolio into the snacking area.
The North Carolina-based company has launched Premium Snacks, a portfolio of "high-quality, seasoned turkey breast slices paired with unique sweet and savoury sides".
On offer is Thanksgiving-seasoned turkey breast with stuffing bites and dried cranberries, citrus teriyaki-seasoned turkey breast with sesame sticks and dried pineapple pieces and Cajun-seasoned turkey breast with corn bread crisps and dried apple pieces.
Each snack contains 100% turkey breast with 10g of protein. They have 140-180 calories per serving.
Butterball quotes research revealing 95% of Americans report that they snack daily and 70% snack more than twice a day.
Michelle Lieszkovszky, Butterball innovation brand manager, emerging innovation, said: "Snacking is a popular category that is already filled with many protein options, so we challenged ourselves to find a way to make Butterball Premium Snacks stand out on the shelf."
Danone debuts simple ingredients yogurt range in the UK
French dairy giant Danone has launched a new yogurt range in the UK based on simple ingredients.
Its Danone range is the first time the company name has been used for a brand and encompasses single serves, family sharing pots, multipacks and kids' pouches.
Launch flavours are Strawberry & Blood Orange, Peach & Ginger, Blueberry , Blackcurrant & Beetroot, and Natural.
Danone's new range consists of milk, live cultures and a fruit layer with no added sugar.
Adam Grant, Danone UK general manager, said: "Our new range focuses on simply what matters and caters for all the important daily family moments, which we know help to build sustainable eating habits".
Alden's Organic adds dairy-free to ice cream range
Alden's Organic, a US-based ice-cream firm owned by Oregon Ice Cream, plans to launch a dairy-free range.
The nine-strong line up of Alden's Organic Dairy Free includes seven flavours of organic ice cream and two sandwich variants, known in the US as Sammies. They are made with a blend of brown rice, oat flour, coconut oil and pea protein.
Joelle Simmons, senior vice president for sales and marketing at Alden's, which was founded in 2004 in Eugene, Oregon, said: "Consumers are craving a dairy-free option that actually delivers an exceptional flavour-filled experience. We saw an opportunity and worked through 29 variations to develop a more progressive, organic dairy-free recipe that upholds the high standards of our famous ice cream."
Available in March at Sprouts, Natural Grocers and National Co-op Grocers, the dairy-free ice creams carry a suggested retail price of US$5.49-$5.99 and come in: Caramel Almond Crunch; Muddy Brownie; Vanilla Bean; Double Strawberry; Freckled Mint Chip; Peanut Butter Chip; and Cookie Crumble.
The two Sammies come in Vanilla Bean Round and Caramel Drizzle Round at a SRP of $4.99-$5.49
Hershey targets Krave at new segment
US snacks major Hershey has rolled out a new version of jerky brand Krave.
The confectionery giant, which acquired Krave in 2015, today (14 January) announced the launch of a plant-based jerky.
The plant-based Krave is made from peas and fava beans. Hershey said the product, available in smoked chipotle and Korean BBQ flavours, contained "eight grams of protein per serving".
Another new product from Hershey's NPD team is Krave Pork Rinds, also available in two varieties – chili lime and al pastor taco.
Krave brand manager Jimmy McClain said US consumers were demanding "more portable snacks tailored to their specific diets that provide clean fuel throughout their busy days".
He added: "With the growing number of snacking occasions and evolving nutritional expectations placed on those snacks, consumers are dramatically altering the way we think about innovation. Nowhere are these changes more evident than the demand for plant-based products and the adoption of specialised diets like paleo and keto."
The new snacks are on sale on Amazon and at "select natural and conventional grocers nationwide", Hershey said. The pork rinds have a suggested retail price of US$3.49. The SRP for the plant-based jerky is $5.99.
Coca-Cola 's Fairlife extends into creamers
Fairlife, the US milk brand recently acquired outright by Coca-Cola Co., is moving into a new US segment.
A four-strong range of creamers, sold in 16-ounce bottles, has been developed, with the business pointing to forecasts predicting growing coffee sales.
Citing Mintel data, Fairlife said the coffee category is expected to grow from US$15.1bn in 2019 to $18.5bn by 2024. Alongside that forecast, Mintel has said the creamer market is projected to grow from $6.1bn to $7.5bn.
"Today, the creamer category is dominated by choices that lean heavily on indulgent flavors. As sales of premium coffee grow, our research shows that many consumers want to enhance the taste of their coffee, not cover it up," Fairlife chief marketing officer Bill Kelly said. He added Fairlife's new products contain "40% less sugar than other creamers".
Last week, Coca-Cola announced it had taken its share in Fairlife from just over 42% to 100%. Located in Chicago, Illinois, Fairlife produces a range of ultra-filtered fresh milk drinks and flavoured milk beverages.
Lactalis delivers organic dairy range for Spanish foodservice
French dairy group Lactalis has introduced an organic range of products in Spain for the foodservice channel under its new Bio Président Professional brand.
Fresh milk, butter, cream and brie cheese feature in the line-up, which aims to cater to the growing trend for "naturalness" and respect for the environment, Lactalis said, adding that Spain ranks among the top-ten European countries consuming organic products.
The butter comes in two formats – a 500-gram block with 82% fat and micro-tubs with the same fat content. The one-litre cream is designed for whipping and contains 35% fat. The milk is delivered in one-litre bottles, while the brie cheese is in a two-kilogram block.
UK's The Gym Kitchen wins product listings with ASDA
UK fitness food brand The Gym Kitchen has launched in Asda.
The London-based business, which makes low-fat, protein-rich ready meals aimed at health conscious and physically active consumers, has seen the UK 'big four' supermarket chain choose four of its products.
The launch range is made up of Chicken Tikka, Harissa Chicken, Korean Beef and Piri Piri Chicken. All have a recommended retail price of GBP3.50 (US$4.55) for a 400-gram serving.
The range contains at least 30g of protein per pack and provides two of the five-a-day recommended portions of fruit and vegetables. They range from 344-453 calories per meal.
The Gym Kitchen was founded by Segun Akinwoleola and since last April has been part of The Hatchery incubator programme established by UK meat products business The Black Farmer .
The company said the range has been in development for the past 18 months with a "state-of-the-art manufacturer".
Akinwoleola said: "All of the flavours chosen are mainstream to give customers the opportunity to switch over."
Nestle unveils white chocolate KitKat Gold
Nestlé is adding a new white chocolate variant to its KitKat confectionery brand in the UK – KitKat Gold.
KitKat Gold comprises the usual crispy wafer with a milk chocolate base topped with "creamy" white chocolate with tones of caramel. It is produced with UTZ-certified cocoa beans, with no added colours, flavours or preservatives.
The new product will first exclusively launch in The Co-op and NISA stores on 3 February before being rolled out to most major retailers from 31 March.
Nestlé said KitKat Gold debuted in Australia in 2018 as a limited edition but proved so popular it became a permanent fixture.
Alex Gonnella, Nestlé's marketing director for confectionery for the UK and Ireland, said: "We've had an amazing response to the new KitKat experiences that we've introduced over the last few years. I am certain that KitKat Gold is going to be just as big a hit on these shores as it has been down under, especially if the reaction at Nestlé HQ is anything to go by."
Kellogg rolls out no-added sugar WK Kellogg by Kids
Kellogg is adding a no-added sugar variant to its WK Kellogg cereal range in the UK.
WK Kellogg by Kids will be available in Morrisons in two flavour: Strawberry, Apple and Carrot; and Blueberry, Apple and Beetroot. Other major supermarkets will follow in February and March. It will retail at GBP2.99 (US$3.87) for a 350-gram box and will be backed by a GBP2.1m marketing campaign.
The cereal is made up of fun shapes in stars, hoops and balls that are naturally coloured and flavoured using fruit and vegetable juice concentrates purees, juices and powders. It contains no artificial colours, flavours or sweeteners, is high in fibre and is vegan friendly.

Kellogg's activation brand lead for the UK, Aimee Cowan, said: "WK Kellogg by Kids is the first mainstream children's cereal range with fruit and vegetables. We are targeting parents who can't find what they are looking for in the cereal aisle. We wanted to offer something that is a balance between health and taste at breakfast time. Something that has good nutritionals for kids, but that they won't find boring or tasteless."

The US-based cereals maker added: "The new cereal forms part of Kellogg's drive to help families make better choices in the morning, including sugar and salt reduction across its children's cereal portfolio. As part of the health overhaul, Kellogg's introduced its plant-based granola range WK Kellogg in 2018. Focusing on health, the range was reviewed in January 2019 to ensure every granola has no-added sugar, and Kellogg's introduced its first-ever vegetable variant to the portfolio – WK Kellogg Raspberry, Apple and Carrot."
New plant-based sausage brand hits US shelves
Fledgling US firm High Peaks has launched its namesake range of plant-based sausages in its domestic market.
Retailers including Harris Teeter and Fairway Market are stocking the sausages, which come in flavours such as Wild Mushroom and Sunrise Trail Mix.
Ingredients include white beans, peppers, basil and onions.
High Peaks founder Stacie Waters said: "Many plant-based sausages lack flavour and High Peaks was created to offer a satisfying, meat alternative for all diets – from vegan to flexitarian to carnivore – that is truly delicious."
The sausages contain one gram of saturated fat, "around 300mg of sodium" and up to 4g of sugar per link.