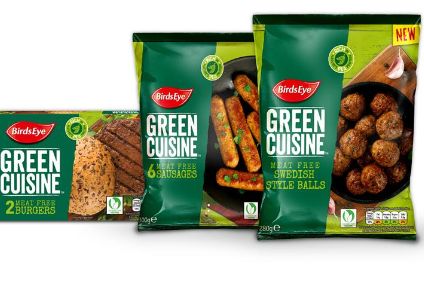 This week's batch of new products includes ice cream sticks for the UK market from Halo Top Creamery of the US and a dairy-free Vitalite brand Baking Block from Dairy Crest .
Nomad Foods takes Birds Eye into meat-free with Green Cuisine
Birds Eye, the UK frozen food brand owned by Nomad Foods, has moved into meat-free with its new Green Cuisine range.
The fish finger and beef burger maker's pea protein-based range is suitable for vegans and includes burgers and sausages that are intended to recreate the taste and texture of meat.
Steve Challouma, marketing director at Birds Eye, said: "This is a major strategic launch into an increasingly important and fast-growing segment within the plant-based foods space. Birds Eye, as leader in the overall frozen food market with broad consumer appeal, is well positioned to play a key role in driving the further acceleration of the segment, as it moves further into the mainstream, with a unique and natural proposition that builds on our well-known heritage in peas."
Birds Eye's Green Cuisine range is made up of Meat-Free Burgers, Meat-Free Sausages, and Meat-Free Swedish Meatballs. All variants will be available from grocers from today (21 March).
Unilever unveils dairy-free version of Breyers ice cream in UK
Unilever has launched a dairy-free version of its Breyers better-for-you ice cream brand in the UK.
Its Breyers Dairy-Free Chocolate & Hazelnut tub is made with hazelnut pieces and has been developed in response to the "huge number of those now following vegan and dairy-free diets," Unilever said.
The tub contains 330 calories.
Noel Clarke, vice president for refreshments at Unilever UK, said: "The lower-calorie segment is growing fast and Breyers has been a key factor in the category's success – it's one of Unilever's most successful brand launches in ice cream in the last five years.
"To take it to the next level, we're introducing a new vegan-friendly flavour to open up the brand to even more consumers who enjoy a dairy-free diet."
Unilever is also introducing Breyers Mono Portions to the market featuring two of the brand's most popular flavours, Salted Caramel Cake and Cookies & Cream, in a new 100-ml format. The portions are below 80 calories each.
The Breyers Dairy-Free Chocolate & Hazelnut 500-ml tub has a RRP of GBP4.99 (US$6.56), while the Mono Portions have a RRP of GBP1.60.
Nestle-owned Sweet Earth plans meatless burger launch
Sweet Earth, the plant-based food business owned by Nestlé, is planning to launch a meatless burger later this year.
California-based Sweet Earth, which is run by husband and wife team Brian and Kelly Swette, is gearing up to roll out The Awesome Burger in the autumn, although they still need to further develop the recipe before formally launching the product in the US, where it is expected to be available nationwide.
The company said it is still working on the final nutritional make-up, but The Awesome Burger will be high in protein (around 19 grams) and fibre, will be non-GMO and free from key allergens.
In a statement sent to just-food, Sweet Earth said: "Sweet Earth strives to transition a portion of the 24 billion pounds of beef sold per year in the US to plant-based food. The Awesome Burger advances the Sweet Earth mission by delivering on the taste and texture of beef with fewer resources deployed, less impact on the environment, a better nutritional profile and a win for animal welfare."
Arla launches fruit & Kernels skyr yogurts in Germany
European dairy giant Arla Foods is launching a skyr yogurt in Germany containing fruit and kernels.
Arla Skyr Fruit & Kernels combines original skyr yogurt with buckwheat, sunflower seeds and poppy seeds, complete with real fruit. They come in two flavours, raspberry and peach, and red fruit.
Arla claims the red fruit version has 40% less sugar compared to other sweet cream cheese preparations with cereals, while the raspberry and peach variety has 50% less sugar.
The yogurts will launch in May in 195-gram pots.
Halo Top launching low-calorie ice cream sticks in the UK
US better-for-you ice cream company Halo Top Creamery is launching ice cream sticks in the UK this month.
The sticks contain 80-100 calories and seven to ten grams of sugar.
They come in four flavours, including a new flavour to Halo Top – Strawberry Cheesecake. The other variants are Sea Salt Caramel, Peanut Butter Swirl and Birthday Cake.
The sticks are to be sold in multi-packs of three with a RRP of GBP5.00 (US$6.62) at select Tesco stores.
Their arrival in the UK follows a launch in the US.
Doug Bouton, president and chief operating officer at Halo Top Creamery, said: "We love ice cream in all forms and these sticks seemed like the next logical place to take our brand."
Bubs Australia enters new category with toddler snacks
Bubs Australia has entered a new category with the launch of snacks for children aged one to five years.
Traditionally an infant-formula manufacturer, Bubs is rolling out the eight-strong range of Bubs Organic Toddler Snacks, which will be available in Coles supermarkets from the end of May. They will also be sold in China through its existing e-commerce channels, including the Bubs Alibaba Flagship store.
The snacks are made from organic vegetables, fruits, ancient grains and "nutrient-dense superfoods", and are Australian Certified Organic.
The snacks carry individual names, with Tiddly Bars coming in two flavours: plum and goji, and chickpea and zucchini. Little Fingers are available in broccoli and pumpkin, and tomato, while Smiley Squares offer mango and purple carrot, and pear and beetroot. And finally, two varieties of Little Rollies, coconut and hazelnut.
Bubs founder and chief executive Kristy Carr said: "This latest development significantly advances our progress as we now cater for all feeding occasions and developmental stages from newborn to preschool. "The new organic toddler snacks extend our consumer lifespan, or period of potential customer engagement, which previously covered the first 1,000 days of a child's life through infant years."
Pioneer Foods-owned Lizi's launches Adventurers granola
Granola brand Lizi's, which is owned by the UK unit of South Africa's Pioneer Foods Group , is launching a new range for children aged five to 13.
Lizi's Adventurers Granola Crispies are available in Sainsbury's, Morrisons and Waitrose in two varieties: strawberry with toasted clusters of oats, cereal crisps, ground almonds and coconut, and banana with toasted oats, rice and cereal crisps and coconut clusters.
The brand is owned by UK-based The Good Carb Food Company, which in turn comes under the stewardship of Pioneer Foods.
The granola has no artificial flavourings, colours or preservatives and carries a recommended retail price of GBP2.80 (US$3.70) for a 400-gram pouch. They offer 6 grams of fibre per 100 grams and contain 3.5 grams of sugar per 30-gram serving.
Dairy Crest expands Vitalite range with dairy-free Baking Block
UK-based Dairy Crest has expanded its Vitalite spread range with the launch of dairy-free Vitalite Baking Block.
"Specially formulated for optimal performance at diverse cooking and baking occasions", Vitalite Baking Block is said to deliver "better aeration of cake batters for a lighter texture bake, firmer, more workable biscuit doughs and to reduce shrinkage on baking".
Dairy Crest said it hopes to capitalise on the on-going growth of dairy-free baking occasions, which, the research it quotes reveals, have more than doubled since 2015.
Neil Stewart, marketing manager for spreads at Dairy Crest, said: "Counter to the wider butters & spreads market, which has seen some softening of baking occasions over recent years, dairy-free baking has continued to grow apace. We're confident the launch will resonate both with current dairy-free spreads shoppers not currently buying into home baking, whilst also helping to attract new shoppers into dairy-free spreads."
The 250g Vitalite Baking Block will launch into Asda from today (18 March), rolling out across further retailers over subsequent months.